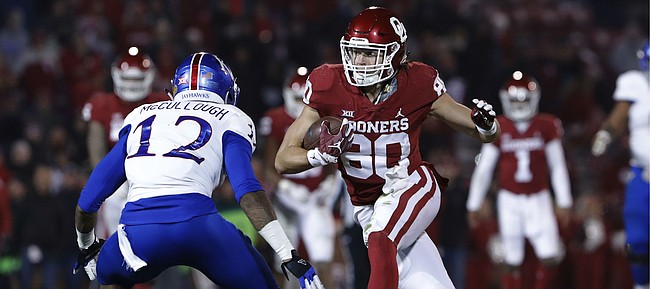 Even though the season opener is three days away, Kansas senior safety Jeremiah McCullough can tell this year is going to be different.
McCullough has all the confidence in the world right now, and for good reason. The game has seemingly slowed down for him. With the help of a new coaching staff, McCullough even has a new level of energy about the game he loves.
It all played a part in McCullough being listed as a starting safety in KU's first official depth chart, which was released Monday afternoon.
"I'm really enjoying the game of football for football," McCullough said. "Just me being older, and being at this level at this point, I'm just looking at things for what they are. It is football. At the end of the day, you come out here to have fun."
But McCullough isn't surprised by his supreme confidence entering the 2019 campaign, as the Jayhawks look to improve on their 3-9 record last fall. In fact, McCullough has been in this position before.
Prior to coming to Kansas, McCullough spent two years playing for Hartnell College at the junior college level. The former three-star recruit wasn't pleased with his first season at the juco level, but made massive strides in his second season.
In 2017, McCullough collected 36 totals tackles, including 29 solo stops. He earned first-team all-conference honors, recording two fumble recoveries during his sophomore season.
"When I went to junior college, I personally felt like my first year that it was an OK year," McCullough said. "Once I started to realize that football is football, just trusting my keys and getting acclimated to the system, everything just worked out smoothly."
McCullough experienced similar growing pains last fall, as he adjusted to playing for a Power Five football program at the Division I level. McCullough saw action in 10 games, starting two at his safety position.
Last season, McCullough finished with 23 tackles, including 14 solo hits. He even recorded an interception against Central Michigan. But the speed at this level proved to be too much for McCullough at times, and he let certain mishaps linger in games.
Entering his final year, though, McCullough has learned to not be as tense and move on after making a mistake. Clint Bowen, who coaches the safeties for the Jayhawks, has helped McCullough get back on track.
"Coach Bowen is my man," McCullough said. "I go to Coach Bowen, and he always tells me, 'Just relax. See what you see. Make your read, and go make a play.'"
That mindset will be essential for McCullough this season, as he prepares to contribute to a talented Kansas secondary. Seniors Mike Lee, Bryce Torneden and Hasan Defense help make up an experienced unit at the back end of the defense.
It is a group that fueled the Jayhawks to a Big 12-leading 27 turnovers last year, which ranked eighth in all of FBS. With many of the players in the secondary returning this fall, however, the Jayhawks believe they can do even better.
"We are capable of a lot with Bryce and Mike Lee leading us," McCullough said. "The sky is the limit."