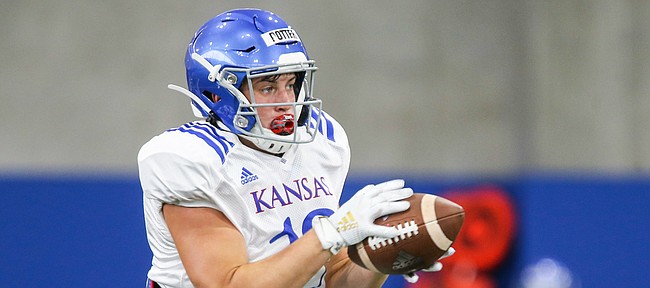 Although not one is a projected defensive or offensive starter for the Kansas football team's season opener on Saturday versus Indiana State, true freshmen are expected to contribute for the Jayhawks out of the gate in Les Miles' first season as head coach.
Just a year ago, Class of 2019 signees such as linebackers Steven Parker and Gavin Potter, defensive linemen Da'Jon Terry and Marcus Harris, tight end Mason Fairchild, running back Velton Gardner, cornerback Kenny Logan Jr. and kicker Jacob Borcila were high school seniors. Now they're all listed on KU's Week 1 depth chart.
Miles didn't inherit a program that could afford to let its best incoming prospects develop behind the scenes before being tested. On defense in particular, KU might ask a lot out of Parker and Potter at linebacker and Terry at nose tackle this season.
Even though the former LSU and Oklahoma State head coach knows he will have to count on some young, inexperienced players, Miles recently explained why he has not voiced many concerns publicly about those youngest members of the program who will soon get their first taste of college football.
The scrimmage days and 11-on-11 team periods KU went through this month aren't exactly the same as a real game. There are fewer reps and it's more of a controlled environment. Still, Miles said those situations allow coaches to "get a feel" for what the freshmen can handle.
"And the youth, when it's not a deterrent," Miles said, "it's a real positive."
Parker, a 6-foot-4, 225-pound freshman from Dallas, and Potter, a 6-2, 225-pound freshman from Broken Arrow, Okla., have been impressing teammates since they arrived in Lawrence earlier this summer, ahead of preseason camp. Miles singled them out when asked whether he had any apprehension about relying on freshmen who have never played at the Big 12 level.
The head coach spotted the duo shortly after "a slugfest of a practice" playing an impromptu game of one-on-one, in which one would play the part of a receiver and the other would cover.
"And I just watched those two guys play really well in scrimmage and they're having fun playing," Miles said of the scene. "I think those two guys will be guys we like to put in the game, because their self interpretation of what's going to happen in those four quarters are going to be really good things."
Potter said that little competition their head coach witnessed came about after both he and Parker jokingly told some KU receivers they could keep up with them in pass coverage.
"And then we just started talking to each other, talking how we would lock each other down," Potter said. "Then we just started running routes."
The whole point was to try and see which of the linebackers could catch the most passes. If Potter dropped a pass, it was Parker's turn until he dropped one, then back to Potter and so on.
"Me and Gavin, we've got this type of bond," Parker said. "It pushes both of us. He pushes me to be better, I push him to be better. And we just keep going back and forth."
Potter said they connected easily upon teaming up at KU.
"We just grew up in different places," Potter said. "We're both very competitive."
The two linebackers and their fellow true freshmen will need that type of drive and more to prove themselves worthy of their spots in KU's rotations. As senior cornerback Hasan Defense explained, it is truly difficult for a freshman to make a successful transition to the FBS level.
"They're not going to be able to see what the Big 12 holds the first couple of games," Defense said of the upcoming nonconference schedule. "So they're kind of just easing into it. But I feel like they're going to have to have a big role and they're all going to be able to take on their role with great enthusiasm and great efforts. That's what we need out of them."
Podcast episode
On this week's episode of the KU Sports Hour, Matt Tait, Benton Smith, Shane Jackson and Braden Shaw talk all things related to the KU football opener and offer their game predictions and season predictions for the Jayhawks in 2019.
Now a sophomore, cornerback Corione Harris in 2018 survived what defensive teammates such as Parker, Potter, Terry and Harris are about to encounter.
Harris, who ended up starting 11 games in the secondary said he's been happy to give this year's crop of freshmen advice.
"The first thing I let them know is never put their head down. Mistakes happen," Harris related. "As a DB, you need to have a short (memory). Bad play goes wrong, everybody has those — even Deion Sanders had those before."
Proving their value to the coaches, Harris shared, is the best way to get on the field.
"Learn your plays first and foremost so they can trust you," Harris said. "And after that just continue to look at film, watch a lot of film, because in the Big 12 they do a lot of different schemes. You have to prepare for everything."
It's clear that true freshmen are going to have to play for the Jayhawks' defense. Veterans such as senior free safety Mike Lee try to let those in line to be thrown into the fire that they will have to learn in a hurry.
Lee played when he was a true freshman, too. So he told Logan, a freshman corner from St. Augustine, Fla., that when Lee was a newbie, he didn't really know what he was doing.
"I was just being a football player," Lee said of his initiation to game action in 2016. "But at the time you have to catch on to it fast, because if you don't, you get in the game and you could get beat on a coverage, and then you can't point at anybody but yourself."
Miles' defensive coordinator, D.J. Eliot, said he's glad to have freshmen that seem eager to play.
"When you have a young group, one, they bring a lot of energy," Eliot said. "Two, they're going to be here for a long time. So it's good to have good, young players."
Eliot didn't deny that drawbacks come with asking true freshmen to play. He just chose to focus on the positives.
"Well, there's no time for hesitation," Eliot said. "We are just coaching them every day, one day at a time, and whoever the best player is is going to play."
True freshmen listed on KU's published Week 1 depth chart
DEFENSE
Da'Jon Terry — second team NT
Marcus Harris — second team DE (listed with senior Codey Cole III)
Steven Parker — second team "Jack"
Gavin Potter — second team weak side inside LB
Kenny Logan Jr. — third team CB
OFFENSE
Mason Fairchild — second team TE (listed with senior James Sosinski)
Velton Gardner — third team RB
SPECIALISTS
Jacob Borcila — first team PK (listed with junior Liam Jones)