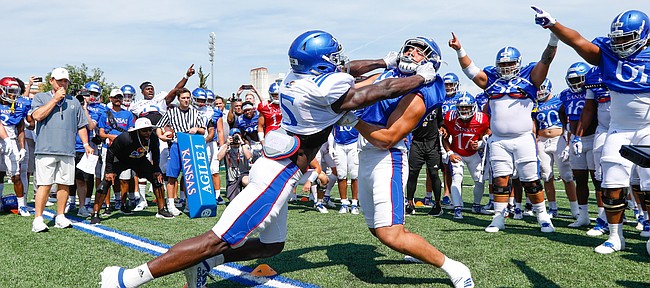 It is no secret that the tight end position has changed at nearly every level of football.
The days of tight ends only being used as an extra blocker in short-yardage situations or a red zone threat in the passing game are long gone. Tight ends are expected to be athletic with a strong combination of length and speed, creating mismatches through the air all over the field. They are also expected to have the size to provide extra blocking when necessary.
Junior Jack Luavasa, who is 6-foot-3, 250 pounds, believes he fits the bill and will showcase that for the Kansas football team in 2019.
"That's probably why I got recruited," Luavasa said. "Hopefully I can create some mismatches, do what I have to do to help."
Luavasa's first reception this fall will serve as his official introduction to the Kansas faithful, though it has been many months in the making.
In 2018, Luavasa played in all 12 games for the Jayhawks without recording a single statistic. His collegiate career has featured many twists and turns, as Luavasa has dealt with a position change and even switched programs.
However, given Les Miles' history with utilizing tight ends, it could all prove to be worth it for Luavasa in 2019.
"We move around a lot. We are not just lined up in one spot. We are everywhere," Luavasa said about how the tight end position is different under Miles. "After that, just getting the pass and executing. That's basically where he has us and it has been good."
Luavasa prepared for a bigger role this offseason in a variety of ways.
After summer workouts, Luavasa improved his route running and footwork by working with Kansas receivers. He took notice of how players like Daylon Charlot, Andrew Parchment and Stephon Robinson Jr. got in and out of their breaks.
On top of that, Luavasa watched a ton of film even though it wasn't necessarily tape on himself. Luavasa went to YouTube to watch how NFL tight ends Travis Kelce, George Kittle and Delanie Walker ran their routes.
"I think one example is that if you are running a post, it is not just how you draw it up on the board. It is depending on coverages, depending on where safeties are," Luavasa said. "That's what I try to take from them. Obviously, they make it look easy. It is not as easy as it looks."
The desire to watch as much film as possible comes from Luavasa's quarterback background.
Luavasa played quarterback in high school, but knew a position change was necessary to continue his career. Luavasa played tight end for the first time at Snow junior college, where he caught 23 balls for 324 yards and two scores in his lone season.
The biggest adjustment for Luavasa was just learning how to play in the trenches. Now that he is in his third year of being a tight end, though, Luavasa is finally comfortable with his new position and poised to make an impact this fall.
"I think tight end was the best position for me," Luavasa said. "I'm loving it so far."