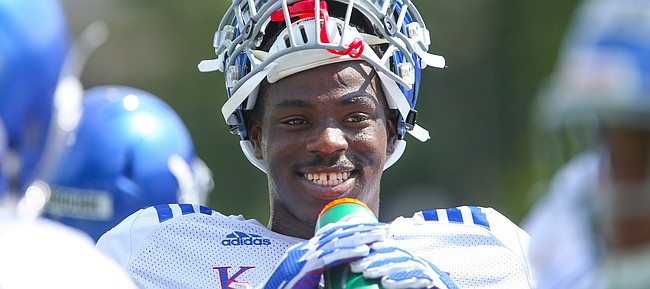 Emmett Jones coaches the receivers on the University of Kansas football roster. But not a day goes by without Jones staying in the ear of outside linebacker Steven Parker.
It was Jones — not only a Dallas native like Parker, but also the former head coach at South Oak Cliff High, where Parker blossomed into a four-star prospect in the Class of 2019 — that helped get the 6-foot-4, 225-pound freshman to Lawrence. And the way Jones sees it, now that the prized recruit is here, it's his responsibility to help Parker become comfortable, so that the youngster will be set up to thrive sooner rather than later.
"That's the kind of stuff we talked about when it came down to him deciding to play at Kansas," Jones said. "Kind of be a big brother for him here. I'm going to be a coach for him here and help him on a day to day basis as far as his approach when it comes to his academics or when it comes to being a football player."
Jones tries to hit Parker with at least a few nuggets of wisdom every time they converse. Often, the assistant said, he just wants to give the college football newcomer reminders that will aid Parker's maturation. Their talks may last two minutes or go on for as many as 10, but Jones makes sure he listens to what the freshman has to say, too, so it's more of a conversation than a lecture.
"He's just a good coach," Parker said of Jones, and what drew him to follow the assistant to KU. "You can always depend on him if you just need somebody to talk to or anything like that. He's always dependable."
That steady diet of prompts from Jones for Parker, the assistant hopes, keeps the freshman on his toes and focused for all that comes with making the transition from high school football to the Big 12. Jones said he wants Parker at ease in all aspects of this acclimation, because that should help the promising young defender learn coordinator D.J. Eliot's scheme with haste.
Since Parker moved to Lawrence earlier this summer, well ahead of the start of preseason practices, he has absorbed a lot. So far, though, he has enjoyed taking on the challenges that come with settling in.
"It's not hard to me," Parker said. "But practices are a lot longer. I haven't really been through any long practices like these. That's probably the hardest thing I went through."
Those who have observed the freshman during KU's closed preseason sessions rave about his potential.
While, Eliot, who coaches outside linebackers such as Parker and senior Azur Kamara, proved purposefully reserved while describing the freshman from Dallas, Eliot said Parker and Kamara (6-4, 235) have similar skill sets.
"They're both long, they're both fast, they're both physical," Eliot said of Parker and Kamara, both of whom play the "Jack" spot in the defense, lining up on the edge from a standing position. "And they can play well in space."
According to head coach Les Miles, the most touted player in his first signing class has delivered "really, really excellent work" during August practices.
Those efforts made some of KU's most talented veterans take notice, as well. Senior safety Mike Lee praised Parker for his "energy."
"I like the way he plays his game," Lee said. "He's a physical player. He can get to the ball and he likes to be around the ball."
The defense obviously needs playmakers to emerge within its mostly inexperienced front. Lee thinks Parker's frame will help him make an impact during his first year playing at the FBS level.
"Just his size, I feel like he's a fast guy," Lee said. "Coming off the edge, he's going to be a real impact player for us."
Likewise, senior cornerback Hasan Defense noted Parker's "high motor," as well as his unique personality.
"Steven's always yelling, always working, always trying to beat out the next guy," Defense shared.
And while the freshman's showings during preseason camp have fueled his reputation, it was something Parker said to one teammate the day he moved in at KU that got back to Defense and grabbed the veteran corner's attention.
Podcast episode
KU Sports writers Matt Tait, Benton Smith, Shane Jackson and Braden Shaw talk about KU basketball strength and conditioning coach Andrea Hudy leaving to accept a job at the University of Texas, the KU football quarterback battle and who they think will be QB1 against Indiana State, the biggest concern ...
"I'm not sure who he told it to," Defense related, "but somebody was in his room and he told them, 'I'm not here to be your friend. I'm here to work.' I really like that coming from Steve."
It can be daunting for a true freshman to show up at a college program playing the same position as a senior, as is the case for Parker. But Defense shared that hasn't discouraged Kamara's understudy.
"He's been attacking it head first," Defense attested. "He's been willing and wanting to get in the game and make plays and show what he can do."
Any brashness Parker possesses doesn't come across in media interviews. Jones, who has known the young linebacker for several years, having recruited Parker dating back to his time working as an assistant at Texas Tech, described the athletic freshman as "mild" and "humble" off the field.
"On the field, anything competitive wise, man, he's the loudest one in the program," Jones revealed. "That's just natural. That's just what he's been doing since his high school career."
Confident as he may be, Parker credited Jones for helping him carry that over into his first couple of months at KU.
And when Parker thinks of their ongoing dialogue, it only expedites his drive.
"Keep going. Don't give up," Parker said of Jones' recurring messages. "He tells me that almost every day, every practice. Just don't give up. Keep going."