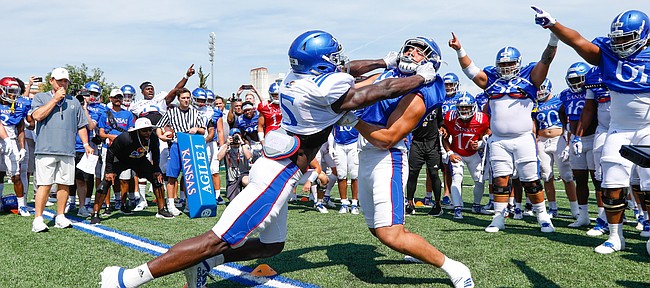 Dating back to the spring and continuing on through the summer and into preseason camp, first-year Kansas football coach Les Miles has leaned into letting those who are listening know that he feels positive about his new team.
So much so that it almost seemed out of character on Friday at KU's media day when Miles referenced some shortcomings while answering questions about the team's goals.
"Our football team needs to improve," Miles said. "And it needs to improve across three boundaries, offense, defense and special teams. We're doing that. I want to get our first game played, under way and see exactly where we're at."
To that point, not even Miles and his assistants will know conclusively where the Jayhawks stand offensively or defensively until they play actual games, beginning with the Aug. 31 opener at David Booth Kansas Memorial Stadium versus Indiana State.
Now that Week 1 is not that far away, and the need to iron out remaining imperfections feels all the more pressing, this is the time of the preseason when coaches can become even more irritable when seeing mistakes.
While defensive coordinator D.J. Eliot didn't single out any offenders or reveal what aspects of KU's defense need the most improvements, he said he has been able to reduce some stress for himself through the process.
"Well, fortunately for me, I've been a part of defensive transitions before," said Eliot, who coordinated the defenses at Kentucky and Colorado before joining Miles' staff. "So I kind of have an idea of what to expect, and you can't get ahead of yourself. I wouldn't say that I'm annoyed with anything, because I anticipated some things."
Just as Miles has proven to be regarding schemes and philosophies since coming to KU, Eliot proved tightlipped, too, when asked about his biggest concerns for the defense a couple weeks ahead of its 2019 debut.
"It's too early to tell," Eliot postured. "Defensively, no matter where you work, you harp on tackling. That's a concern no matter where I'm working, is making sure, not only that they're in position to make the plays, but that they make them, right? And then you harp on creating turnovers — not only that they're in position to make the play but that they make them, that they catch that interception, that they strip that fumble. And you harp on being assignment sound, too. That's getting you in position to make the play."
Eliot admitted that KU's defense isn't "at all" where he wants it to be yet.
"We still have a lot of work to do," Eliot said. "But I think we're right on track for where we need to be."
As far as KU's offense goes, coordinator and quarterbacks coach Les Koenning proved even more reticent to discuss his plan of attack or the Jayhawks' standing at this stage of preseason camp.
Koenning did, however, explain some strategies he is using to get more out of KU's quarterbacks. Koenning said sometimes the QBs are placed in "bad situations" at practices just so the coaches can see how the signal callers handle them.
"If you're putting them always in good situations, then when they get to the game they're going to think it's easy," Koenning said. "It doesn't happen that way, fellas. I'm telling you, we can draw every defense up, we can draw everything up on the board that we've got. There's a possibility that can change — how are you going to manage those situations?"
Koenning said his goal is to provide the quarterbacks with on-field answers to the problems they will encounter.
"And how do they react to it? That'll determine if you're successful 90 percent of the time," he added.
Up to this point, though the Jayhawks obviously still have work to do in all facets of the game, Miles said he thinks the players have met some of his goals for them, including their ability to display improved "toughness."
"They understand when they take the field," Miles said, "they have to be ready to play in difficult situations, let alone be able to return the physicality that your opponent is willing to play with."
KU's head coach didn't conclude his discussion of goals reached and yet unachieved, though, without going back to a familiar phrase.
"I like who we are," Miles said. "I like how we play and practice. I think we'll fare well and I think the standard will be after the first game."