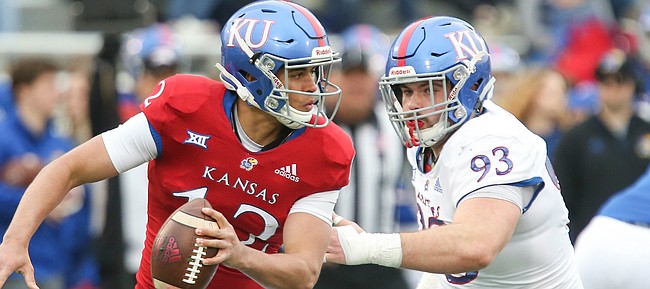 As soon as Kansas football head coach Les Miles handed him the Gatorade towel, junior nose tackle Sam Burt knew something was up.
A walk-on the previous two seasons who played mainly on the scout team and special teams, Burt received the unexpected gift from Miles Wednesday night.
"But then once I unrolled it, reading the paper and just seeing the paper, years of hard work felt acknowledged," said Burt, who found out in that unusual manner that he would be receiving a scholarship. "It made me feel like I was being recognized for the things that I did and the things that I did mattered."
The KU football team's social media accounts posted a video of the exchange, which was a first for Miles.
"I never had given scholarships out to walk-ons in a loud public way, because there's probably 10, 15, 20 guys who are tremendously responsible and play for us on a day-to-day basis that don't have scholarships," Miles said. "And so I've always kept it between me and the young man who was going to get the scholarship."
However, Miles said Burt was "different and special," citing his work ethic, his high grade point average and being "tough as nails." 
His first two seasons at KU, Burt seriously questioned whether he even wanted to continue playing as a walk-on at all. Even without the financial help, Burt, a native of Abilene, was grinding on the scout team and in the weight room with the rest of his teammates.
He also was constantly juggling football with paying for school while also not having the ability to have another source of income.
"But I'm so glad I pushed those thoughts aside, just thinking I was a part of something bigger than myself," Burt said. "I think that's what kept me going, what kept driving me, what kept me trying to work hard."
And heading into Wednesday night, Burt had laid the foundation for a potential breakthrough. During the spring he really felt himself developing quickly and receiving more of a prominent role in the defense.
"Coming into fall camp, I knew (receiving a scholarship) could be a very big possibility if I could get to fall camp and also earn playing time in the fall," Burt said. 
He kept putting in the time and work through the summer and the beginning of camp, yet still found himself conflicted.
"I think coming into fall camp wondering how I was going to pay for the fall and how that was going to look, I was focusing more on that and not a lot on football," Burt said.
Walking into Wednesday's meeting, he "didn't have a clue" of how his life would be completely changed. 
Miles walked in with a cooler full of popsicles and addressed the team, saying he was looking for "that guy who is selfless," specifically at nose tackle. Eventually, Miles called up Burt to the front of the room.
"This is strange," Burt recalled thinking.
Once Burt made his way up there, Miles handed him the Gatorade towel.
"I read it and just immediately broke down, because of how amazing it feels and all the hard work being recognized," Burt said.
And the emotions poured out of his teammates as well, who immediately swarmed him after the announcement.
"Just before the announcement, and as it was displayed there was going to be some information forthcoming, somebody said at a distance, 'I hope it's a scholarship,'" Miles said. "Then his team in an outpouring of emotion, loved on him. It was sweet."
Burt attributed that support to what's gotten him to this point in his football career.
"Those are my brothers, those are my teammates, the guys I do harder stuff with every day and fight with every day," Burt said. "Having that support and sharing (that moment) with my teammates and coaches was special for me and one of the best moments of my life."
Burt said it "was like a weight lifted off my shoulders," when he received the scholarship, and now he can solely concentrate on football.
Throughout fall camp and with the guidance of defensive line coach Kwahn Drake, Burt said he's improved his technique and been able to work on various positions on the defensive line.
Drake also said Burt has stepped up in a leadership role this offseason, along with senior defensive ends Codey Cole III and Willie McCaleb.
"Those guys have done a really good job of taking the younger guys on and really just finding the role which they can do and giving that aspect to them," Drake said. "The group is coming together as one."
Miles and Drake both sang the praises of Burt, who has put in the time and work to get to this point right before the start of the regular season. For Burt, he wants to continue growing and keep that work ethic that got him here, something he would tell his freshman self and other walk-ons with whom he can empathize.
"Coaches value being consistent, coaches value hard work and coaches value you being in the right place at the right time and you knowing what you're doing," Burt said. "If you check all those boxes, the coaches will recognize you and they'll recognize that you're there."