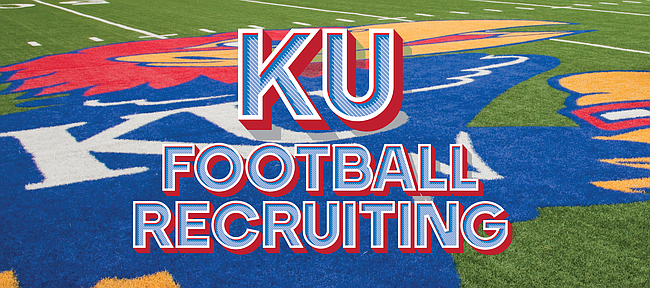 The job isn't done yet for Les Miles and his Kansas football staff, but the coaches now have 25 commitments lined up for their 2020 recruiting class.
A three-star cornerback from Shreveport, La., Tanner Hooker allowed the Jayhawks to achieve that milestone Wednesday evening, when he made public his plans to join the fray.
"I'm excited to announce that I'm committed to the University of Kansas," Hooker posted to his Twitter account, along with two photos of him wearing a blue KU football uniform, from when he visited Lawrence this past spring.
The NCAA allows programs to sign a maximum of 25 scholarship players each year, so KU's class looks tentatively set — although much can change with nonbinding verbal pledges on the typically wild college football recruiting trail.
According to Rivals, Hooker possessed more than a dozen scholarship offers at the time of his commitment, including ones from Houston, Indiana and Kansas State.
Hooker became the fourth 2020 KU recruit from the state where Miles, the former LSU coach, used to call home. The other potential Kansas signees from "The Boot" are also three-star prospects, per Rivals: linebacker Taiwan Berryhill and defensive linemen Kenean Caldwell and Khari Coleman.
Jon Kirby of Jayhawk Slant reported earlier this year that KU assistants Tony Hull and Chevis Jackson recruited Hooker.
The earliest any of KU's 25 high school recruits can sign and make their ties to the program official is December.
2020 KU football recruiting class
- Verbal commitments
• Brennon Scott - 4-star LB from Texas
• Duece Mayberry - 3-star CB from Oklahoma
• Jackson Stoefen - 3-star OL from Iowa
• Keenan Hambrick - 3-star WR from Alabama
• Trevor Kardell - 3-star TE from Missouri
• Will Huggins - 3-star TE from Kansas
• Krishawn Brown - 3-star LB from Oklahoma
• Khari Coleman - 3-star DE from Louisiana
• Garrett Jones - 3-star OL from Michigan
• Ja'Cobee Bryant - 3-star CB from Alabama
• Malik Johnson - 3-star WR from Texas
• Caleb Taylor - 3-star DE from Missouri
• Kenean Caldwell - 3-star DT from Louisiana
• Jaylin Richardson - 3-star athlete from Kansas
• Taiwan Berryhill - 3-star LB from Louisiana
• Lawrence Arnold - 3-star WR from Texas
• Chris Jones - 3-star DE from Florida
• Tanner Hooker - 3-star CB from Louisiana
• DaVonshai Harden Jr. - 2-star QB from Kansas
• Luke Grimm - 2-star WR from Missouri
• Tommy Brandt - 2-star OL from Minnesota
• Juan Jarrett - 2-star LB from Ohio
• Nicholas Martinez - 2-star OL from California
• Kyler Pearson - 2-star WR from Oklahoma
• Daniel Hishaw Jr. - 2-star athlete from Oklahoma
More like this story on KUsports.com