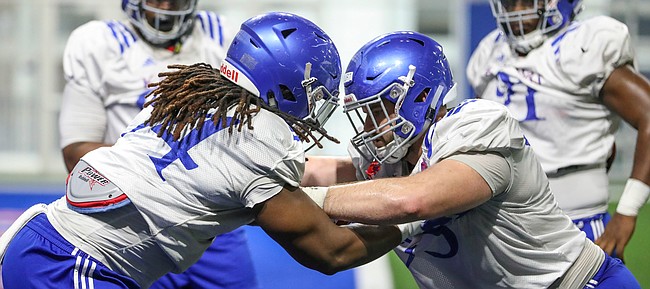 A homegrown University of Kansas junior from the small city of Abilene, Sam Burt is no longer a walk-on with the Jayhawks' football program.
Head coach Les Miles informed Burt of that news while meeting with the team Wednesday.
In a video of the surprise exchange between the head coach and the defensive lineman posted to the football program's social media platforms, Miles presented Burt, a 6-foot-4, 293-pound nose tackle, with a message on a sheet of paper that was hidden under a towel.
As Burt unrolled and examined the gift, he and his teammates came to realize KU was putting him on scholarship. Predictably, some fellow Jayhawks rushed to the front of the room to mob the big lineman and help him celebrate.
"We're looking for that guy on the defensive side of the field who is completely selfless," Miles said as the scene unfolded.
KU's head coach spoke to his team about the importance of a nose tackle knocking back an offensive lineman to set the stage for the reveal, before Miles asked Burt to come up from his seat in the auditorium to the front of the room for what proved to be a moving moment for the D-lineman.
Burt hugged Miles and shook his coach's hand once the madness subdued.
A walk-on in KU's 2017 recruiting class, when David Beaty was the head coach, Burt played in all 12 games on special teams as a true freshman. In 2018, as a sophomore, he returned to his special teams role, and played some spot snaps on the defensive line in five games.
Even before Miles' announcement, Burt was expected to be one of the KU defense's key interior linemen up front this year, along with senior Jelani Brown.
Late Wednesday evening Burt tweeted out his feelings on the news.
"Thankful for all that this staff and all my teammates have done for me," Burt wrote. "I really wouldn't have this opportunity without their support and the support of so many other family and friends. All I can say is that God is good and the Jayhawks are coming."
A former teammate of Burt's, Daniel Wise, currently trying to make the Dallas Cowboys' roster, posted his congratulations on Twitter upon seeing the news. Wise said he was "proud" of Burt, calling the former walk-on deserving of becoming a scholarship student athlete.
One of the most important defensive players for KU over the past few years, Wise said Burt is "always willing to put in extra and outwork everyone" around him.
"Your hard work didn't go unnoticed," Wise added.