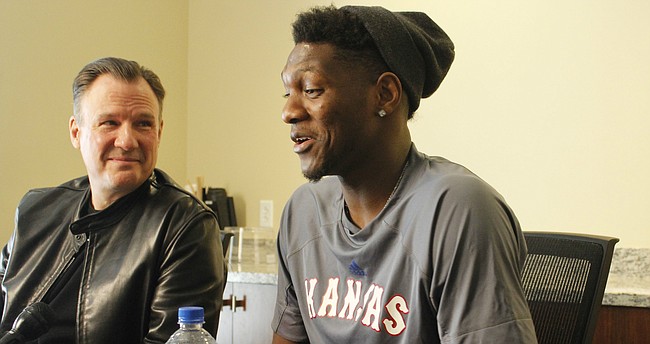 With his appeal of a two-year suspension by the NCAA now formally filed, the path forward is clear for Kansas sophomore Silvio De Sousa.
If the appeal is granted, De Sousa will return to Kansas for the 2019-20 season. If it is denied, he will leave.
That much was learned Friday afternoon during an interview requested by the Journal-World, where De Sousa and his attorney, Scott Tompsett, sat down to discuss the forward's future and the toll his ongoing battle for eligibility with the NCAA has taken on his psyche, his game and his future.
Asked to clarify his plans, which were outlined in a letter sent by his attorney to the NCAA that accompanied KU's appeal, De Sousa, who Friday declared for the NBA Draft, said he would return to KU if he's allowed to play during the 2019-20 season.
"I will be back for sure," he said.
And if the appeal is denied?
"I will be gone for sure," De Sousa explained.
Throughout the 12-month ordeal that began with De Sousa's guardian, Fenny Falmagne, being linked to a pay-for-play scheme involving Adidas bag man T.J. Gassnola last April, and included the NCAA suspension in February along with Thursday's appeal by KU, De Sousa has remained upbeat and determined to help both himself and the Kansas basketball program in any way he could.
None of it, however, has been easy.
De Sousa has leaned on his brother and girlfriend, a KU softball player, for emotional support and done his best to shield his mother from the waiting game that has been a part of his every day life.
"I try not to talk to my mom about this situation because whenever she asks me, 'Have you heard anything back from the NCAA or from school,' and I tell her not yet, I can feel the difference in her voice, that she's really down about it," De Sousa said Friday. "It's just hard to deal with it when I know my mom is suffering more than I am. I can feel the sadness in her voice."

De Sousa has maintained his innocence throughout the past year, saying multiple times to multiple outlets that he never took money or knew of any wrongdoing.
Repeat inquiries of such facts were posed before Friday's interview, but Tompsett said Friday was a day for De Sousa to tell his story perseverance not to discuss actions that cost De Sousa a year of eligibility.
"This is a young man who is completely and totally innocent," Tompsett said. "He's cooperated fully with the investigation. He answered every question asked of him. He's done everything asked of him. And the facts are undisputed that he was not involved in any way whatsoever with what the adults were doing in this case, T.J. Gassnola and Fenny Falmagne."
Put more bluntly, Tompsett said, "There's nothing that Silvio could've done differently in this case to avoid the situation that he is in now."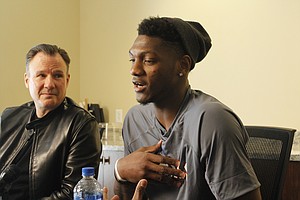 Rather than let the NCAA's initial ruling defeat or define him, De Sousa, who hails from Angola and came to the United about five years ago to pursue his dream of someday playing professional basketball, has chosen to use it to fuel him.
"I think the day I found out I couldn't play was the hardest one," he said Friday. "And when they released I was ruled (out) for two seasons. Those two days were the worst. I didn't have much to do so I just decided to go to the gym and work the stress out of it."
Never was that more important than the night of Feb. 1, when De Sousa first learned of his suspension.
After hearing the news himself, he sent his girlfriend a text message asking if she had seen it. She had.
"She noticed I was really down and the only thing she said was, 'Let's go downstairs. Do you want to shoot (baskets) or do you want to go to a movie,'" recalled De Sousa. "And I said, 'Let's go to the gym.' I had flip-flops on and we were just shooting and shooting for at least five or six hours."
Tompsett checked in on De Sousa that same night. What he received in reply was a video of De Sousa teaching his girlfriend how to shoot hoops.
These days, De Sousa is still in the gym with that kind of fire, though maybe for shorter periods of time.
As recently as Thursday night, the 6-foot-9 power forward who played a key role in getting KU to the Final Four during his freshman season posted to his social media story a video of himself drenched in sweat inside the McCarthy Hall gymnasium, with the time stamp of 1:40 a.m. hovering over the picture.
Reminders that he is still a basketball player and his future is still bright have not been hard to come by for De Sousa. They just have come in different forms. Rather than hearing the roar of the crowd and starring on game night, he's had to win during practice as a member of the scout team.
"I had a lot more fun this year on the scout team just because I knew I was helping the team in some way that was big time," De Sousa said with a smile.
With the season behind him and hope on the horizon — Tompsett said he thought the appeal would be reviewed quickly and that a ruling could come as soon as next week — De Sousa finds himself at a bit of a crossroads.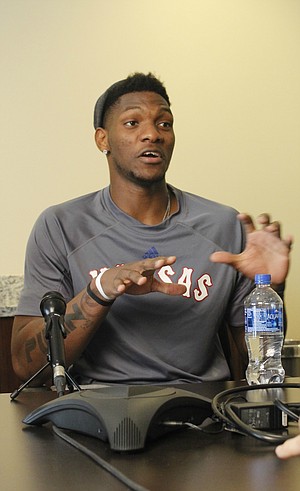 The early-entry deadline for the NBA Draft arrives Sunday and De Sousa, after conversations with his family, coaches and attorney, said he believed that putting himself on a guaranteed path to showcasing his basketball talents was the right move. But he does not want to leave Kansas.
"Playing second semester last year wasn't enough to prove or show who I am," he said. "I truly believe that there is something (positive) that will show up very soon. I mean, if I didn't have hope, I wouldn't say that I'm coming back to Kansas."
Why the hope?
"Just by knowing what I have done and what I haven't done," De Sousa said. "Just knowing the truth keeps my hopes up."
And why the draft? Simple. Options.
But it's more than that. And De Sousa, who has grown up in ways he never expected he would have to during his time in America, made sure to keep that at the front of his mind while deciding whether to declare for the draft or wait for a resolution.
"I remember, like three days ago, asking myself, 'Are you just making this decision to declare for the draft because you have this stress or are you declaring for the draft because it has been your dream and you're trying to do this for your future,'" De Sousa began. "I chose to declare for the draft because it's a dream of mine and not because this situation is forcing me to do that."
While his attitude and support system have kept his spirits up during this trying time, De Sousa knows he's not all the way back yet. But his own positivity and Tompsett's confidence have him believing better days are ahead.
Tompsett's letter, which is four pages long and divided into five sections, carries an impassioned tone and requests that the Student-Athlete Reinstatement committee that will review De Sousa's appeal — a different group than the one that handed down the suspension — grant "immediate reinstatement of Silvio's eligiblity."
"I'm making the point this is fundamentally unfair," Tompsett said in his explanation of the tone of the letter. "I don't want to dismiss or trivialize the fact that we have very strong legal arguments. So I don't want anybody to get the wrong idea of, 'Well, lawyer's arguing emotion because he doesn't have the law on his side or the bylaws.' We've got the bylaws on our side. But I want this committee not just to focus on the bylaws and the legalese and the legal arguments. I want them to understand the human element, because I think that that is as compelling, if not more of a compelling argument in this case."
On Friday, Tompsett spoke with confidence about why he thinks that goal would be reached.
"They get it wrong," he said of the NCAA. "But they don't always get it wrong. And, of all the cases that I've worked on, it's hard for me to remember a more compelling case, strictly on just fundamental fairness. That's why I'm confident that they're going to look at this, hopefully with a different perspective and more clearly than it was looked at the first time, and I hope Silvio's going to be playing next year as a Jayhawk. … I'm confident because our case is very strong."
Tompsett credited KU for its extraordinary efforts in pursuing De Sousa's eligibility and said that the university's aggressive and thorough measures to support De Sousa were made all the more impressive by its willingness to stick with it through "by far the longest reinstatement case I've ever been involved in."
"Typically these cases are handled by the compliance officer and the AD looks at the request and signs off on it," said Tompsett, who has more than 25 years of work in all areas of NCAA infractions and compliance work to his name. "The athletic administration (at KU) has been deeply involved in this case. The executive administration, up to and including the chancellor, have been personally involved in this case. They have supported Silvio throughout this process. They have committed significant and substantial resources to this, in time, in effort, retaining outside counsel, just countless hours put into this."
Said De Sousa of what it meant to have so many people fighting for him: "I don't think I could ask for better support than I have right now from Kansas athletic department and also Kansas fans. And I'm just so thankful to have them here right next to me."
Because of that, De Sousa wants to continue to show his appreciation well into the future.
"Kansas changed my life," he said. "Not many people where I'm from get to be where I am right now. And Kansas gave me opportunities, so I feel like I have a lot to give to them."
"When I got ruled out, I remember thinking they took away the athlete, not the student part," added De Sousa, who has a cumulative grade-point average of 2.79 but has seen it skyrocket to 3.5 during the current semester. "All I lost this year was just the opportunity to show what I could do. But, otherwise, I haven't lost anything."