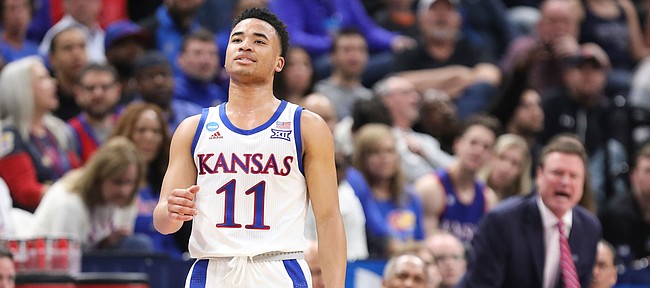 While the common response to a season-ending loss like the one the Kansas men's basketball team suffered nearly two weeks in Salt Lake City is to get in the gym and get after it harder than ever so nothing like that ever happens again, KU coach Bill Self has advised a slightly different approach for the current Jayhawks.
In a word, he wants them to rest.
"Marcus (Garrett) needs time off," Self told the Journal-World recently when asked if the second-round loss to Auburn might fuel even more motivation in his returning players. "Ochai (Agbaji) needs time off for sure, with his shins. He didn't let anybody know but they've been hurting him for a while. He just didn't want to sit out. (Point guard Devon Dotson's) body is totally worn down and Dedric (Lawson's) is too. And Q (Quentin Grimes) also. That's a lot of mileage on a freshman."
Don't mistake Self's suggestion for one that keeps basketball off of the minds of his players altogether. There are a dozen other ways to improve and develop one's game while still giving the body time to rest and recover.
And whether it's watching film, self-scouting, coming up with a plan for the next six months or staying off their feet entirely, Self said his young team needed to rest mentally as much as physically.
"I think the expectations, losing Dok (Udoka Azubuike), losing Lagerald (Vick), not having Silvio (De Sousa), obviously not winning the league, put some extra stress on them," Self said. "And I think they're tired."
While a lot of the current down time will be used to heal old injuries, refocus on classes and catch a break from the grind of the season, some of it also will be used for decision-making, a stressful endeavor in and of itself that will require clear minds and sharp focus.
Lawson, Azubuike, Grimes, De Sousa and perhaps one or two others all will be making decisions about their futures in the next week or so. It remains to be seen what each Jayhawk will decide, but conversations with their families, friends and coaches will take the place of sprints, defensive slides and heavy weight room sessions for the time being.
"I do believe we're in a situation where some guys are going to test (their NBA status), without question," Self told the Journal-World. "And that wouldn't surprise me nor would that disappoint me at all. I think that's something that should be looked into and certain guys should consider. And there may be a couple that consider it in a way that says that's what they're going to do."
As for those who don't, one way or the other KU figures to return a strong core of returning talent that gained valuable experience from the successes and failures of the 2018-19 season.
And whether those players choose to focus on grinding their way to a 4 seed or the bitter disappointment of the end of the Big 12 title streak or the season-ending loss to Auburn, Self believes all of the tears and tough moments that came at the end will mean good things for the future of Kansas basketball.
"I personally think it will be great motivation for us," he said. "It's a great learning experience. If you weren't that emotional that means you probably don't care that much. So you know that they cared and they fought their butts off."