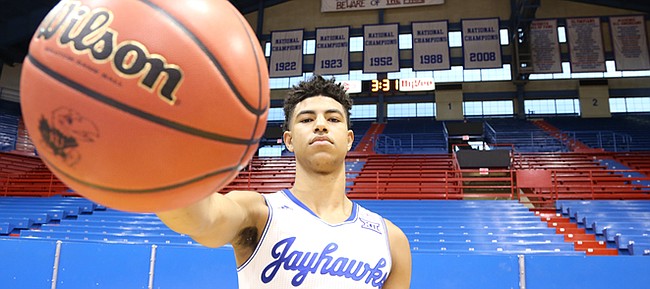 A season's worth of hype and praise was heaped onto Kansas freshman Quentin Grimes long before the smooth combo guard from Texas even thought about suiting up for his first game with the Jayhawks.
So how does a player who some have called one of the best freshmen in the country and others have called potentially the best player in all of college basketball live up to that kind of chatter?
Simple. By focusing on the aspects of the game he still needs to improve in order to become the type of freshman force the Kansas basketball program — along with several NBA scouts — believe he can be for the Jayhawks during the 2018-19 season.
Few people have a better understanding of just what those things are than KU coach Bill Self. That's thanks to the two-week bonus time Self and Grimes spent together earlier this summer while leading Team USA to a gold medal at the U17 FIBA Americas in Canada.
"I really like his all-around game, whether it be being an elite guard or being a 2 guard or a 3 guard or a lot of different things, he's impressed me with his size and his athletic ability," Self told the Journal-World. "But I will say this, I also think the USA Basketball helped me understand him more on things he's got to get better at. I think it really helped him, too."
Asked to break down the areas where Grimes needed the most work, Self quickly pointed to two spots on the offensive end.
"Being able to be pressured as a big guard, with a little guard underneath you," Self began. "Or the value of being an efficient shooter with percentages as opposed to volume. I think there's a lot of things that he understands better now than he did going into the summer."
Since arriving on campus a couple of weeks after most of his KU teammates, Grimes has taken that attitude to heart, working hard on his strengths and even harder on his weaknesses. Regardless of which side of the spectrum draws his attention, Grimes believes there's one place that can help him take care of all of his basketball needs.
"I think really it's just about staying in the gym, making sure you're always improving," he said in June. "You can't get complacent."
That is one thing Self does not expect to be a problem for the 6-foot-5 guard who already has shown up on NBA mock drafts for 2019. Whether up close and personal with Team USA this summer or throughout his time recruiting him during Grimes' prep career, Self saw plenty of instances of versatility, tenacity and talent oozing from Grimes' game. The fact that Self can plug him into three or four different spots and roles only makes him more valuable and exciting in the eyes of the Kansas coach.
"I've always thought he had great vision and had a great feel for passing and that was emphasized with the USA team," Self said. "I don't want any of our guys to settle into a spot. I want them to be players that play together and make the extra pass and you can play with multiple point guards. You know, you can play with three point guards as long as two of them can shoot and one of them's big enough to defend the 3. And here's a guy that's a point guard, who's big enough to defend the 3 and can shoot. So, yeah, I see his value in many places."