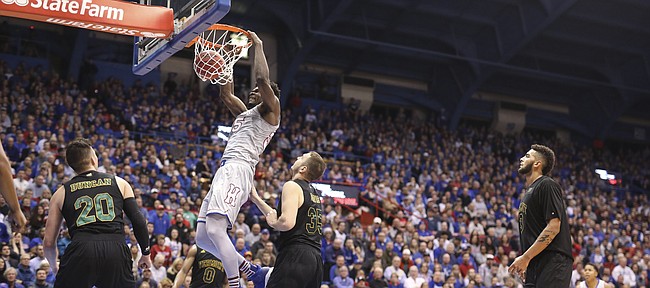 New York — No. 2 Kansas Jayhawks (3-0) vs. Marquette Golden Eagles (3-1)
Time: 6 p.m. | Location: Barclays Center, Brooklyn, New York
TV: ESPN2 | Radio: IMG Jayhawk Radio Network
Not going to be home for the game? Sign up for ESPN+ and watch your Hawks on the go.
Log on to KUsports.com for our live game blog coverage and follow the KUsports.com staff on Twitter: @KUSports @mctait @bentonasmith & @SJacksonLJW
Keys for Kansas
1. Find an identity
Everyone knows that, between Dedric Lawson's ability at the rim and Udoka Azubuike's monster size and dunking ability, the Jayhawks are a team best equipped to pound the ball inside and do their damage down low.
But so far this season, the Jayhawks have been just as effective from the outside as they have inside. Part of the reason for that has been the inconsistent play of Azubuike and the early struggles of Lawson.
But another big reason for it is KU's lights-out shooting from 3-point range. Led largely by Lagerald Vick's red-hot hand, the Jayhawks enter this one shooting 47 percent from 3-point range. More than that, though, the Jayhawks are actually outpacing one of their best 3-point shooting seasons of all-time.
KU is 30 of 64 from 3-point range thus far this season, which is 20 3-point attempts behind last season's record pace through three games, but actually 12 3-point attempts ahead of the pace from the 2016-17 team, which opened the season 12-of-52 from 3-point range through three games.
More than a third of KU's points have come from the 3-point shot, with 50 percent coming on 2-pointers and 16 percent coming from the free throw line.
Self has said that this team needs to be a team that punishes opponents inside. But so far the Jayhawks have shot it from the outside way better than anyone expected. It's hard to tell a team to stop shooting open outside shots when they're falling at such an impressive rate. But sooner or later the Jayhawks figure to hit a point where they really do cause major problems for teams in the paint, giving up the temptation of firing away from the outside.
2. It's time to defend
The Jayhawks have played six halves this season and allowed an opponent to shoot 45 percent or better from the floor in three of them.
That clip does not sit well with Kansas coach Bill Self and the KU leader had no problem saying as much earlier this week.
KU's defense has been good enough in those other three halves to keep the Jayhawks from encountering any real trouble, but opponents are shooting 42.7 percent overall and a whopping 39 percent from 3-point range.
"There's not a lot of things that I love right now," Self said when asked what he had seen from his team that would serve the Jayhawks well this week in New York. "I think defensively we are not very good. We are last in the Big 12 in most every defensive category, whether it be field goal percentage or three point field goal percentage."
Those numbers figure to improve as this still-young Kansas squad gets more comfortable with the new personnel and with Self's expectations.
3. Turn up the pressure
So far this season, the Golden Eagles are turning the ball over more than one out of every five possessions. That 21.8 percent turnover rate ranks 277th in the country and has created major problems for Marquette thus far.
While limited talent and depth in the backcourt beyond junior guard Markus Howard has been part of the problem, execution and focus has been an issue, as well.
"That's pretty much the biggest thing," Howard said this week. "Executing our offense, just trying to stay poised in everything we do."
Look for KU's guards, led by Devon Dotson, Charlie Moore and Vick, to really pressure the ball in this one and look for that harassing style to work and lead to easy transition points for the Jayhawks.
Marquette is averaging 16 turnovers per game, has turned it over 15 or more times three times and gave it away a whopping 22 times in a recent win over Bethune-Cookman.
Mega Matchup
KU senior Lagerald Vick vs. Marquette junior Markus Howard
This Big Apple battle features two of the hottest offensive players in college basketball. So who cares if they even wind up guarding one another? Their offensive production is too important to their respective teams to worry about whether they can slow one another down.
Vick, who earned Big 12 player of the week honors for his 32- and 33-point outbursts against Vermont and Louisiana, has made 15 of his last 20 3-pointers and is playing with the kind of confidence seen in recent years from Frank Mason III and Devonte' Graham.
"His energy level is different," Self said earlier this week. "It's a scientific fact that when you make shots it definitely pumps energy into you. That's been studied everywhere and been proven. But the reality is that he is playing with more energy defensively. He's got more juice. He's talking more. He's showing more emotion and having fun."
Howard, a 5-foot-11, 175-pound guard from Chandler, Arizona, enters averaging 20 points, 5.8 rebounds and 5.4 assists per game, while leading the Golden Eagles with a dozen 3-point makes in four games. He's also the only true guard in the starting lineup and carries a lot of the burden in the backcourt.
Marquette's thin backcourt figures to give Kansas an advantage, given that the Jayhawks can throw Vick, Marcus Garrett and Quentin Grimes at Howard on D to keep him from getting too comfortable against any one defender.
Still, Self believes Howard is good enough to carry Marquette's offense and give Kansas problems.
"They've got a guy capable of getting 35 or 40 any night," Self said of Howard. "He makes guarded shots and sometimes all you can do it defend him and get a hand up. He makes a lot of bad shots to be honest with you. He's that talented. He's going to average more than 20 on the year. He's a prolific scorer."
Jayhawk Pulse
The Jayhawks are back in the Big Apple for the first time since 2016, when Mason's late jumper beat Duke in the Champions Classic at Madison Square Garden.
This trip, for the semifinals of the NIT Season Tip-Off, will be much different than that one. For starters because the Jayhawks won't be coming from Honolulu to get here, but also because the Jayhawks will be celebrating Thanksgiving together as a team this week and also will be sticking around for a while.
In addition to playing two games in a three-day span, Kansas will stick around an extra day to do some sightseeing before returning home on Sunday.
How the Jayhawks play today and Friday will go a long way toward determining how enjoyable those Saturday adventures will be.
Kansas leads the all-time series with Marquette, 6-1, and will have a tough game against whichever squad it faces on Friday, No. 6 Tennessee or Louisville.
"It is a great field," Self said. "I would think that this would be one of the best fields that any of the early-season tournaments have. Three of the teams winning national championships speaks to history more so than it does the present. But, the present is still very good."
Probable Starters
No. 2 Kansas
G – Devon Dotson, 6-2, 185, Fr.
G – Quentin Grimes, 6-5, 210, Fr.
G – Lagerald Vick, 6-5, 190, Sr.
F – Dedric Lawson, 6-9, 235, Jr.
C – Udoka Azubuike, 7-0, 270, Jr.
Marquette
G – Markus Howard, 5-11, 175, Jr.
F – Jamal Cain, Jr., 6-7, 195, Soph.
F – Sam Hauser, 6-8, 225, Jr.
F – Joey Hauser, 6-9, 230, Fr.
F – Theo John, 6-9, 240, Soph.
More like this story on KUsports.com