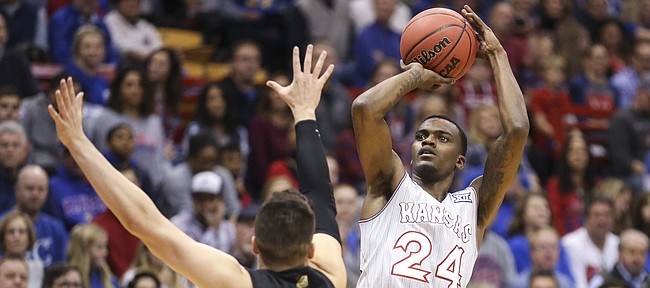 Kansas senior Lagerald Vick earned Big 12 player of the week honors on Monday after recording career-highs of 32 and 33 points in KU victories over Vermont and Louisiana last week.
It marked the second consecutive week that a Jayhawk had taken home the honor, with redshirt junior Dedric Lawson earning the nod last week after a strong showing in KU's season-opening victory against Michigan State.
Vick made 15 of 20 3-point attempts in the two KU victories last week, including a school-record 8-of-8 from 3-point range in the win over Vermont.
For the week, Vick averaged 32.5 points and shot 23-for-32 (71.8 percent) from the field, while also averaging six rebounds per game.
Vick's 15 3-pointers in the two contests set a Kansas record for most 3-pointers made in consecutive games.