When Louisiana State University fired Les Miles as its head football coach a little more than two years ago, the athletic department's action came on the heels of some late-game clock mismanagement in the Tigers' 2016 SEC-opening loss.
His critics at the time pointed to similar game management instances and Miles' reliance on a traditional run-heavy, pro-style offense as other college programs embraced spreading the field with innovative passing attacks.
As Miles officially made his return to college football Sunday, when Kansas named him its next head coach, Miles insisted during his introductory press conference his time away from the sidelines included plenty of reflection.
Photo Gallery
KU football introduces Les Miles as next head coach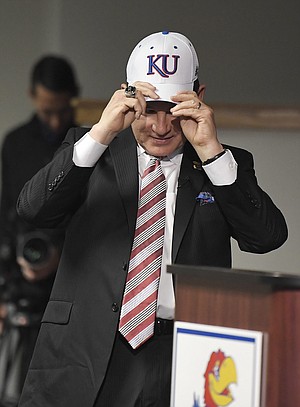 Les Miles was introduced as the next KU football coach Sunday afternoon.
"I did very much look to myself and what I needed to change to make us, me, more successful as an offensive coach," Miles said, when asked whether he would reconsider his offensive philosophies.
While some may think back on Miles' time at LSU and see nothing but running backs churning for tough yardage and busting through at times with long runs, the Jayhawks' new coach said his old Tigers teams leaned on the passing game more when he had a quarterback he could trust.
In 2013, Zach Mettenberger's senior season, Miles pointed out, the QB threw for more than 3,000 yards, while running back Jeremy Hill rushed for 1,300 and receivers Jarvis Landry and Odell Beckham Jr. both topped 1,100 receiving yards.
"So when we had passers, we threw it," Miles said, going on to reference successful LSU passing attacks with Matt Flynn (2007, when the Tigers won the national title) and JaMarcus Russell (2005-06) at quarterback.
"When we had guys that could not throw the ball well, that were not — couldn't process under the heat of the game — we ran the football and won 10 a year," KU's football coach added, referencing LSU's average number of victories from 2005 to 2010.
The talent levels and abilities of the players he coaches, Miles said, ultimately determine what type of scheme he will embrace on both sides of the ball.
During most of Miles' time in Baton Rouge, La., the SEC was associated with defensive fist fights. Now, after some time off, Miles finds himself in the Big 12, where spread offenses and gaudy passing numbers tend to be king.
Podcast episode
Moments after Kansas introduced Les Miles as the program's 40th head coach in team history, the KU Sports staff did an emergency podcast at Allen Fieldhouse. KU football reporter Benton Smith is joined by Matt Tait and Shane Jackson to discuss Miles' introductory press conference and where the Jayhawks go ...
While he didn't take a hardline stance on what the KU offense will look like in 2019, Miles said the Jayhawks will have to incorporate a downfield passing approach, regardless of their style of play.
"I think the opportunity to have balance and the ability to run it when you need to run it and throw it when you need to throw it is paramount to success in that league," Miles said of the Big 12. "But what's happened is, they have gone to stop the run in that league and everybody's just chucking the ball down the field. So, I think a little bit of ball security and a little bit of controlling the tempo and the game clock will certainly benefit us."
It could be much easier to pull that off next season if KU's offense is structured around its running backs, including Pooka Williams Jr., whose 252 rushing yards on 15 carries this past weekend at Oklahoma led to the freshman winning Big 12 Newcomer of the Week for the fourth time this season. Pooka Williams, junior Khalil Herbert and sophomore Dom Williams all have eligibility remaining and could return to Kansas next season.
While Miles admitted he could see the advantages of running an Air Raid offense, he didn't indicate whether his first KU team will roll with that specific system or anything similar.
"It's an interesting thing," Miles said. "It's a finesse game at times, and then it's a slug-you-in-the-mouth game. So I think there's some advantages to it. I think our personnel would have to direct me more or less."
LSU offense during Les Miles' 11 full seasons
Season (record) — Rushing average | Passing average | Points per game
2005 (11-2) — RYPG: 150.1; PYPG: 224; PPG: 29.5
2006 (11-2) — RYPG: 165.8; PYPG: 251.7; PPG: 33.7
2007 (12-2) — RYPG: 214.1; PYPG: 225.3; PPG: 38.6
2008 (8-5) — RYPG: 166.8; PYPG: 201.3; PPG: 30.9
2009 (9-4) — RYPG: 122.8; PYPG: 181.8; PPG: 24.8
2010 (11-2) — RYPG: 185.7; PYPG: 155.6; PPG: 29.7
2011 (13-1) — RYPG: 202.6; PYPG: 152.5; PPG: 35.7
2012 (10-3) — RYPG: 173.7; PYPG: 200.5; PPG: 29.8
2013 (10-3) — RYPG: 202.3; PYPG: 251; PPG: 35.8
2014 (8-5) — RYPG: 224.5; PYPG: 162.9; PPG: 27.6
2015 (9-3) — RYPG: 256.8; PYPG: 180.4; PPG: 32.8