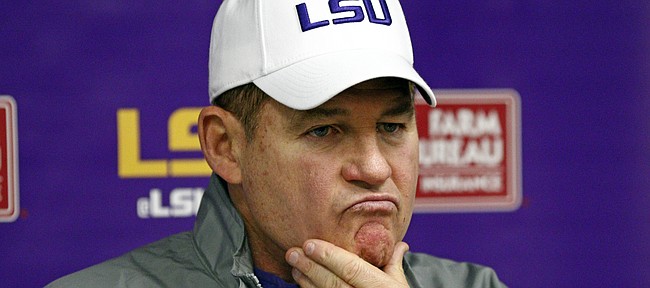 LSU and its former head coach Les Miles reached a financial settlement Thursday that clears a path for Miles to take another head coaching position. 
The 65-year-old Miles has been considered a top candidate for the Kansas football coaching vacancy since Jeff Long, KU's athletic director, announced David Beaty's firing on Nov. 4.
According to a press release from LSU, both the school and Miles, who was fired in 2016, agreed to a "one-time lump sum payment of $1.5 million of the $6.5 million remaining in the original agreement, which would have been binding until 2023."
LSU's Joe Alleva, vice chancellor and director of athletics, stated in a release that discussions with Miles and his representatives have taken place "over the course of several weeks."
According to Alleva, in the release, the settlement, which clears Miles to sign a new coaching contract elsewhere, allowed both sides to move forward.
One of the challenges of the buyout, Alleva stated, "was there just wasn't a lot of incentive to move on to other things. We were looking to provide that and Coach Miles and his representatives also were ready. It was a mutually agreed upon goal and a very positive process from beginning to end."
The final settlement was reached on Thursday, LSU announced.
Miles has a 142-55 career coaching record and won the national championship at LSU with a 12-2 season in 2007.
On Tuesday, Long flew to Colorado Springs, Colo., where the Los Angeles Rams are practicing. It was since reported by CBS Sports that Rams senior offensive assistant Jedd Fisch met with Long this week regarding KU's vacancy. A former offensive coordinator at UCLA, Miami and Minnesota, Fisch also served as an O.C. in the NFL with Jacksonville. It's feasible he could be considered at KU as an offensive coordinator, as well.