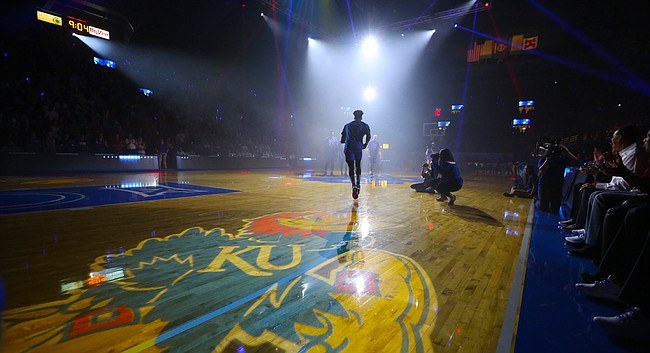 Kansas basketball fans who count down to the official beginning of yet another KU season on the hardwood have to be thrilled by Tuesday's news that the 34th annual Late Night in the Phog season tip-off event will take place on Sept. 28 at Allen Fieldhouse.
As the college basketball season continues to shift to an earlier start each year, so, too, has Late Night, which will be a part of a big weekend in Lawrence this season.
Last year's event took place on Sept. 30 and the 2016 edition of Late Night took place on Oct. 1.
In addition to signalling to the official start of the men's and women's basketball seasons, the KU football team will host its Homecoming game against Oklahoma State on Sept. 28 and the athletic department also will be hosting K Club weekend, when former KU students, athletes, coaches and staff members return to the KU campus for a big celebration.

"Late Night is always a great way for us to kick off the season and with all of our new players, this will be the first time they will be in front of our fans in Allen Fieldhouse," KU men's coach Bill Self said in a news release. "With Homecoming, we hope everyone makes a big weekend out of Late Night on Friday and the football game on Saturday."
Late Night in the Phog will feature music by the KU pep band, routines from KU's spirit squad and dance teams, skits by both basketball teams, video highlights from KU's award-winning Rock Chalk Video department, coach and student-athlete introductions, scrimmages by the KU women's and men's teams, and much more.
In recent years, the event has attracted big name stars such as Lil Yachty (2017) and Tech N9ne (2016).
"We're excited about our roster and look forward to introducing our team at Late Night," KU women's coach Brandon Schneider said. "It's always an annual highlight, and adding it to all the other Homecoming festivities and the football game is going to make for a great weekend for Jayhawk fans."
Details involving the Late Night format and Homecoming festivities will be released closer to the event.