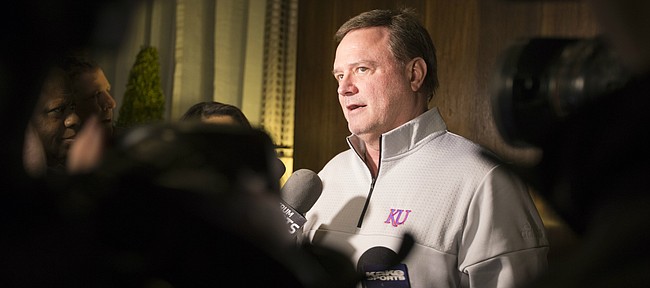 Wichita — Two more days of seeing sophomore center Udoka Azubuike on the basketball court has Kansas coach Bill Self "encouraged," but Azubuike's status for Thursday's NCAA Tournament opener against Penn remains up in the air.
"I'm encouraged. I really am," said Self shortly after the Jayhawks arrived at the team hotel in Wichita on Tuesday night after practicing in Lawrence and eating a team meal at Chester's Chophouse in Downtown Wichita. "And I'm not being overly optimistic. He's been on the court the last three days. Today he ran on the court and stopped and started and changed direction and things like that. But (he's) still not 100 percent."
Because of that, along with the slim chance that Azubuike will be able to practice in full before Thursday's 1 p.m. tipoff with Penn at Intrust Bank Arena, Self said the best the team could hope for would be to have Azubuike as a deep option against the the 16th-seeded Quakers.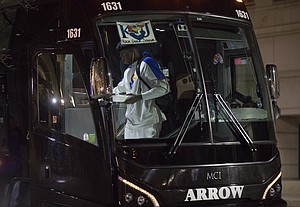 "I've never liked playing guys before they've practiced when they're coming off an injury," Self said of Azubuike's Grade 1 MCL sprain in his left knee. "They say it's one of those things that it can get a lot better in a short amount of time. So our hope is that he could be available Thursday in (an) emergency-type situation. But the reality of it is he's probably not going to be able to practice before Thursday.
"But if he can be available maybe on Thursday and then practice on Friday, we could hopefully have him for some extended minutes on Saturday, if we're able to play."
While the Jayhawks are still a double-digit favorite over the Ivy League champions, Self said the past couple of days of watching film on Steve Donahue's team revealed an extremely talented group.
"I was really surprised when they showed up on the 16 line and after watching them, surprise went to anger because they're not (a 16 seed)," Self said. "They could beat us. They could. They've got good enough players, they can really shoot it, they defend extremely well, don't give up easy baskets and don't give up 3's."
Self said he watched four or five regular season games, all of Penn's Ivy League tournament contests and all three games against league runner-up Harvard, which finished with a 1-2 record against the Quakers this season and had a point differential of +3.
Each game tape showed a disciplined, poised and talented team that Self said would remind most people of what typically comes to mind when people think of Ivy League teams in the NCAA Tournament.
"A lot of dribble-at back cuts, a lot of screen-away back cuts, a lot of things that nobody in our league does," Self said. "It's a quick prep, but, yeah, they have our attention. … They're good. There's no other way to look at it. They're balanced, they can shoot, they can handle, they're obviously not going to get rattled and they've got two bigs, or enough bigs, that they can certainly defend our low post. If we had Azubuike, maybe we'd have a little bit of an advantage from a size standpoint, but I'm not sure that we'll have him available enough to make a difference."
With Azubuike's status in question, the onus inside once again figures to fall on young forwards Mitch Lightfoot and Silvio De Sousa.
That duo combined for 46 points and 40 rebounds in three games without Azubuike last week at the Big 12 tournament in Kansas City, Mo., and Self said both would have to play big again against Penn, particularly De Sousa, who, at 6-foot-9, 245 pounds, comes closest to filling Azubuike's 7-foot, 280-pound shoes.
"We need him to play confidently," Self said of De Sousa. "We need him to play well. But he was so good. After watching the tape against West Virginia, he was even better than what I even thought during the game. He got a lot done and he did some little things that were really, really good. What he's got to do though, is he's got to be the best rebounder on the court."
In addition to practicing off site, the top-seeded Jayhawks (27-7) will run through an open practice at Intrust Bank Arena from 12:30-1:10 p.m. today.
Self said the Jayhawks practiced at 1 p.m. Tuesday in preparation for the 1 p.m. tipoff on Thursday.