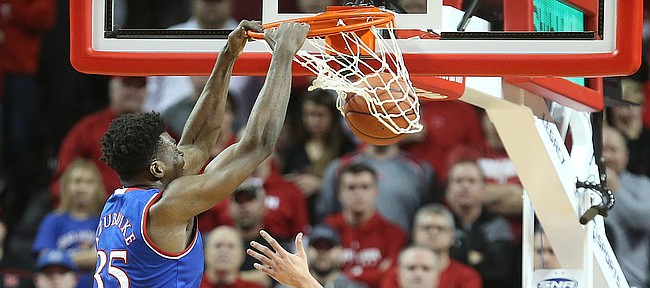 If Kansas center Udoka Azubuike is going to follow up his fabulous, 120-slam, sophomore dunk-fest by reaching triple digits in dunks again during the 2018-19 season, he's going to have to make sure he's ready to catch the ball from at least one different position — the 4.
So far, so good in that department, though redshirt junior Dedric Lawson recently said some of his passes still catch the KU big man off guard from time to time.
"It's been going real good," Lawson said last week at Washburn basketball camp in Topeka. "But last year, Udoka didn't really have someone from the 4 spot to feed him the ball, so I'll be throwing it to him and he doesn't expect it but he's still catching it. He's like, 'I've got to get used to it,' and I tell him, 'You'll get used to it because I'm throwing it to you.'"
Kansas basketball coach Bill Self has talked plenty this offseason about the likelihood of the Jayhawks going back to a lineup that features two big men after departing from that tried-and-true strategy during the past two seasons.
So the KU big men themselves have been trying to figure out the best way to play together.
By all accounts, that won't be a problem for any of the five forwards and centers on the 2018-19 Kansas roster, and Self and company will have the luxury of mixing and matching the pieces to find combinations that click.
Azubuike and Lawson — who will be joined up front by Silvio De Sousa, Mitch Lightfoot and freshman David McCormack — represent two of the most intriguing options and also are the two players most commonly projected as starters in KU's frontcourt next season.
Slowly but surely, that duo is starting to find its footing.
Last week, while working the Washburn camp, Lawson broke down the dynamic of playing next to one of the biggest men in college basketball, a teammate he called "a once-in-a-lifetime type of player."
"I think it's going to be great," Lawson said. "He kind of reminds me of like Shaquille O'Neal, how he finishes around the basket. I've never played with a guy like Udoka."
The playing "with" portion of that statement might very well be the biggest key in the partnership between these two KU juniors.
At 7-foot, 274 pounds, Azubuike takes up a lot of space, throws around a lot of weight and uses every inch and ounce to his advantage.
At a slimmer 6-9, 230 pounds, Lawson is a little more mobile and versatile and does not need to be as close to the basket to score.
According to sophomore K.J. Lawson, who has seen plenty of his brother's games during their basketball playing lives, those varying strengths, in fact, should allow the two to fit together very well when the 2018-19 season rolls around.
"It's going to be great for both of them," K.J. Lawson said last week. "They're different types of players and they won't be in each other's way and they look for each other. The chemistry's already there because we've been here a year and you see how people play. It's going to be a great pairing."
Used to being at least one of the tallest, if not the biggest, players on any roster he has been on, Dedric Lawson said he was ecstatic about being on a team loaded with the kind of frontcourt depth that will allow him to fill a number of different roles.
"It's going to be a real advantage to play with a big like Udoka," Dedric Lawson said. "I think it's going to free up both of us from the standpoint that they can't double both bigs and it'll give Udoka room to work on the block and me room to work on the block. Both of us finish well around the basket and we'll complement each other pretty well."
More than that, though, Dedric Lawson also said he was eager to inherit a bit of a leadership role for the 2018-19 Jayhawks.
Despite the upcoming season being just his first at KU, Dedric Lawson is one of only two players on KU's current roster to have appeared in more than 50 career games, logging by far the most career minutes (2,166) of any current KU player.
Junior forward Mitch Lightfoot is second in career games (64) and K.J. Lawson is second in career minutes (1,275), the only other current Jayhawk to top 1,000 minutes to date. Lightfoot has logged 633 minutes and Azubuike, who was injured for all but 11 games his freshman season, has played 990 minutes in 47 games.
"I'm looking forward to the role," said Dedric Lawson of taking the reins as a team leader. "I like it. I like to lead by example. I might not say a lot of things to you, but if I do the right thing, others will follow – be that good role model that guys need as an example. Hopefully, guys will follow that. But if coach needs me to talk more, I will."