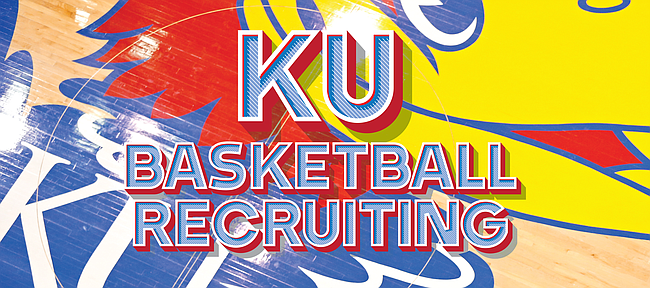 This past weekend might have been all about former college basketball players learning their fate and preparing to make the jump to the NBA, following last Thursday's NBA draft in Brooklyn, N.Y.
But there also was a significant piece of news regarding potential future Jayhawks that surfaced, as well.
Class of 2019 power forward Jeremiah Robinson-Earl, ranked No. 14 overall in his class, told Rivals.com analyst Eric Bossi over the weekend that he would play his senior season at IMG Academy in Bradenton, Fla., instead of finishing out at nearby Bishop Miege, where he has played his past three seasons.
Robinson-Earl, a 6-foot-9 athletic forward who has continued to add weight and strength throughout the past few months and is up to 235 pounds, is believed to be one of KU's top targets in the 2019 class. He is coming off of a two-week stint with USA Basketball, where he played for KU coach Bill Self on the U18 men's national team that won a gold medal at the FIBA Americas tournament in Canada.
Self's Jayhawks have had plenty of success with big men from IMG. Current Jayhawk Silvio De Sousa and former KU glue guy Jamari Traylor also played prep ball at IMG.
During his days at Bishop Miege, Robinson-Earl helped lead the Stags to three consecutive Class 4A state titles, averaging 22 points and eight rebounds per game as a junior. The move to IMG likely was made to expose Robinson-Earl to tougher competition and help him transition to college basketball a year from now.
It remains to be seen whether moving farther away from KU's campus will hurt the Jayhawks in their attempt to land Robinson-Earl, and it's not yet known when the five-star prospect hopes to make a decision about where he will play his college basketball.
Many recruiting analysts believe Kansas is the leader for Robinson-Earl, and his recent stint playing for Self — and winning — probably did not hurt KU. But North Carolina and former KU coach Roy Williams, who recruited and coached Robinson-Earl's father, Lester Earl, at Kansas, is believed to be a formidable contender for the new IMG prospect's services.
"It is cool having an offer from one of the coaches that my dad played for," Robinson-Earl recently told Rivals.com analyst Corey Evans. "He has offered just six or seven in my class, so it is an honor to get an offer from him, one of the best coaches out there."
Arizona, UCLA, Wake Forest, Notre Dame, Iowa, Kansas State, Oklahoma and Virginia all remain in the mix for Robinson-Earl, who recently told Evans that he was eyeing a decision sometime this winter or early next year.
Evans describes Robinson-Earl as "one of the few bigs that can have a half-court offense run through (him), his hands, footwork, feel and energy each can be categorized as elite."
Robinson-Earl will spend the rest of the summer playing with the under-17 Run GMC AAU program based out of Kansas City and he figures to take plenty of the lessons he learned while playing for Team USA with him.
"It has been insane," he told Evans. "Going against some of the best players in the country, some of them older, some in college, it has just been crazy going against some of the best of the best, along with learning from some of the best coaches out here."