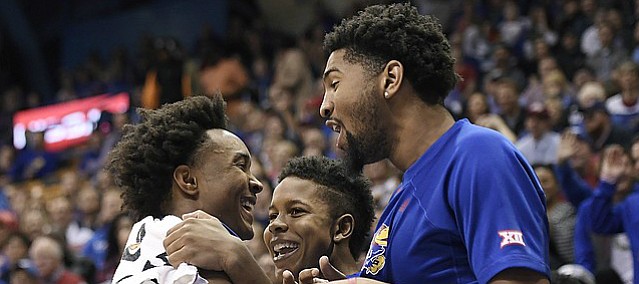 Now that Kansas basketball coach Bill Self has finished leading Team USA to a gold medal at the U18 FIBA Americas tournament, he can turn his attention back to the Jayhawks and preparation for a fast-approaching 2018-19 season.
Although summer workouts began just a couple of weeks ago, the official start of the season will arrive earlier than ever this year, with the NCAA announcing over the weekend that the first official practice date for college hoops teams is set for Sept. 25. KU's annual Late Night in the Phog is then set for three nights later.
For Self and his coaching staff, that date in September does not exactly mark the first day of practice for the 2018-19 Jayhawks. Instead, it marks the day things get serious, with everything that's done between now and then designed to ensure that Jayhawks new and old will be prepared to put the pedal to the metal this fall.
That means the next couple of weeks, for Self, will be about making up for the first couple of weeks of June, when he was with USA Basketball instead of in Lawrence.
One crossover bonus of Self's debut stint as a USA Basketball head coach was the chance to spend two weeks with KU freshman Quentin Grimes, who won MVP honors for Team USA en route to winning gold.
Self said before the team was formed that he thought the opportunity to coach Grimes in a competitive environment before things begin for real at Kansas would benefit both Grimes and the rest of the KU freshmen.
"I think it is going to be beneficial to him to kind of be in a system that he understands, and then he can kind of help with the other three freshmen (back in Lawrence)," Self said in late May. "He's had some great experiences himself, whether it was the McDonald's Game or the Hoop Summit or whatnot. He's played against some really quality guys."
While the extra time with Grimes proved to be incredibly valuable, there are several other newcomers in Lawrence who Self is eager to connect with now that his time with USA Basketball is finished.
"I'm really anxious to see the commitment level of Charlie (Moore) and K.J. and Dedric (Lawson), after sitting out a year, to see how much they'll be turned up compared to this past year," Self said of the group that red-shirted the 2017-18 season in accordance with NCAA transfer rules. "And I thought they all three had really good years last year."
All three figure to compete for significant minutes, if not starting spots, and each of them will bring a much-needed element of experience to a Kansas squad looking to replace four starters from last season's Final Four team.
Despite being forced to replace nearly all of his 3-point shooting, his entire backcourt and one of the best leaders the program has ever seen in Devonte' Graham, Self enters the summer excited about the 2018-19 team's overall depth and variety of options in both the backcourt and frontcourt.
"I thought we had a great spring," Self said. "We had limited numbers, so they got more individual attention. I really think we have, on paper, one clear deficiency and that's if we can stroke it well enough consistently. But we also have quite a few things that we'll do better than last year's team, as well. So it'll be fun. But it's hard to replace Devonte' and Svi."
Now that the USA Basketball business is behind him, the journey to do just that officially can begin.