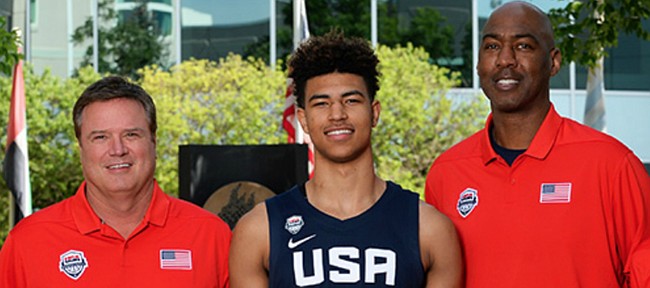 USA Basketball defied a quick start from host team Canada well enough Saturday night in the FIBA Americas U18 Championship gold medal game.
But when coach Bill Self needed his group of U.S. players to totally take control, University of Kansas freshman guard Quentin Grimes did his part to make it happen in the second quarter.
Canada's deficit expanded from nine to 28 before halftime and USA capped its unblemished run through the event in St. Catharines, Ontario, Canada, with a 113-74 victory that wasn't close after the first quarter.
Six-foot-9 University of Kansas recruiting target Matthew Hurt — who, like Grimes, scored 17 for USA — deserved credit for setting the feel for the game-shifting quarter, scoring first on a jumper and then in the paint a little more than a minute into the second.
But Grimes, named the most valuable player of the week-long event, capitalized soon after, when things began falling apart for Canada (5-1).
A 6-4 guard from The Woodlands, Texas, Grimes had grown silent offensively after knocking down a step-back 3-pointer that provided USA its first basket of the night in the opening minutes. However, once he raced out in front of Canada's defense in transition off a steal for an easy layup in the second quarter, Grimes began to flourish.
Later, following a missed a 3-pointer, Grimes cut hard to the paint from the left wing once the U.S. secured an offensive rebound, receiving a dish that resulted in a soaring, one-handed slam.
Next, Grimes buried a smooth step-back jumper off the dribble, upon quickly attacking from the right side of the perimeter.
U.S. big man Armando Bacot provided Grimes his easiest look of the tournament finale, with a dish from the right block for an uncontested lay-in.
Once Grimes, who scored 11 of his points in the second quarter, drained a 3-pointer with 2:13 left in the half, USA's lead grew to 55-30.
"Like no other feeling I've ever experienced," Grimes said of his reaction to the win during an on-court, post-game interview. "The gold medal was the icing on the cake to top off my high school career."
The FIBA Americas U18 favorite outscored Canada 32-13 in the second quarter.
A guard from New York, Cole Anthony led USA with 18 points.
The eventual gold-medal winners shot 61.1 percent from the floor in the first period, when Canada initially jumped out to a 12-7 lead. Coby White (11 points) tied the game at 12, and once Hurt drilled a 3-pointer from the left wing for a 15-12 advantage 4:59 into the gold-medal matchup, the U.S. never again trailed.
"I think we played pretty well all six games to be honest," Self said during his on-court interview following the victory, "and we got better as the week went on — but so did a lot of the other teams, as well. Canada was definitely better than what the score indicated. We played really well the first half and got out on them."
Named to the FIBA Americas U18 all-tournament team, along with White and Anthony, Grimes was credited with seven rebounds and six assists in the final.
Asked for his thoughts on playing for Self at the event, Grimes replied: "I can't wait to get back to Kansas with him."
Canada only made 27 of 81 shots (33.3 percent) and turned the ball over 18 times, which, of course, pleased the effort-and-toughness-obsessed Self.
"I'll be honest with you, there's not much coaching going on with these guys. We just put them in a little bit of structure and just tell them to go play out of it. What I was really happy with was I thought we really tried to guard, especially tonight," Self said. "I thought we really defended. When you get a bunch of guys who have been told how good they are and everything's been featured around them, how well we shared the ball (26 assists), I thought we really played unselfish as a group."
The U.S. topped 100 points in each of its six victories this past week, improving to 59-2 all-time at the event — USA lost to Argentina in 2008 and Venezuela in 2002.
U.S. players and coaches took home gold medals for the fifth consecutive time, and ninth overall, in FIBA Americas U18 history.
Originally known as the FIBA Americas Junior World Championship Qualifier, the tournament was held every four years between 1990-2006. FIBA changed its calendar following the 2006 championship, and the tournament is now conducted every other year, followed in the next summer, for nations that advance, by the FIBA U19 World Cup.
The U.S. previously won gold in 1990, 1994, 1998, 2006, 2010, 2012, 2014 and 2016, while capturing silver in 2008 and bronze in 2002.