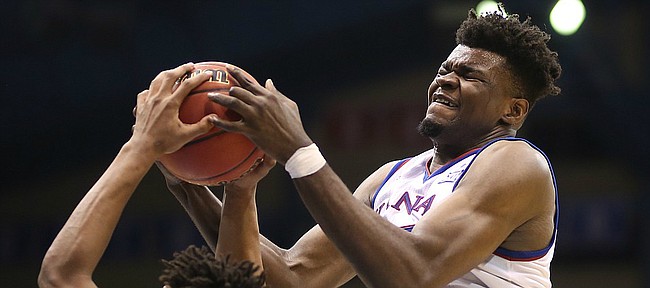 Udoka Azubuike shouldn't have to completely reinvent himself during his junior season at the University of Kansas to cement his NBA stock.
In fact, according to the 7-foot center from Nigeria, some teams he spoke with in May while weighing his future said he had a chance to become a late first-round pick this June if he decided to stay in the 2018 draft.
Although no reputable mock drafts even projected Azubuike as a lock for the second round, the big man who ultimately decided to return to Lawrence attested Sunday afternoon that some teams' representatives told him face to face that they thought he could go in the latter stages of the first round, when contracts come with guaranteed money.
"It was basically just my decision on what to do next," said Azubuike, who had a stay-or-go option because he tested the waters without hiring an agent, "and making the right choice for me."
Reaching a resolution proved difficult for the 18-year-old at first, especially while considering the possibility of going in the first round, which wasn't a certainty.
"After speaking to my family and speaking to (KU coach Bill Self), I just thought it was in my best interest to come back for my junior year," Azubuike said after signing autographs inside Allen Fieldhouse for KU basketball campers.
Attending the league's draft combine — where he was able to speak with coaches and executives from several franchises — and then traveling out to California for his lone team workout with the Los Angeles Lakers proved valuable for the Kansas big man, who shot 77 percent from the floor as a sophomore and averaged 13.0 points, 7.0 rebounds and 1.7 blocks, helping his team reach the Final Four.
Receiving feedback during interviews with various NBA-level evaluators allowed Azubuike to enter the rest of his off-season with a focused plan of attack. Asked to share some of the areas where he needs to improve, the low-post behemoth replied, "Not a lot," before providing the details.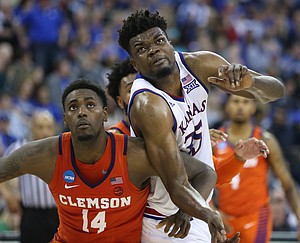 "I just need to get in way better shape," he elaborated.
With that as his starting point, Azubuike will also look to become a more frequent rebounder and fine-tune his footwork as a screener. He was told he needs to do a better job of not only setting strong screens on the ball, but also getting to the basket quickly off those actions.
"Pretty much it's all stuff I can capitalize on and really work on," he said. "Like I've been doing. I just need to do it way more."
At the NBA Draft Combine in May, Azubuike weighed 273.8 pounds, with 7.95 percent body fat. He said he's around 270 right now and would like to play at about 260 during the season, which begins Nov. 6, against Michigan State, in the Champions Classic.
Although a minor cold kept him from doing all of his typical basketball work this past week, upon returning to campus for the summer, Azubuike anticipates addressing his conditioning throughout the months ahead.
"Pretty much in the off-season, just run as much as I can and get into better shape," he said of his plans, which obviously also include improving his free-throw stroke (41.3-percent accuracy as a sophomore). "In the NBA, they told me the bigs, they run a lot. Just rim-running — running to the rim, posting up, with my strength and my athletic ability. Just running to the front of the basket is going to help a lot."
Playing faster for longer stretches will be a must for Azubuike on the defensive end of the floor, too, if he wants to become a more complete prospect.
"They want to see me block shots," he said of his NBA appraisals. "They know that I can (play) help defense, like I'm really good at it as a big. As big as I am, I can really slide my feet a lot and shuffle my feet on defense, run back and stuff like that."
At the combine, Azubuike's standing reach measured at 9 feet, 4.5 inches, to go with his 7-7 wingspan and 31.5-inch maximum vertical leap. The idea now is to make sure his already impressive frame can handle competing intensely for longer durations than he has shown during his two seasons at KU.
If he's able to pull that off, the big man said the NBA people with whom he spoke said he would have a chance to go much higher in the 2019 draft, perhaps even in the lottery.
"I had to really think about all that stuff," Azubuike said, "and just kind of sit down and meditate and make my decision."