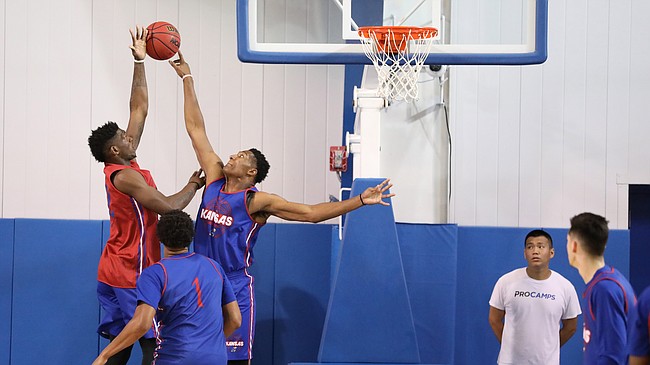 Here's how the popular storyline goes for Kansas and its perennial powerhouse basketball program: After a two-year, personnel-driven shift from a lineup with two post players to just one big man, Hall of Fame basketball coach Bill Self will return to his comfort zone and send two big men onto the court again.
That very well may be the case and in fact makes for the safest guess as to how Self will approach his 16th season at KU. But who's to say he'll stop there? How do we know he won't take the move toward a bigger lineup one step higher and play three big men?
By playing back-to-back seasons with just one post man on the floor, Self showed he knows there is no such thing in sports as a comfort zone. Instead, to coach is to constantly adjust, forever aiming to get the most out of the available talent. One way of doing that is by giving the opponent as intimidating a lineup as possible for which to prepare.
Try to put yourself in the $595 Salvatore Ferragamo men's Flori 2 Stitched Almond Toe Double Mancini Bit Leather Loafers of the opposing coach and ask yourself what you might have in mind defensively if Self were to send the following lineup onto the court: Five-star freshman guards Devon Dotson and Quentin Grimes, and big men Dedric Lawson, David McCormack or Silvio De Sousa and Udoka Azubuike.
That's a front line that measures 6-foot-9, 230 pounds at small forward, either 6-9, 245 or 6-10, 240 at power forward and 7-foot, 280 at center.
If Dedric Lawson, who is teammate K.J. Lawson's younger and taller brother, had the exact same skill set but were 6-foot-6, nobody would question him playing small forward, so why question it just because he's 6-9?
Even with defenders close to his size on him, Dedric Lawson is one of those basketball players who has the ability to ignore the defender guarding him closely, focus on his target and shoot over him without rushing or in any way altering his shot. He handles the ball more like a guard than a big man and moves his feet well, so there is no reason he couldn't handle the position against most teams and have Marcus Garrett and/or K.J. Lawson backing him up.
Dotson, Grimes and California transfer Charlie Moore can handle the bulk of the 80 minutes for the two backcourt spots with help from Garrett.
However Self decides to divide the minutes and use the roster's size, he has exciting possibilities to weigh, even more so than in most seasons.