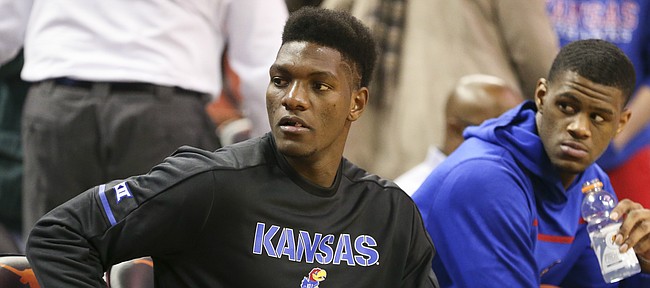 Most of the rest of us couldn't help but take our minds off the moment to wonder how much better a bigger, more balanced Kansas basketball roster would look once Billy Preston and Silvio De Sousa were cleared to play in games.
While we drifted, the seven young men who made up 15th-year KU coach Bill Self's rotation kept their minds trained on the two constant tasks at hand: preparing for the next opponent and working on improving themselves.
Now, Preston's in Bosnia drawing a paycheck and De Sousa (6-9, 245) has played six games, time enough to show he is too far behind to project as a member of Self's regular rotation before next season.
So the same seven names make up the rotation, but the team isn't the same. It's better, improving at a faster rate than the rest of the Big 12 contenders. The standings look better, too, with KU alone in first place.
Self, obviously, is one of the best at both preparing his team for the next challenge and making his players compete harder, more unselfishly and smarter as the season progresses.
And the improvement of the team actually can be traced in part to an apparent weakness that has an underlying strength to it: the lack of depth.
Here's why: Kansas ranks 347th of 351 in the nation in bench minutes (20.8 percent), per kenpom.com, which is another way of saying KU's starters spend more time playing together on the court in games than all other schools in the nation not named Western Kentucky, Boston College, Albany and Syracuse.
It shows. They Jayhawks compete together fluidly and the ball moves rapidly to the open shooter. They blast down court relentlessly and cleanly, getting open 3-pointers, dunks and layups in transition.
They know how to play together defensively, as well, comfortable with one big man on the floor and four guards frequently switching when confronted with ball screens.
All that time on the court together, consistently delivering at both ends in the clutch in a season of more close games than normal for Kansas, results in their confidence in each other growing each time they win another close one.
Sure, the lack of depth hurts them when foul trouble surfaces. It sometimes means higher-than-ideal minutes to keep players fresh. Yet, for a team that defends with intensity and pushes the pace, KU doesn't play tired. Self carefully has managed practice time and intensity to keep in-game fatigue from weakening his players.
Looking from the outside, it's always difficult to have patience. It's normal to want the player with the higher upside to supplant the more experienced one immediately. It doesn't work that way. Forcing playing time on an athlete who isn't ready to absorb all that comes with getting thrown into a faster game than the one he just left behind doesn't always accelerate a player's progress. It sometimes stunts it, as well as hurts the team.
That's where Kansas is at center behind Udoka Azubuike. Mitch Lightfoot is a far better college basketball player at the moment than is De Sousa, who has the higher ceiling as a post player.
The difference between the players at this moment is big enough that it's a stretch to believe that will change enough within two months that De Sousa surpasses Lightfoot.
Kansas scrapping the four-guard lineup it has used the past two seasons in favor of one that features two post players is an hourglass on the verge of dropping its final few grains of sand.
After De Sousa appeared on the court for two minutes in the 79-68 victory against Texas A&M, Self explained the challenges of finding more time for the power forward who was playing high school ball the first semester at IMG Academy in Florida.
"It's difficult if you're going to play four guards all the time," Self said Monday night. "I mean, it's difficult. Mitch played great tonight. Mitch was great the first half. When I subbed for (Azubuike) when he got his first foul, I put Silvio in in front of Mitch and Mitch had done nothing wrong. As long as we're playing one big, it's going to be hard."
The NCAA has reined in practice time, which puts using it productively at a greater premium than ever. At some point, perhaps soon, practicing with two bigs together becomes a poor use of time.
"If we're playing two bigs more it will be a little easier," to find time for De Sousa, Self said. "I keep saying that could happen, but it hasn't looked good in practice at all. And I'm not talking offensively. I'm talking defensively."
If it plays out that Self stays with four guards the rest of the way and Lightfoot remains the safer sub for De Sousa, that doesn't mean the year has been a waste for the prospect from Angola. He'll know what to expect next year, what he needs to polish in his skill set and in his understanding of the game. At the start of next season, De Sousa will be far ahead of where he would have been had he not skipped his final semester at IMG.
Plus, situations tend to surface during NCAA tournament games that press players outside the rotation into service and the results often are surprisingly good. Tyrone Appleton's six-minute effort in 2009 vs. North Dakota State comes to mind. Just last March, Dwight Coleby (averaging 12.7 points, 8.6 rebounds and 2.1 blocks for Western Kentucky this season) lent a valuable nine minutes to the cause against Michigan State.
By tournament time, even if De Sousa isn't granted valuable development minutes in many games during the regular season, he might look more comfortable on the floor than he has thus far.
For now, he's making too many mistakes for Self to trust in close games. De Sousa has played 18 minutes and taken one shot, a lefty bank that went in after a nice, quick post move. He has scored two points, hasn't gone to the line yet and has three rebounds and a blocked shot. He has committed six fouls and five turnovers.
Sam Cunliffe also has struggled, especially defensively, to capitalize on limited playing time. In 63 minutes, Cunliffe has committed 10 personal fouls, shot .435 overall, .250 from 3 and totaled 24 points, seven rebounds, four assists and three turnovers.
The best guess is that come tournament time, the seven-man rotation will have the same seven names as it did when much Kansas basketball talk centered on anticipated in-season additions Cunliffe, De Sousa and Preston. Seven just might be enough for a deep tournament run.