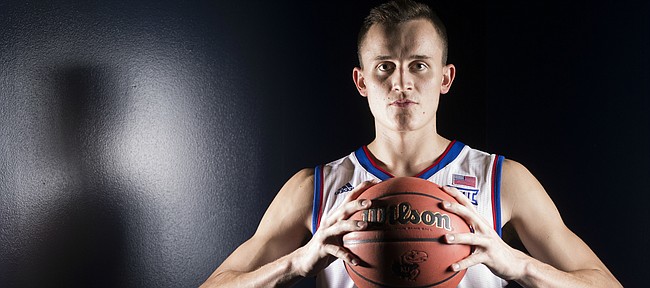 If you've been following Kansas basketball for any length of time during the past couple of decades, you probably know that KU coach Bill Self is just as likely to criticize a player as he is to heap praise on him.
Such a reality comes with the territory and is a big part of the reason Self gets so much out of his players year after year. His demands are high, his expectations are even greater and if one his players is not cutting it, they — and likely the rest of the college basketball world — are going to know about it.
That's what makes the current run by sophomore forward Mitch Lightfoot so impressive.
Monday night, during the Jayhawks' 70-56 victory over Kansas State in Manhattan, Lightfoot played 19 crucial minutes to help the Jayhawks win their seventh straight game over the Wildcats and move to 7-2 in Big 12 play.
Lightfoot had played more minutes on four previous occasions, scored more points 15 times before and grabbed more rebounds three different times during the Jayhawks' first 21 games.
But in none of those games was Lightfoot's role quite what it was against the Wildcats and Self was happy to point that out after the victory.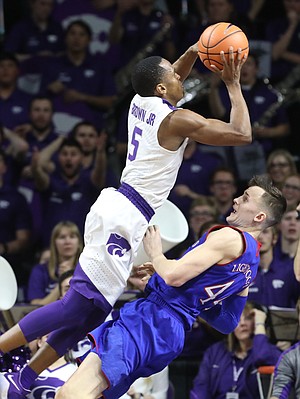 "I think he's been great," said Self of Lightfoot, who went scoreless but grabbed five rebounds and blocked three shots on a night when KU big man Udoka Azubuike struggled to do either. "I hate to pick on 'Dok, but he was a total non-factor, defensively, rebounding, everything. I thought Mitch, you know, he didn't score, but three blocks and three offensive rebounds. I think Mitch is playing great."
Like a well-worn tire that needed to rotate for a certain number of miles before really gripping the road, Lightfoot has played three of the best games of his still-young Kansas career during the past two weeks.
Asked if something in particular had clicked for him during his second January with the Jayhawks, the always-honest sophomore forward pointed to finding his place as the answer.
"Yeah, a little bit," he said. "Just understanding what I need to do for this team to be good, understand my role and embrace it. I might not need to score as many points as some of the guys on the team, but if they need me on defense, that's what I'm going to do.
"I feel like for everyone there's a point in time where it's like, 'OK, I'm buying in.' I've always kind of been bought in, but I just recommitted myself to what this team needed me to do and the way coach needed me to play."

Lightfoot's biggest contribution to Monday's victory undoubtedly came on defense. And it was not in the form of his three blocks that made an already rough offensive night for K-State even more miserable.
Instead, a pair of charges taken by Lightfoot — both on a driving Barry Brown Jr. — gave KU a lift at crucial moments.
"I haven't had one in the last couple games so I had to get my quota back up," noted Lightfoot after the win. "Just stealing a possession. It really turns the momentum and it helps us get the ball back and maybe get some buckets."
The first came late in the first half and saddled Brown with his second foul. It also helped preserve a double-digit halftime lead for the Jayhawks.
The second came with just under four minutes to play, with Brown driving to the rim in an attempt to trim KU's lead to single digits for one more Wildcat run.
Although his head hit the floor and he had to head to the bench for a couple of minutes following the second one, Lightfoot was all smiles inside after each stop.
Smiles and confidence never have been an issue for Lightfoot, who on Monday passed Azubuike for the team lead in blocks (36-35).
But now that he's reached his jumping off point and appears to be taking full advantage of the momentum behind it, the sophomore's final words from inside Bramlage Coliseum on Monday night carry with them a little more punch.
"My confidence is pretty high right now," Lightfoot said with a grin.
---
More news and notes from Kansas vs. Kansas State
---