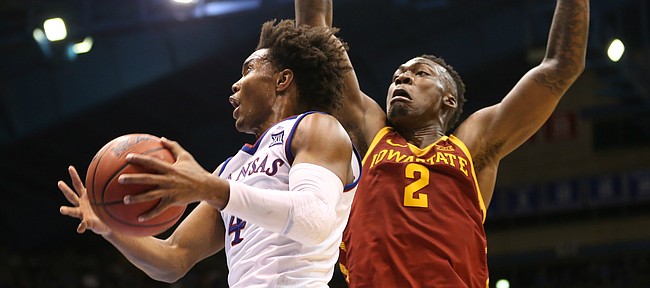 On a team packed with players who don't typically exhibit a great deal of emotion, senior point guard Devonte' Graham consistently plays with an unbridled verve.
When he dribbles, more than the basketball bounces. He has a bounce to his step. He emits an aura that screams he enjoys what he's doing.
It's impossible not to notice him on the court because he's either scoring or giving a teammate an easier path to a bucket.
Yet, even for such an extroverted, talented player, the moments Graham most loudly shows the value of his presence are those when he's absent from the court.
When Graham sits, Kansas loses its compass, its passion, its edge.
If Graham had sat much longer than three minutes Tuesday night in Allen Fieldhouse, Kansas might have lost the game. Instead it defeated Iowa State, 83-78.
Photo Gallery
Kansas basketball v. Iowa State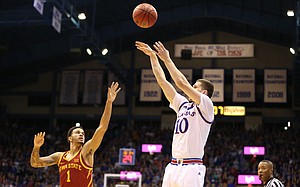 View a gallery of images from the Jayhawks' Tuesday night matchup against the Cyclones at Allen Fieldhouse.
No one else can control the game's pace the way he can. No teammate has his aggressiveness, his experience, his great feel for drawing the defense to set up the teammate who at the moment is hottest.
Svi Mykhailiuk, Graham's best friend, was on fire at the start of the game. Graham set him up for each of the three 3-pointers Svi made in the first 88 seconds of the game.
In the second half, Malik Newman caught fire as he never had in a Kansas uniform. Graham stoked his flames by delivering the ball and doing it with such a respectful flair.
Newman had just buried back-to-back 3-pointers and the next time down Graham led the cutting Newman with an underhanded pass that sent him on his way to the hoop for a contested layup off the glass. If passes could talk, this one would have said, "Your game, your ball, go do your thing."
Newman did his thing, all right, bettering his season scoring high by 10 with 27 points, four more than Svi scored. They took turns, Svi scoring 15 first-half points, Newman exploding for 19 points in the second half.
Graham can't afford to take turns with anybody because nobody else can do the things he does. His fingerprints were all over both scorers' big games.
In the 37 minutes Graham was on the floor, Kansas held a 10-point advantage. Iowa State held a five-point edge when Graham sat.
KU coach Bill Self didn't want to have to put Graham back in when he sat for the second time, but during the 49 seconds he watched the Kansas lead shrunk from 66-59 to 66-65.
"As soon as I checked out, they hit back-to-back 3s and coach just looked at me and said I had to get back in there and that was it," Graham said.
Happy to get back in there?
"Definitely," Graham said.
Iowa State paid special attention to Graham, sending post players to the perimeter to hedge ball screens, so scoring opportunities were tough to come by for the senior from Raleigh, N.C.
He was 1 for 11 when Newman set him up for a wide-open look a few steps beyond the top of the key. Yet, it would have been tough to find anyone among the 16,300 in the building to bet against it going in. Swish. He made his final three shots, following the 3-pointer with a high-flying reverse layup and a pull-up, mid-range jumper, energizing teammates and the crowd with each bucket.
Graham had a similar impact early in the half. He had steals on back-to-back possessions, the first resulting in a Newman dunk, the next a flush from Lagerald Vick on a Graham lob to push KU's lead to 49-42 with 16:54.
The crowd exploded with wild roar that could have enlivened the building more if only manufactured noise in the form of heavy metal had not blasted out the loudspeakers, drawing out the human emotion. Why is that a good idea? Loud music can be heard plenty of places. Such loud human passion is rare and far better to listen to for everyone in the building.
On a squad with only one player who does a great job of feeding off the crowd, perhaps letting the players hear the crowd for a longer stretch might build more energizing chemistry flowing from the floor to the seats and back.
Graham will have more opportunities to ignite the audience Saturday, when Kansas State makes the 85-mile drive for its first visit since Svi turned Kansas into a walk-off winner.