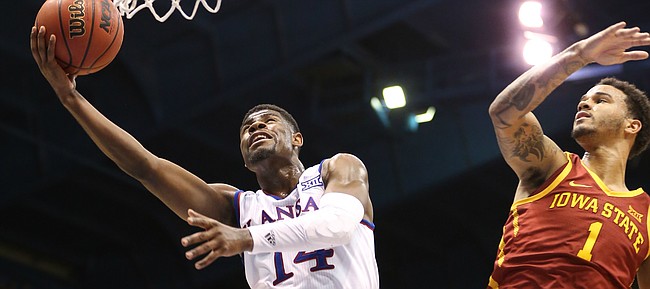 The signature moment in Malik Newman's Kansas coming out party on Tuesday night at Allen Fieldhouse — Italy be damned — featured one big time play on both ends of the floor from a player the KU basketball team desperately needed to get going.
With 2:34 to play in a two-point game that felt even tighter than that, Newman stayed down in his stance, watched Iowa State's Donovan Jackson try to dribble into a go-ahead 3-pointer and then elevated to block the shot. No 3-point winner for Jackson this year.
Instead, Newman's block led to a run-out and lay-in that gave KU a four-point lead and paved the way for an 83-78 victory over a scrappy Cyclones squad.
"That was a big-time block," KU senior Devonte' Graham said of his running mate. "He played great. He was active, that's what coach has been asking of him, and rebounded."
Newman also had another block in this one. And it came after a blown tire and a Kansas turnover. As Newman went to pick up his shoe that had slipped off, with his team in the front court, an errant pass went sailing into the back court right past Newman.
As Iowa State's Nick Weiler-Babb sprinted to scoop up the loose ball, Newman momentarily paused and then gave chase, blocking Weiler-Babb's layup attempt for, what Newman said later, was the first one-shoed block of his basketball career.
Photo Gallery
Kansas basketball v. Iowa State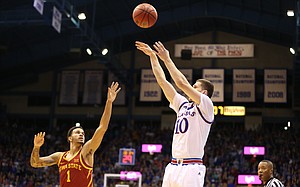 View a gallery of images from the Jayhawks' Tuesday night matchup against the Cyclones at Allen Fieldhouse.
Newman totaled a career-high 27 points on 10-of-21 shooting, including 5-of-13 from 3-point range, and added eight rebounds in 34 minutes.
Asked whether he considered Tuesday's effort the breakthrough game he was looking for, Newman paused hard before answering.
"Umm. Yeah," he said. "I mean, it was a good one. I can say that. Maybe."
So why the pause?
"I mean, it took me 21 shots to get it," he said. "It's good, but it's kind of bad at the same time. But I'll consider it as a breakout game."
Newman, who credited constant encouragement from his coaches and teammates and his beloved pre-game donut stick for his big night, was far from the only player to come back from the dead in this one.
In the middle of a grind-to-the-bitter-end type of Big 12 basketball game against last-place Iowa State, the 12th-ranked Jayhawks (13-3 overall, 3-1 Big 12) survived a serious scare and may have found a couple of missing pieces in the process.
No, neither Silvio De Sousa nor Billy Preston suited up and played in this one. In fact, Self said there was no new news on either player and that it was "status quo" in those situations. But Newman and Lagerald Vick did. And both delivered the kind of performances that Kansas expected to see all season long, with Newman torching the nets and Vick hitting the glass to help pace the KU offense.
Even though Kansas was out-rebounded by 10 — marking the fifth consecutive game KU has lost the rebounding war — the Jayhawks got a few timely rebounds, two of them from Vick on back-to-back possessions on the offensive end that broke a 66-all tie and allowed Kansas to maintain control.
Iowa State led for just nine seconds all game, but made Kansas sweat for every minute of control. The Cyclones, who entered the night as a below-average shooting team, knocked in 11-of-27 3-pointers (40.7 percent) and grabbed 12 offensive rebounds.
Kansas, meanwhile, hit 14-of-36 3-pointers — five by Newman and 6-of-9 by Svi Mykhailiuk — including 5-of-12 in the second half to maintain control.
Despite the hot shooting night by a few of his gunners, Self said the 34 attempts was way too many.
"We were over-reliant," Self said. "Fifteen of our first 19 shots were threes. ...(In the first half), we were on pace to shoot 60 threes."
While the jack-it-up mentality nearly cost them, Kansas got enough elsewhere to avoid its first two-game home losing streak since the late 80's and to avoid a second consecutive home loss to Iowa State.
The Jayhawks outscored ISU 27-2 off the bench, 14-6 in transition and 34-32 in the paint.
KU's best stretches of the night came after Iowa State either tied the game or took the lead, a sign of the scrappiness with which the Cyclones (9-6, 0-4) played from start to finish.
After a silky smooth jumper from freshman Lindell Wigginton (27 points in 40 minutes) put the Cyclones up 42-40, the Jayhawks ripped off a 12-0 run that featured a one-handed hammer dunk by Udoka Azubuike (nine points, six rebounds), a tough-as-they-come, and-one, three-point play by Newman and two transition dunks that ignited the Allen Fieldhouse crowd. The first came from Newman after a KU steal and the second on an alley-oop from Graham to Vick after another steal.
The flush by Vick instantly transformed Graham back into the type of player he has been best at being throughout his career — a yelling, flexing, fiery leader dripping with emotion.
Later, after a rhythm 3-pointer by Newman staved off another ISU run, the KU sophomore celebrated the shot by waving his arms at mid-court to send the KU fans into a frenzy.
"They basically dared him to beat us," said Self of ISU's strategy to put one of their big men on Newman defensively. "And he didn't shoot it unbelievable but I thought he was aggressive and looked for his shot and we wouldn't have won the game if he didn't produce."