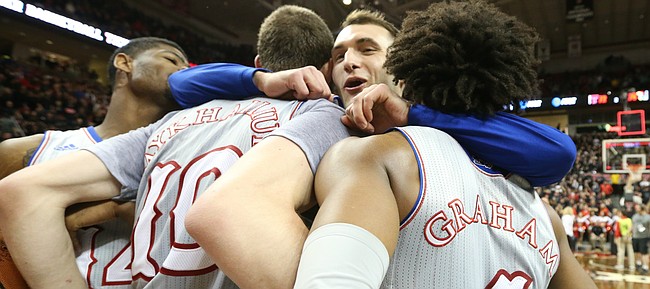 Lubbock, Texas — Now that he's had a chance to catch his breath, Clay Young can finally think up his speech.
Well, he'd better hurry. Senior night is tomorrow.
"It'll be pretty emotional," said the senior walk-on after KU secured its 14th straight Big 12 title with a 74-72 win at Texas Tech. "Spent the last three years of my life giving everything I've got to the program."
Young will be one of three KU seniors (Devonte' Graham, Svi Mykhailiuk) honored as the Jayhawks take the floor on Monday against Texas.
The JUCO transfer joined the University in 2015 while recovering from an ACL injury that cut his sophomore season at Kansas City Kansas Community College short. His recovery on the court gave him a chance to play a key role in a KU win in Miami early in his senior season but it was his personality, KU coach Bill Self said, that left a mark on the team off the court.
"Clay has been great," Self said. "He's been great for Udoka (Azubuike) — a voice of reason and maturity around him and others."
Young, who said he hadn't given much thought to the day while the Jayhawks were chasing a Big 12 title, was asked about his greatest career highlight. Prodded with the game against Syracuse earlier this year, Young agreed that it was "probably my best game."
Self, looking back on the senior's season, couldn't help but agree. In the Jayhawks' 76-60 win, Young stepped in with both Azubuike and Mitch Lightfoot in foul trouble. At that point Silvio De Sousa had not yet joined the Jayhawks, and James Sosinski wasn't with the program either.
Young, the only option left on the bench, played 12 minutes in the first half, defending a 7-foot-2 big man in Paschal Chukwu and limiting the Syracuse bigs to a single shot attempt.
"Clay hasn't had a chance to play but he actually helped us win a couple games this year," Self said. "He played great against Syracuse."
"I think senior night will hopefully top that," Young added.
Young, like the other KU seniors, will have plenty of family in attendance as he takes the floor. He said after the game he hopes to have his parents, both sets of grandparents and his brother at the game, which Self confirmed he will indeed start.
Young, who is a sports management major at KU, said he wasn't set on his future plans yet, though he could see himself getting into coaching down the line. For the present, he said, Young is just looking to just take all of it in.
"It's just a special place to go to school," Young said of KU. "It's been pretty special the whole time. I'm going to be pretty sad when it's all over."