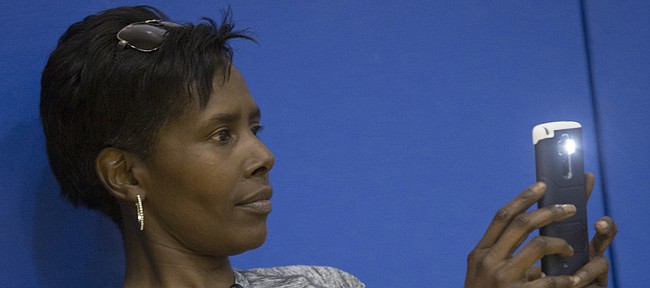 Lubbock, Texas — Apples Jones, mother of former Kansas basketball star Josh Jackson, said she received a phone call from a family member Friday and was told to turn on the TV to see herself.
"Why am I on TV?" Jones said she asked.
When she was told that her name had surfaced in a Yahoo report on the college basketball scandal related to agent Andy Miller and that she reportedly had received $2,700 from ASM Sports she turned on the TV.
"They said I was on TV," Jones told the Journal-World by phone Friday evening. "I've been watching and I still haven't seen myself."
She said she did not receive payments from the agency, Miller or his associate, Christian Dawkins.
"Not true," Jones said. "I don't even know why I was mentioned. I don't know why my name was brought up. Not true at all."
Jones said she and her son know Dawkins from Josh's time playing for his AAU program in his early high school years, but had not been in touch with him since he went to work for ASM Sports, Andy Miller's agency.
"I don't even know Andy Miller," Jones said. "After I got that call I had to go and Google him. I'm like, 'I never met you. I never talked to you.' I didn't even know what he looked like."
Of Dawkins, Jones said, "I never took anything from Christian Dawkins. Christian Dawkins never offered us anything. Back during the time we knew Christian Dawkins he had nothing to do with any agent business. He was the director of Dorian's Pride (AAU program)."
Jackson left Dawkins' AAU program to play for 1 Nation, an Under Armour-sponsored AAU program in Michigan for which Jones is the director.
"I started it to protect my son because he was a high-profile player and didn't want anyone trying to get him involved in some of the stuff going on out there," Jones said. "I started it protect my son and help other kids."
Jackson is represented by agent B.J. Armstrong, a former teammate of Michael Jordan's with the Chicago Bulls.
Jones explained how she went about helping her son to select an agent.
"I didn't even talk to agents. I created an email and I made them email about whatever their company was, what were they trying to do, what was their interest, and I told them I would email back whether I'm interested or I'm not interested," Jones said. "And that's what I tell other parents to do. That's the best way because then everything is documented. That way you don't have to go around listening to what people say because you're not going to remember it anyway."
Asked if she had called Kansas coach Bill Self after hearing about the report, Jones said she had not.
"Coach Self knows, coach Self definitely knows my kid coming to Kansas wasn't anything dirty," Jones said. "Everything was straight and on the up and up. He knew what I wanted and every coach knew what I wanted: A lifetime scholarship, and if my son needed tutors, ones would be provided, and he must pass every class. And you must treat my son as if he is your own. And you must introduce him to an internship. Those were my requirements. Josh told me he wanted to go to Kansas and I said, 'OK, because I know they care about you.' "