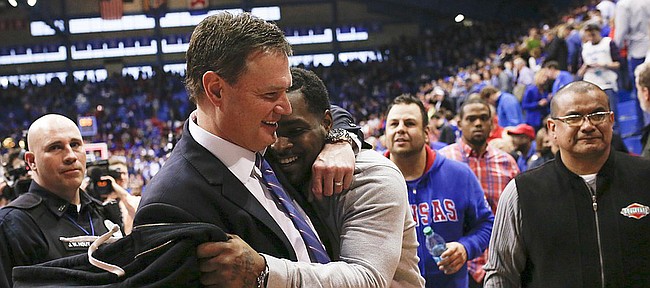 Aggressive athletes learn at a faster rate than passive ones, because how do you know if something will work unless you try it?
You don't know, and if you don't try things, you don't grow.
During his freshman season at Kansas, Sherron Collins tried a lot of things at full speed, and sometimes the game he saw in front of him seemed in his mind to be going even faster than he was.
Then he caught up, and even after his knees and weight robbed a bit of his quickness, his brain took him where he wanted to go.
"I think my basketball IQ is what kind of defines me," said Collins, whose jersey-hanging ceremony takes place at halftime of tonight's Big Monday game against Oklahoma.
"I think the game kind of slowed up for me my sophomore year. I could kind of see things before they happened."
Now, when Collins sees something before it happens, the vision has him coaching.
"Of course," he said of a coaching career. "Of course. I've still got an itch to play."
Collins, 30, is carrying far too much weight at the moment to scratch that itch. He said his knees and his game are fine and added that he's not in a hurry to get into playing shape.
"I try to rush it and go somewhere, and I end up getting hurt or something, because I'm just not ready, I'm just not right," Collins said. "This time, I'm going to take my time and make sure my T's are crossed and I'm really going to give it all I got."
Collins moved from his native Chicago to Lawrence late this past summer. He lives with his girlfriend and his second and third children. Collins' oldest son lives in Las Vegas with his mother.
Collins said he works out at KU's basketball facility. During games, he sits behind KU's bench, next to fellow KU All-American and team chaplain Wayne Simien.
"We're talking about what people should do and how players should do this and what should happen," Collins said. "We're kind of in coach mode. I think Wayne would be great, too, in my opinion. You look at it a little differently, sitting behind."
Collins hasn't explored coaching avenues and in his current condition, isn't ready to play basketball, so he's in a limbo of sorts.
"Sometimes I'll say stuff (at KU games), and people behind me will say, 'You'd be a great coach,' and I'm like, 'Yeah, not yet.' "
But he's willing to put his coach's brain to use. So how would you defend Oklahoma freshman guard Trae Young?
"I think you have to be physical with him. I'd hit him every time you get a chance to," Collins said. "No easy layups. You have to hit the floor. Hard foul. I don't want anybody to hurt anybody. You have to attack him. I'd attack him every time."
Teams have been playing him physically and it might be a contributing factor to him wearing down.
Oklahoma takes a five-game losing streak into Allen Fieldhouse. Young has made just 10 of 51 3-point shots during that stretch, a .196 accuracy rate. He has made 38 of 39 free throws (.974) during the losing streak.
Collins spent four years adjusting to how teams guarded him. Young is a projected lottery pick. The book is out on him and it will be interesting to see whether he can make the necessary adjustments, starting tonight in Allen Fieldhouse.
More like this story on KUsports.com