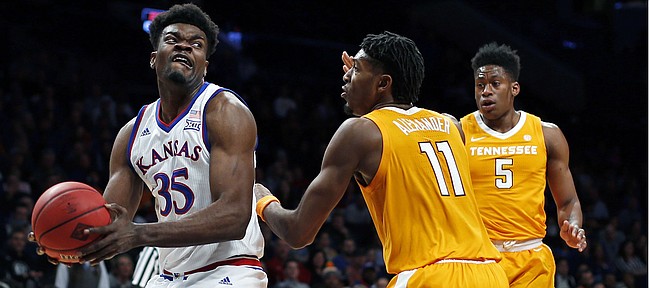 Although Kansas basketball coach Bill Self wouldn't completely rule out the possibility of center Udoka Azubuike returning to the lineup for Saturday's game at Arizona State, two days ahead of the Jayhawks' first true road game Self wasn't counting on the 7-footer's presence, either.
"I don't know," Self initially said Thursday afternoon, when asked during his weekly press conference whether Azubuike's right ankle injury had yet recovered enough to allow the junior big man to play against the No. 18 Sun Devils on Saturday.
Just like the rest of his teammates, Azubuike didn't practice on Wednesday, when the team's only activities involved reviewing game footage and a holiday shopping outing for Lawrence families in need.
Self, speaking with reporters ahead of Thursday's practice, expected the center, who injured his ankle on Dec. 4 against Wofford, to "try and do some things" during the session.
"I don't know if it'll be unlimited, but I still think he'll be doubtful for Saturday," Self added, before turning slightly more optimistic. "But, you know, who knows? We'd like to get him out there if the docs say he's good to go."
Azubuike has missed No. 1 KU's victories over New Mexico State, Villanova and South Dakota since injuring his ankle in the first half against Wofford.
The junior center from Delta, Nigeria, is averaging 12.9 points, 6.1 rebounds and 1.4 blocks, through the first seven games of his junior year.
No De Sousa update
With the NCAA's investigation into KU forward Silvio De Sousa's eligibility ongoing, Self was asked Thursday whether he had any sort of updates on the matter.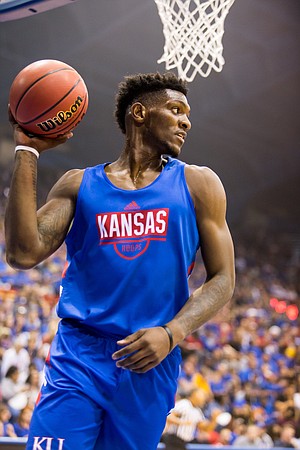 "No. No, I don't have anything," Self responded. "I have nothing to report. Nothing. So, that's not what we had hoped. But, certainly, that's the reality of it."
KU, of course, has held De Sousa, a 6-9 sophomore post player, out of competition so far this season.
The team is awaiting an NCAA ruling on De Sousa's eligibility after his guardian, Fenny Falmagne, allegedly received $2,500 for college courses to send the five-star prospect to Kansas, after Falmagne also allegedly got $60,000 from a Maryland booster.
As a freshman who enrolled at KU early, during the middle of the 2017-18 season, De Sousa averaged 4.0 points and 3.7 rebounds while playing in 20 games for the Jayhawks, who reached the Final Four.
Mahomes gets Self's MVP vote
The hysteria surrounding the Kansas City Chiefs (11-3) and the team's star quarterback, Patrick Mahomes, trickled over into Self's press conference Thursday when the KU basketball coach was asked whether he thought Mahomes should be the NFL's MVP this season.
"As a fan and a homer, I would say, yeah, positively," Self said regarding the Chiefs' second-year QB, who recently sat courtside in Allen Fieldhouse to watch the Jayhawks' home victory over Villanova.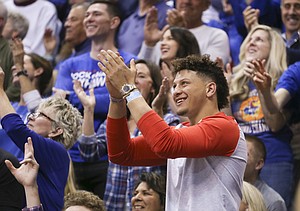 Mahomes leads the NFL in passing yards (4,543 yards) and touchdown passes (45) with two games left in the regular season.
"I haven't studied it, but numbers wise, heck yes, all those things," Self added of the marquee Chief's MVP case. "But I also think going 2-0 the last two games would solidify it. Because I do believe that he's incredible."
Other candidates for the award include Saints QB Drew Brees, Chargers QB Philip Rivers, Rams defensive tackle Aaron Donald and Rams running back Todd Gurley.
"Certainly, there's a couple other guys out there, and if they finish strong and we don't, then maybe people will look at it differently," Self said. "But I can't imagine Brees or anybody beating him out."