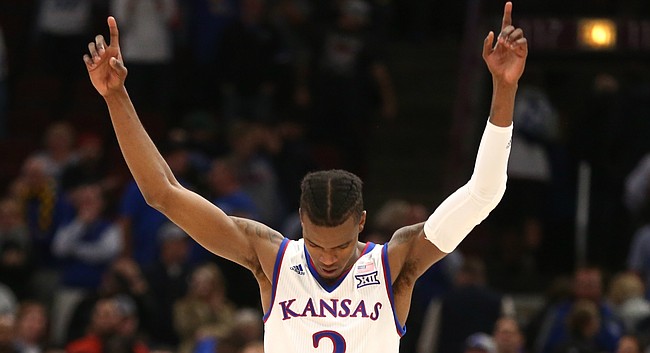 On Friday morning, two days after watching teammate Malik Newman do the same, Kansas junior Lagerald Vick announced that he would forego his senior season at KU by officially declaring for the 2018 NBA Draft.
In a statement released by KU announcing his intentions, Vick revealed that he would not yet hire an agent, which, in theory, would leave open the possibility of Vick returning to KU after testing the water. But, according to his mother, LaLa Vick, her son's time at Kansas is finished.
"I've always told him, you cannot be selfish in your position," LaLa told the Journal-World Friday morning. "You've done your part, it's time to let some other teenager who has been working hard for his dream to come in and do his thing. Come in, work hard, put your toes in the water and let's get it. It's time to swim. Michael Phelps. Let's do this."
With that, Vick's career at Kansas officially comes to a close. And it ends on a positive note for both the player and the program.
"I have nothing but great memories and times with the Jayhawk family — my coaches, my teammates and the fans," Vick said in a news release. "I will never forget the accomplishments and how you all have supported me. It is now time for me to move on to the next chapter of my life."
LaLa said the family on Friday was working toward finalizing plans for where Vick would spend the next couple of months working out and preparing for the June draft and that the family would allow the rest of the process to play out from there.
In many ways, this moment has been has been years in the making for the 6-foot-5, 175-pound wing from Memphis. After initially starting down the path of football, where both he and his mother thought he could become a star, Vick hit a growth spurt around eighth grade and was asked by his school's basketball coach to come out for the basketball team.
At first, Vick was not interested. But after giving it a try and finding out he had a lot of natural ability, the Memphis native fell in love with the game and made everything in his life about basketball from that point on.
With their focus fixed on remaining humble and working hard, Vick and his mother first talked about this day when big time college programs began showing interest in him in high school.
"That's been a conversation from Day 1, even in high school, 'What are your plans for your future,'" LaLa said. "Lagerald's plan has always been the NBA. And I've always told him, 'Look, Gerald, ball is all you know. So you have to go out there and get it.'"
Never was that plan more real than during his breakout junior season at Kansas.
After starting out as one of the hottest players in the country and leading the team in scoring throughout the non-conference portion of KU's schedule, the 6-foot-5, 175-pound wing hit a slump when Big 12 play arrived and struggled to continue to score the way he had in November and December and also saw that affect his contributions elsewhere.
As the season neared its end, Vick re-emerged and his play in the postseason, on both ends of the floor, was a huge reason the Jayhawks reached the Final Four for the first time in six years.
For the season, Vick finished with solid numbers, averaging 12.1 points and 4.8 rebounds per game while shooting 49 percent from the floor and 37 percent from 3-point range. Vick also ranked third on the team in blocks (13) and assists (83) while playing 33.1 minutes per game.
"Lagerald had a really good year for us," KU coach Bill Self said in a release. "He started out so hot and finished strong. I believe the time is right for him to move on, explore his options as a professional and see what develops. We won a lot of games with Lagerald over the last three years and appreciate everything he's done for Kansas and our basketball program. We are 100 percent supportive of his decision and wish him the very best in whatever path this takes him."
According to LaLa, lots of prayer and a desire to put himself in better position to support his 5-year-old daughter, Markayla, and the rest of his family, inspired Vick to turn pro.
"I know this was God's gift to him," LaLa said. "The decision he made was the best thing for him and his daughter. And he has a niece who calls him Uncle Daddy. And those are the people he has to nurture and take care of and this will give him the best chance to do that."
As for LaLa, who, in her own right, became sort of a cult hero among KU fans, both on Twitter and in person at games, she does not believe her time as a Jayhawk is over just yet.
"I told Coach Self, 'Look, I'm still coming to Late Night,'" she said with a laugh. "We've still got two Memphis boys on the time in Dedric and K.J. (Lawson). I appreciate Kansas basketball taking us places we've never been. And I really appreciate Coach Self and the staff for letting me be myself. They always accepted me. The people there were so nice to our family. And this journey for Lagerald has been amazing."
Vick's departure, along with Newman's and the graduation of Devonte' Graham and Svi Mykhailiuk, means Self's Jayhawks will head into the 2018-19 season looking to replace at least four starters from their latest Final Four team.
Sophomore center Udoka Azubuike, who is headed to Florida this weekend to spend time with his mother, who made her first trip to see him play basketball at the Final Four, said after KU's loss to Villanova that he would spend some time in the next week or so weighing his options, as well.
If there's a time or a team that is capable of handling such turnover, it's Kansas, which has three transfers with Division I playing experience waiting in the wings who will be eligible to play next season — point guard Charlie Moore and forward Dedric and K.J. Lawson — and one of the top incoming recruiting classes in college basketball, with McDonald's All-Americans Devon Dotson (PG), Quentin Grimes (combo guard) and David McCormack (center) all expected to vie for major minutes right away.
That's in addition to returning junior Mitch Lightfoot and sophomores Marcus Garrett and Silvio De Sousa, all three of whom played big minutes and held down valuable roles for the Jayhawks during the 2017-18 season.
Arizona State transfer Sam Cunliffe, who will be entering his first full season with the program, also could factor into the mix.
In addition, KU secured a commitment from Kansas City, Mo., prospect Ochai Agbaji, who offers some versatility in terms of filling out the roster, and the Jayhawks remain in pursuit of five-star shooting guard Romeo Langford, who is down to Kansas, Indiana and Vanderbilt as his finalists and is expected to make a decision by the end of the month.