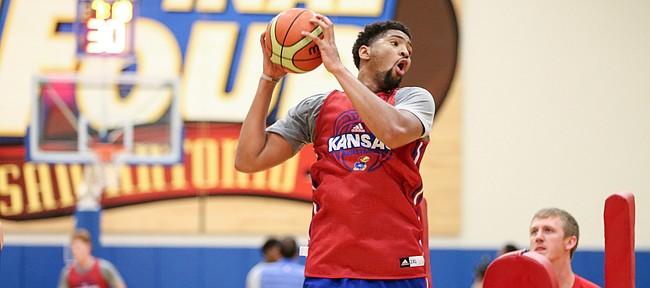 Turning a player into a redshirt in order to have him use a year of eligibility later in his career happens way more often in college football than basketball.
It's not that common in basketball because it only makes sense if the player has enough talent to justify tying up a scholarship for five years and if he's not needed in the rotation now.
Every now and then a player fits both of those descriptions and a redshirt is in order. It doesn't necessarily happen in a player's first year in college. In many cases, appearing in games as a true freshman can drive home to a player just where he needs to become either stronger or more skilled or both.
Brady Morningstar appeared in 16 games and played 90 minutes as a freshman and then redshirted. He started 67 games over the next three seasons at Kansas.
Travis Releford appeared in 32 games as a reserve during his freshman season, sat out the next year as a redshirt, started three games in his first season back and then combined for 74 starts in his final two seasons.
Morningstar and Releford both were better players who attained far more playing time in their fifth year in school than they would have in their second year, so the move worked out well for both of them and for the program.
One name jumps off the page of next season's projected roster as a player suited to spending a year as a redshirt.
As a sophomore, Mitch Lightfoot helped the 31-8 Jayhawks weather the challenges of playing a season without top recruit Billy Preston and played a part in KU winning the Big 12 tournament without center Udoka Azubuike.
But playing time will be harder to come by next season for Lightfoot, who could benefit from adding muscle for a year in the weight room.
Assuming Udoka Azubuike returns for a junior season, Lightfoot projects as no higher than fifth on next season's frontcourt depth chart. His body will be more suited to the physical brand of basketball he plays in his fifth year in school than his third, so why not spend the year as a redshirt?
Silvio De Sousa replaced Lightfoot in the rotation at the end of the season and Lightfoot played just four minutes in KU's final three games.
Transfer Dedric Lawson (19.2 points, 9.9 rebounds as a sophomore at Memphis) figures to start next season. Incoming freshman David McCormack, a 6-foot-10, 285-pound center from basketball factory Oak Hill Academy in Mouth of Wilson, Va., also will vie for minutes.
Next season, Kansas will be bigger, far deeper and way less experienced than Bill Self's third Final Four squad.
At point guard, the Jayhawks will be much deeper. Devonte' Graham played every minute in 17 games.
Kansas likely will start a freshman at both point guard and shooting guard. Rivals ranks the 6-1 Devon Dotson from Charlotte, N.C., 17th overall in the Class of 2018, and only Duke, Kentucky and Florida recruited point guards ranked higher than Dotson, and just barely at that.
Quentin Grimes is ranked No. 10 overall in the class and is the No. 2 shooting guard, ranked behind only Romeo Langford, who still is considering Kansas, Indiana and Vanderbilt.
Grimes, expected to start for Kansas from Day 1 at shooting guard, projects as someone who can fill in at point when needed.
Cal transfer Charlie Moore, a 5-11 sophomore, provides depth at both guard spots.
At the moment, Kansas has 14 scholarship players, one over the limit mandated by the NCAA. Look for Malik Newman, who finished the season on a hot streak, to declare for the draft.
If Newman leaves, that means another spot would have to open up for Langford, should he choose Kansas over Indiana and Vanderbilt.
Lagerald Vick said after KU's loss to Villanova that he wasn't sure about his plans beyond this season.
If Langford wants to come to Kansas, a roster spot will open for him, so that's not an issue.
In Dotson, Grimes, Moore and either Vick or Langford, KU won't have any trouble filling the perimeter minutes, and that doesn't even count K.J. Lawson, who can play down low or on the perimeter. He averaged 12.3 points and 8.1 rebounds for Memphis in the 2016-17 season.
Ochai Agbaji, an incoming freshman from Kansas City, Mo., adds to the backcourt depth. Marcus Garrett would be wise to consider redshirting in order to completely overhaul his jumper and add strength. His defensive prowess makes him worthy of occupying a scholarship for five seasons. Sam Cunliffe has two remaining years of eligibility.
In review, if Newman leaves and Azubuike returns, here's how 12 of the scholarships could be filled, listed in alphabetical order: Agbaji, Azubuike, Cunliffe, De Sousa, Dotson, Garrett, Grimes, Dedric Lawson, K.J. Lawson, Lightfoot, McCormack and Moore.
Pencil Langford or Vick in for a scholarship and that makes 13.
It will be a balanced, talented, deep roster that will be shy of experience and will need time to gel.