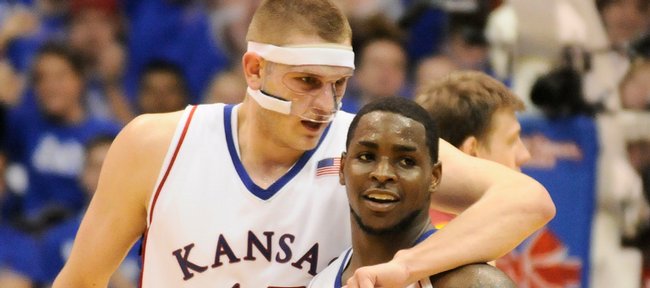 Both earned All-American honors and won a national championship during their playing days at Kansas. But even those accolades hardly seemed like enough for the news that recently landed at their doors.
Last week, former KU standouts Cole Aldrich and Sherron Collins learned that their jerseys would be retired into the Allen Fieldhouse rafters during separate ceremonies, two days apart, in February during the upcoming Kansas basketball season.
"I had heard a few things a few years ago," Aldrich said last week on Rock Chalk Sports Talk on KLWN. "And when Brandon (Rush) got his last year, I thought, OK, it might be in the next few years. But to have it this coming year is really surprising and really cool at the same time. It's really humbling."
Speaking at the KUsports.com KU Basketball Season Tip-Off Party last Thursday, Collins shared similar sentiments about the very thought of his No. 4 jersey being raised into the rafters at Allen Fieldhouse during KU's home game with Oklahoma on Feb. 19, two days after his good buddy and former teammate Aldrich's No. 45 goes up during KU's home game against West Virginia.
"It's surreal," Collins said. "(I knew) it was happening soon, but then, when it happened, I was speechless, I wanted to cry, I wanted to run and shout outside. Where I'm from, you're not supposed to get this far. For me, a north-side kid from a troubled neighborhood in Chicago, to (not only) get a scholarship to play at Kansas but for my name to be in the rafters forever, with the greats like Paul Pierce, Wilt Chamberlain and all these guys, it's amazing."
Collins recently moved his family back to Lawrence from his hometown of Chicago and is currently in the process of working to get back into shape in hopes of returning to the game he loves at the professional level. Because of that, the No. 5 all-time leading scorer in KU history has been around the KU program a lot during recent days, watching practices and workouts and serving as a mentor of sorts to current KU guards Devonte' Graham, Malik Newman and others.
"I think you guys know I love this place," said Collins, who currently sits one class away from receiving his college degree. "I moved back here with my family. I call this home now. I love this place with every inch in me."
The same is true for Aldrich, the eighth-year NBA pro with the Minnesota Timberwolves, who continues to give back to Lawrence during each offseason.
"I try to come back to Lawrence every summer and support the community as much as I can because, in my three years there, they supported me with everything," Aldrich said. "To be able to have that honor at such a prestigious basketball school, it's incredible."
Having that honor come in such close proximity to his friend and former teammate is merely icing on the cake.
"Oh, it's awesome," Aldrich said. "I'm so happy for Sherron. Earlier, with (Kirk) Hinrich and (Nick) Collison, you always think of them kind of together. Sherron and I, we kind of understood each other. We knew that, without each other, we weren't gonna be good. And we both needed each other and we were both there for each other."
That reality figures to be true during the three-day stretch in February that will once again have these two Kansas greats playing a starring role at Allen Fieldhouse.
"I shared some of the best times of my life with these dudes," Collins said of his teammates. "It's an individual award, but there's so many people who helped me get this and I want to thank my brothers. I couldn't have done it without them."
Added Aldrich, who never hid how much he loved competing alongside Collins: "He was awesome. He was stubborn, he was cocky, he was talented and he let you know all of it. I'm gonna try not to cry, but there'll probably be some tears coming down. It's a huge honor."