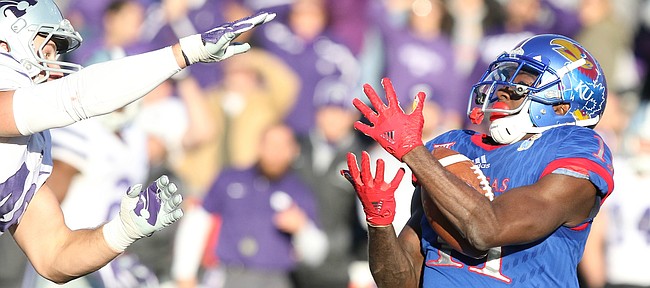 What the Kansas football team's players and coaches needed more than anything Saturday against rival Kansas State was a victory.
What they got was an unwanted consolation prize.
The desired result escaped the Jayhawks for the seventh consecutive game, for sure, but they at least displayed progress for the first time in weeks in their 30-20 Sunflower Showdown loss.
Between K-State junior D.J. Reed's 99-yard kickoff return for a touchdown, the Wildcats' 244 combined return yards on kickoffs and punts, two penalties on KU punt returns and a rough day for senior specialist Cole Moos (32.3 yards per punt) special teams mishaps completely torpedoed its chances for the first Big 12 — and FBS — victory of the season.
Afterward, third-year head coach David Beaty referenced the obvious blunders in the so-called "hidden third" of KU's latest loss, but also was quick to praise the efforts of defensive coordinator Clint Bowen and offensive coordinator Doug Meacham.
The Jayhawks (1-7 overall, 0-5 Big 12) won the following statistical categories against the Wildcats (4-4, 2-3):
• Total yards: 482-340
• Penalties: 4 for 42, compared to 6 for 35
• First downs: 20-15
• Third downs: 6-for-16, compared to 3-for-11
• Yards per play: 6.3-6.1
• Yards per completion: 18.2-17.3
• Tackles for loss: 12-9
What's more, even though the previous week's primetime meeting with then-No. 4 TCU on national television was an unmitigated disaster, Kansas actually had a chance to tie K-State in the fourth quarter. It qualified as the team's first semblance of competitive football since a 56-34 home loss to West Virginia on Sept. 23.
Photo Gallery
Kansas football v. Kansas State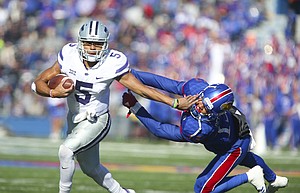 View a gallery of images from Saturday's game between the Jayhawks and Wildcats at Memorial Stadium.
Disappointing? Sure. But progress nonetheless.
With Carter Stanley replacing Peyton Bender as the starting quarterback and previously injured starting center Mesa Ribordy back in the lineup, the Kansas offense had more yards in the first quarter (137) than it produced in the previous two weeks combined (127), at Iowa State and TCU.
Beaty explained what he liked about the offense, which put up 482 yards — the second-best total for Kansas this season (564 vs. WVU) — thanks in large part to Stanley's 418 passing yards and Steven Sims Jr.'s 233 receiving yards.
"Well, I like that they protected pretty well up front," Beaty began. "I liked that our receivers did a nice job responding and getting open and making some plays that they really needed to make that were going to be contested. We knew they had good defensive backs that were going to contest catches. I thought we made some really nice contested catches."
According to Sims, Stanley (23-for-48, one touchdown, one interception on the game's final play) played "great," just as the receiver expected the new No. 1 QB would.
"I just feel like we came out with a lot more energy, more pumped up," Sims said. "I feel like we usually always start off slow or the offense will be down, but (Saturday) we came out with a lot of energy."
Kansas only led briefly, 3-0 in the first quarter but rallied to make it a game, even after trailing by as many as 14 points in the third and fourth quarters.
"We saw the defense was fighting their tails off again," Stanley explained. "I have a bunch of faith in those guys and they were making stops really all day. Offense, we know this offense can click with one play, so I think we know that, so we went out with the same mindset every possession."
To Stanley's point, the Kansas defense, led by linebacker Joe Dineen's nine total tackles, 1.5 tackles for loss and one pass breakup, had one of its better days of the season. On K-State's 11 offensive possessions, eight produced 35 or fewer yards. The Wildcats benefited from first-rate field position on all of their scoring drives. They only had to go 25 yards for a Matthew McCrane field goal, 18 yards for the first Alex Barnes rushing touchdown, 35 yards for a second successful field goal, 26 yards for Barnes' second TD and 21 yards for the final 3-point kick.
"Obviously it doesn't feel good to give up a touchdown or a field goal," junior defensive tackle and captain Daniel Wise said after making three total tackles, 2.5 tackles for loss, a sack and getting credit for a QB hurry. "But when we're put in those situations I think the guys did well responding and having to force them to kick — obviously we wanted to block us one, but we didn't get the block. … Given the hand we were dealt I think guys responded well."
Wise also said he noticed a change in the Jayhawks' demeanor this week on both sides of the ball.
"It was good to see everybody kind of working together. Everybody had the same fiery passion," Wise shared. "Obviously we didn't come out with a win. Doesn't feel good to lose, but you see things starting to click."
KU's season had taken an ugly turn in the three weeks before the rivalry game, with losses of 43 or more points to Texas Tech, ISU and TCU. As he does most weeks, Beaty again credited his players for not giving up.
"I think if there's one word that comes to mind for me, it's resiliency. They are a resilient bunch," Beaty said. "They come in on Sunday, and they block out. I know that there's a lot of things that go on out there in that world that makes it very difficult on young men, particularly if they know or they read or they see, but our guys, they've done a really nice job of blocking some things out that probably would affect some other guys, and that's really always been the key for them and for us was to be able to block those things out and know what the job is at hand and that we're doing the work. So when we're doing the work, we know what the issues are, and it's up to us to fix it."
For a change, players on both offense and defense can enter their latest week of preparation — this time for Baylor (0-8, 0-5) — feeling confident there are positives upon which to build.
"After the TCU game," Stanley said, "offensively we decided we can't do that anymore. That's ridiculous how bad of situations we put the defense in these past two games. But we really just put our foot in the ground. I think coaches gave us an incredible game plan and guys went out there and fought their tails off. Hopefully something to build off."
Sims, too, felt confident the Jayhawks can keep improving after what they showed against K-State.
"It kind of hurt at the end of the game. You know we were right there and then this happens," Sims said of the loss. "We've just got to fix that and we've got to execute 'til the very end of the game, every single step, every single play and we'll be all right."
---
More news and notes from Kansas vs. K-State