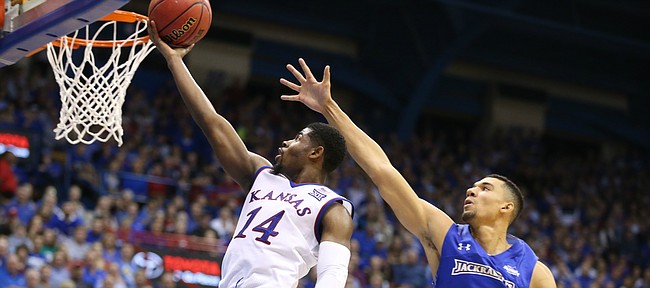 No. 3 Kansas Jayhawks (3-0) vs. Texas Southern Tigers (0-4)
Time: 7 p.m. | Location: Allen Fieldhouse, Lawrence, Kansas
TV: Jayhawk TV/ESPN3/KMCI-TV | Radio: IMG Jayhawk Radio Network
Log on to KUsports.com for our live game blog coverage and follow the KUsports.com staff on Twitter: @KUSports @mctait @TomKeeganLJW @bentonasmith @nightengalejr @chasenscott & @nickkrug
Keys for Kansas
1. Respect the opponent
Generally speaking, getting the Jayhawks to take their opponents seriously is not that big of a challenge for KU coach Bill Self. But every once in a while, human nature enters the picture.
Tonight's game against Texas Southern could be a prime candidate for a game in which the Jayhawks could look past their competition. After all, the Tigers enter the night with a 0-4 record and an average margin of defeat of 15 points per game.
However, those games have come against some strong competition and Self made sure to point that out, both to his team and to the media before Monday's practice.
"Up 20 on Washington State on the road. Ohio State was like a two-point game midway through the second half. And Syracuse went on a 29-6 run and only won by 13," Self said, recapping three of Texas Southern's four losses. "So there's been 30-35 minutes of every game where they've actually played very well. They're better than their record."
2. Keep turnovers down
After dishing 19 assists before committing their first turnover in last Friday's runaway win over South Dakota State, the Jayhawks emerged with a positive feeling about valuing possessions.
But according to senior point guard Devonte' Graham, who has dished 28 assists to nine turnovers (3.1:1) during KU's first three games, the reason for avoiding turnovers goes well beyond flashy assist-to-turnover ratios.
"We just have to do things that keep us out of foul trouble," Graham said. "And turning the ball over and having teams have 3-on-2, 2-on-1's (can put you in) foul trouble. We just have to be smart about stuff like that because we're not deep. Everything we do really matters and coach is always on us in practice about taking care of the ball."
3. Pound the glass
Mike Davis' Texas Southern team enters its fifth consecutive road game — of 13 straight to open the season — being out-rebounded by an average of 11 boards per game.
For a Kansas team that drew its coach's ire after a poor rebounding effort in last Friday's win over South Dakota State — the Jayhawks were out-rebounded 41-32 overall and 15-2 on the offensive glass by the Jackrabbits — one would think that all seven scholarship Jayhawks, from point guard to center, would be focused on getting to the glass.
The Tigers should be a good opponent to get things going in the right direction. In four games, TSU has corralled 137 total rebounds and 33 offensive boards. In three games, Kansas has grabbed 116 total rebounds and 30 offensive.
Mega Matchup
The battle of true 7-footers
Most nights, Kansas sophomore Udoka Azubuike has a clear size advantage against the man standing across from him in the opposing uniform.
But that won't be the case tonight, when Texas Southern throws 7-foot-2 center Trayvon Reed onto the floor to face Azubuike and the Jayhawks.
Although Reed has a 2-inch height advantage on the Kansas big man, Azubuike still has roughly 40 pounds on Reed in the weight department. Coming off of a game in which he grabbed just two rebounds in 23 minutes, Azubuike likely will be looking to use those pounds to be much more active on the glass in this one.
"That'll be a big challenge for Dok," Self said. "It's good for him. I think everything is good for Dok right now. The thing he'll struggle with the most is guarding someone away from the basket. This guy, he's not a pick-and-pop 5 or anything like that. He's a ball-screen-and-run-to-the-rim guy, which will be hard for Dok because he'll start out 20 feet from the basket and then he's awfully athletic getting back to the rim."
With no one taller than 6-foot-8 behind him to help handle Azubuike — and no one taller than 6-8 backing Azubuike up either — foul trouble could be a big factor in this matchup. And if it is, advantage Kansas.
Although neither player has shown a flair for fouling so far, Reed has committed nearly twice as many (13 to 7) as Azubuike, who has done a solid job of limiting his fouls while playing 29 minutes per night through KU's first three games.
Jayhawk Pulse
Fourteen years ago today, Kansas coach Bill Self coached in and won his first game as the leader of the Jayhawks. Tonight, he goes for win No. 420.
A lot has transpired between that Tennessee Chattanooga victory on Nov. 21, 2003 (90-76, after starting in a 24-14 hole) and today, including two trips to the Final Four, two appearances in the national title game, one national championship, 13 consecutive Big 12 titles (and counting) and a short trip to Springfield, Mass., to be inducted into the Hall of Fame. But none of it has any bearing on tonight's game or the current state of the program.
With freshman Billy Preston continuing to sit while the university sorts out a compliance issue and KU still waiting for transfer guard Sam Cunliffe to become eligible in December and Class of 2018 big man Silvio De Sousa to get a ruling from the NCAA about his status for the second semester, the Jayhawks are as thin as ever.
Although that has forced Self to get creative, both with his lineup and his practice schedule, it has not changed the standard and expectations, and the Jayhawks will look to attack Texas Southern as if they were a Big 12 foe or an NCAA Tournament team.
KU leads the all-time series with TSU, 3-0, but the two schools have not squared off since 1985. Self has, however, coached against Tigers head coach Mike Davis since then — during the Illinois vs. Indiana battles — but Self said Monday that Davis' TSU teams are faster and much more athletic than those Indiana teams.
Probable Starters
No. 3 Kansas
G – Devonte' Graham, 6-2, 185, Sr.
G – Malik Newman, 6-3, 190, Soph.
G – Svi Mykhailiuk, 6-8, 205, Sr.
G – Lagerald Vick, 6-5, 175, Jr.
C – Udoka Azubuike, 7-0, 280, Soph.
Texas Southern
G – Donte Clark, 6-4, 195, Sr.
G – Derrick Bruce, 6-3, 175, Jr.
G – Robert Lewis, 6-4, 190, Jr.
F – Kevin Scott, 6-4, 205, Sr.
C – Trayvon Reed, 7-2, 240, Jr.