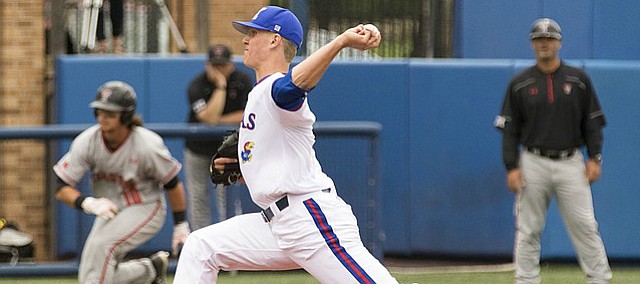 After combining to lead the Kansas bullpen all season, pitchers Blake Weiman and Stephen Villines were both picked in the Major League Baseball Draft on Tuesday.

Weiman, a junior, was selected by the Pittsburgh Pirates in the eighth round (238th overall) and KU's senior closer Villines followed in the 10th round (307th overall) when he was chosen by the New York Mets.
The left-handed Weiman, from Littleton, Colo., struck out 55 in 45 innings pitched with a 2.80 ERA. He posted a 5-1 record in 30 relief appearances, walking only five batters.
"It is an amazing feeling," Weiman said in a statement. "Everything I have worked for my whole career paid off today."
Villines, a first-team all-Big 12 selection, broke the school's all-time saves record (40) and was one shy of tying the conference's career saves mark, set by Texas pitcher Huston Street from 2002-04.
This season, Villines tossed 43-1/3 innings, striking out 54 and walking five. Holding opponents to a .255 batting average, the right-hander from Lake Forest, Calif., registered a team-low 2.70 ERA in 32 appearances.
"What a dream come true," Villines said. "It means everything to me to hear my name get called and it couldn't have happened without the great coaching staff at Kansas. I owe it all to them."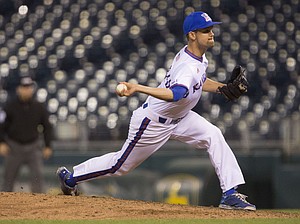 It's the third time in the last four years that KU players have been picked in the top-10 rounds. Michael Tinsley went in the seventh round last year and Wes Benjamin was a fifth-round selection in 2014.
Weiman, 21, has the option of turning pro or returning to KU for his senior season. The draft's signing deadline is July 7.
The 238th pick in the draft holds a slotted signing bonus of $160,700, though that can fluctuate based on how much a team spends on its previous draft picks.
"I am absolutely thrilled for Blake," head coach Ritch Price said. "He walked in here as a freshman throwing 80-82 mph, and with his work ethic, is leaving here with a low-90s fastball and a plus-breaking ball. To see him chase his dream, knowing how hard he worked, I couldn't be happier."
The draft continues with rounds 11-40 on Wednesday, beginning at 11 a.m.
More like this story on KUsports.com