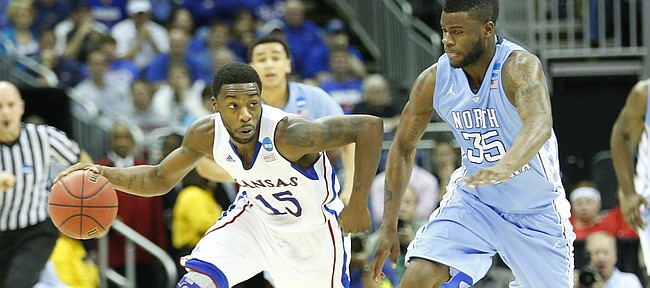 Over the past couple of weeks, with basketball's offseason allotting him time to return to the University of Kansas campus where he spent four years, former Jayhawks guard Elijah Johnson has seen a lot of KU's newest backcourt combination.
It's been enough for Johnson to envision senior Devonté Graham and sophomore Malik Newman collaborating to form a dynamic perimeter attack, typical of head coach Bill Self's teams.
"I like it. I like Devonté. I like what he brings to the table. He's going to have to adjust to having the ball in his hand a little more this year," began Johnson, who played for Self during the 2009-10 through 2012-13 seasons. "I like Malik running with him. I think we've got some weapons, although a lot of them haven't been on the floor for us yet. I think coach will whip them up. And I don't think this team is going to be one step behind any other team, even though they have not too many returners — I think half the team is only returning, so we've got a lot of newcomers. But I think that coach is going to get them right."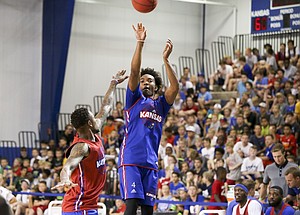 Coming off a junior year in which he averaged 13.4 points and 4.1 assists, and shot 0.428 from the floor, Graham is expected to be the face of the Jayhawks in the months ahead. But Johnson knows from experience Graham will have to adjust to multiple new responsibilities, after playing alongside national player of the year Frank Mason III, who graduated in the spring.
Johnson played his senior season at KU without the benefit of having longtime running mate Tyshawn Taylor next to him anymore. Asked about the parallel, Johnson had some advice for Graham. From practices to the grind of the season, Johnson said everything will feel a little new.
"I think half the battle would be recognizing the difference from junior to senior year. Not just really erasing Tyshawn or Frank out of the picture, but just your own personal responsibilities," Johnson said. "Having to have the ball when you're tired and not being able to pass it off to another person."
On a shortlist of KU returners, which includes senior Svi Mykhailiuk, junior Lagerald Vick and sophomores Udoka Azubuike and Mitch Lightfoot, Graham's name figures to become as prominent for the Jayhawks as Mason's was during his stellar senior year.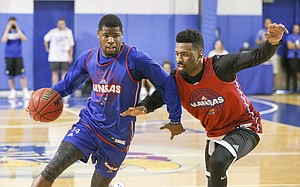 Even so, Newman, a 6-foot-3 former McDonald's All-American, could help lessen the burden on Graham. When Newman is on the floor, Johnson said the former Mississippi State guard doesn't back down.
"It doesn't matter how tired he is. He'll continue to try. I noticed that with him when I was practicing with the team during the season this year. He can be dog-tired, but he'll still give you an effort, whether it turns out great or bad. I like the way that he likes to get his nose dirty like that," Johnson said. "There's not too many people you see who have confidence like that."
• Bumps and bruises: Current KU players participated in drills Tuesday afternoon at Horejsi Family Athletics Center as young players attending Bill Self's basketball camp looked on. But not every Jayhawk could fully participate.
Six-eight wing K.J. Lawson, who transferred to Kansas from Memphis this offseason, shot free throws off to the side. According to a KU official, Lawson had a twisted left ankle, which was taped up.
Sophomore guard Sam Cunliffe, meanwhile, wasn't with the team for the camp session due to an illness.
Both Lawson and Cunliffe are expected to fully recover on schedule.
• Camp coming up: Johnson and former KU women's basketball guard Natalie Knight will host a youth camp for 7- to 18-year-olds from 4-8 p.m. this coming Tuesday at Emporia High.
Interested parties can call 913-231-1371, or visit the camp's Facebook page at www.facebook.com/johnsonsummercamps15/ for more information.