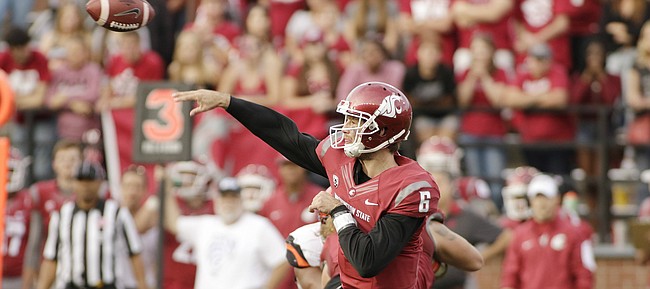 Now that January has arrived, the on-campus offseason preparation for Kansas football's 2017 campaign will commence before the players know it. With the start of the new semester comes strength training, conditioning, video study and, in just a few months, spring football practices.
While the majority of that work will be done by returning Jayhawks, third-year coach David Beaty is glad eight new members of the program will be a part of that growth, too. Each of the recruits KU signed in December is scheduled to be in Lawrence within the next couple of weeks.
So junior quarterback Peyton Bender, sophomore cornerback Hasan Defense, junior defensive tackle J.J. Holmes, junior receiver Kerr Johnson Jr., freshman linebacker Kyron Johnson, junior defensive linemen Willie McCaleb and KeyShaun Simmons and junior cornerback Shakial Taylor all can get acclimated to the program in the months ahead, rather than arriving in the summer.
"We're really excited about this group," Beaty said at his mid-year signing day press conference. "We think we got a lot of good ones in here, and the greatest thing for me is we have got 'em here already. So we got a whole semester with them before they have to get ready for fall camp and that's terrific. So I'm excited about that."
Beaty and new quarterbacks coach Garrett Riley hope to develop Bender, a 6-foot-1, 180-pound QB who played in 2015 as a redshirt freshman at Washington State, into a possible starter for a Kansas offense that often couldn't keep up with the rest of the Big 12 this past fall.
Johnson, a 5-foot-11, 180-pound target from Santa Rosa Junior College, will start learning from receivers coach Jason Phillips, and see if he can break into an Air Raid receiving rotation that includes Steven Sims Jr. LaQuvionte Gonzalez, Alabama transfer Daylon Charlot, Bobby Hartzog Jr., Keegan Brewer, Tyler Patrick, Jeremiah Booker, Chase Harrell and Evan Fairs.
On the defensive side of the ball, an already talented group of linemen — featuring All-Big 12 end Dorance Armstrong Jr., Daniel Wise, DeeIsaac Davis, Isi Holani, Josh Ehambe and Isaiah Bean — gets an influx of depth. Holmes (6-3, 335-pound tackle from Hutchinson Community College), McCaleb (6-2, 235, from Northwest Mississippi Community College) and Simmons (6-2, 285, from Pearl River Community College) have a chance to learn from D-line coach Michael Slater while competing alongside some of the best players on the roster.
Unique to the mid-year arrivals, Johnson, a 6-1, 200-pound freshman, graduated early in order to get a head start on his college career. Instead of spending the next several months with friends and family while attending Lamar High, in Arlington, Texas, Johnson will be at KU learning from linebackers coach Todd Bradford and looking to get on the field early in his career, while working with returning linebackers Joe Dineen, Osaze Ogbebor, Denzel Feaster and Keith Loneker Jr.

No other spot on the roster needs more help than the secondary, so getting corners Defense (5-11, 185, from Kilgore College), and Taylor (6-0, 175, from Mesa Community College) on campus immediately to work with cornerbacks coach Kenny Perry could prove crucial for the 2017 season.
Beaty said having all those newcomers in place for the start of the spring semester was ideal.
"If you don't get all your needs addressed, then sometimes you have to look at May if you really think you need a junior college guy," the coach added, hinting at the possibility of more juco players joining ahead of preseason camp. "But, yeah, for us, the No. 1 priority is always to get them here in January if you can."
The rest of the support for next season won't get to Lawrence until June, at the earliest. Beaty said other team needs would be addressed on college football's National Signing Day, Feb. 1. That's when the following preps — and possibly others — are expected to officially join the program as Class of 2017 signees: Free State linebacker Jay Dineen, Wichita offensive linemen Joey Gilbertson, Oklahoma kicker Liam Jones, Louisiana athlete Travis Jordan, Wichita linebacker Cooper Root, Derby receiver Kenyon Tabor, Chicago defensive back Robert Topps, Texas 5A all-state running back Dominic Williams and New Orleans receiver Takulve Williams.
"Our football coaches did a terrific job," Beaty said of the recruiting efforts over the past several months, "and not just them. I thought our support staff, (director of personnel) Jeff Jordan and his group, did a terrific job of turnin' over rocks all over the place — all over the place — to make sure that we could give ourselves the best pool of players to choose from, because that's how we're gonna get this thing turned around. You do it through recruiting and you do it through developin'."