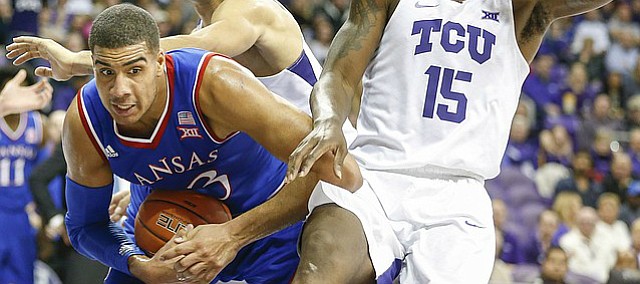 There are no rules or requirements, nothing is set in stone and things certainly can change.
But there's no disputing that the depth of this season's Kansas men's basketball team is on the minds of the players and coaches.
Down to just seven players with real rotation experience and two more after that who KU coach Bill Self has shown a willingness to put into the game, the Jayhawks so far have been forced to operate without the kind of depth the program is accustomed to having.
Whether that's a good thing or bad depends at least a little on who you're asking.
"It could be a good thing," said senior forward Landen Lucas, who has been the lone big man to start for the Jayhawks during the last two games. "Having a lot of guys could be good, but playing this way could be good, too, because everybody kind of understands their role, understands what their minutes are looking like."
Nowhere is that more clear than up front, where Lucas and Carlton Bragg Jr., are the only current Jayhawks who played significant minutes a season ago. Freshman forward Mitch Lightfoot, who, right now, is working as the Jayhawks' eighth man, and junior forward Dwight Coleby, who is ninth, are playing just a fraction of the time that Lucas and Bragg are getting.
In fact, during last Friday's win in the Big 12 opener at TCU, neither Lightfoot nor Coleby got off the bench.
Although Self said that was more about the situation than any statement about the performance of Lightfoot, the KU coach emphasized that the third-ranked Jayhawks (12-1 overall, 1-0 Big 12) need to find a way to get more minutes for their eighth man.
"I think seven's not enough," Self said. "I think eight's our number with this team. Getting behind early and playing one man down, with Josh in foul trouble (against TCU), I just thought it was best in that situation to try to keep the guys that had been there before to get the majority of the minutes."
Both Lucas and Self said foul trouble could play a key role in just how comfortable the Jayhawks can get with their substitutions.
"Immediately, that kind of came into play," said Lucas when asked if he focuses more on avoiding foul troubles now that 7-foot freshman Udoka Azubuike is out for the season. "But I will say, as it is most years, the refs start to understand maybe the way I play a little bit better and I start to understand the way they're calling it better. As the season goes along, I feel like it's easier for me to stay out of foul trouble so that's definitely helpful."
Self said he, too, would have to be conscious of the way he reacts when Lucas or Bragg picks up early fouls.
"I do think you have to think about, if (Lucas) gets one early get him out a little early and let Carlton play as much as he can before he picks up one or two," Self said. "Our substitution pattern, if you can call it a pattern, is different than what it would be if you knew you had five more fouls to give."
That being said, nobody in the Big 12 Conference is going to feel sorry for any tough times experienced by the 12-time defending Big 12 champs, least of all Kansas State (12-1, 1-0) who will face the Jayhawks at 8 tonight inside Allen Fieldhouse.
"It happened kind of early in the season, that we kind of figured out a rotation it seems like," Lucas said. "So we can grow off of that and learn what we need to work on going into the later part of the season."
Jackson reaction
Self said Monday he was not concerned that freshman Josh Jackson's struggles against TCU — four points and five fouls in 12 minutes — would carry over into the Jayhawks' second game in Big 12 play.
"I don't think so," Self said. "You know, you've gotta play and have some rhythm, but he missed two or three layups to start the game. That happens sometimes. I watch these games around the country and they say, 'Well, it's his first conference game. Guys react differently.' They make such a big deal about things that are very trivial in my opinion. In this particular case, I don't think it was nerves, I don't think it was the fact that it was first conference game. I just think it was a bad game. I don't really think there's anything else to it."
As for the technical foul that Jackson received after picking up his third foul early in the second half against TCU, Self had more to say about that following review of the tape.
"That situation, I didn't really see the technical," he said. "I thought it was a really bogus call to begin with. There is no way I though the official could see what happened on the inside when he was standing directly behind, had the same view I had. So I thought that was a bad call. But Josh didn't react (well). When they gave him a T, I thought he reacted negatively. After I watched the tape, that was controlled frustration. That wasn't bad. Then the guy across the court blows the whistle and calls the T, which, by theory, they're supposed to call that. But, I mean, he bounced the ball, it stayed in his hands, he sat the ball down, he ran to the other end, didn't say anything. So I guess it's a coin flip whether he could've gotten (a technical). The officials got one call right on that play, OK. And that was the last one. That was the only call I think they got right on that play."