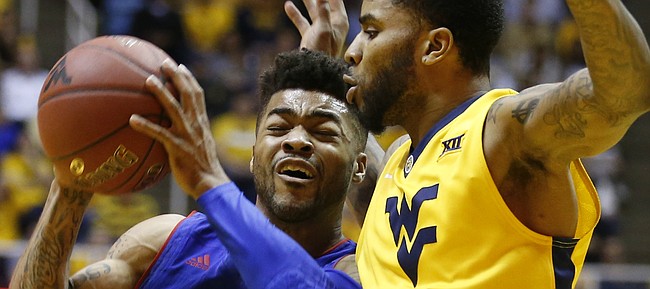 Kansas Jayhawks (22-3 overall, 10-2 Big 12) vs. West Virginia Mountaineers (20-5 overall, 8-4 Big 12)
Time: 8 p.m. | Location: Allen Fieldhouse, Lawrence, Kansas
TV: ESPN | Radio: IMG Jayhawk Radio Network
Log on to KUsports.com for our live game blog coverage and follow the KUsports.com staff on Twitter: @KUSports @mctait @TomKeeganLJW @bentonasmith & @nightengalejr
Keys for Kansas
1. Conquer the quick turnaround
For the third time this season — with one more still to go — the Jayhawks will be playing on Big Monday, just two days after a hard-fought Saturday game, which will challenge both the conditioning and preparation of the Jayhawks, who sit one game up on Baylor and two games ahead of WVU in the Big 12 standings.
After Saturday's 80-79 victory at Texas Tech, KU coach Bill Self talked about the most difficult aspects of handling the quick turnaround and said it was much more enjoyable to enter the challenge after a victory.
"We've obviously done 'em both," Self said. "Last week (after a Saturday home loss to Iowa State), we did the losing side and our guys responded fine. So hopefully we'll respond fine. (With the quick turnaround, you don't have time to prep for that and we didn't have a prep day for (WVU) this week so our guys need to have a good, off-the-feet day (Sunday). We need to get Frank (Mason III) healthy (illness) and we've gotta play a lot more competitively than we did the first time."
2. Attack and handle the press
Any time Press Virginia comes calling, clean handling of the basketball and avoiding silly turnovers is a must.
Self talked before the first meeting about preventing live-ball turnovers that lead directly to West Virginia points and the Jayhawks did a fair job of that in Morgantown earlier this season.
In fact, Self said he was pleased with his team's total number of turnovers (15) in the first meeting but disappointed in the way the turnovers occurred. Far too many of those 15 give-aways were unforced and the result of careless plays by the Jayhawks.
"We came in knowing the pressure was gonna be tough and we were gonna have a few turnovers," freshman Josh Jackson said after last month's loss. "But I think the thing that really hurt us was the points they got off of our turnovers."
Providing support for the theory that it's the type and not the number of turnovers that has cost Kansas is the team's average in this series. Since 2012-13, the Jayhawks are averaging 15.7 turnovers in six victories over West Virginia. In KU's four losses during that time (all in Morgantown), the Jayhawks have averaged 15.5 turnovers per game.
3. Guard the ball better
On-the-ball defense continues to be a challenge for the Kansas guards, who were torched at Texas Tech by Keenan Evans and Niem Stevenson and also struggled to keep their man in front of them in the loss to West Virginia earlier this season.
Although Evans and Stevenson don't play the exact same style as WVU's Jevon Carter, Daxter Miles Jr., and Tarik Phillip, Self said Saturday's showing at Texas Tech should have Devonte' Graham, Frank Mason III, Svi Mykhailiuk, Lagerald Vick and Josh Jackson eager to prove they can defend better.
"I think it's probably a wake-up call for the guards," Self said. "(And) there are some similarities, because the way Evans and Stevenson drove it is very similar to the way West Virginia drives it."

Despite their continuing struggles to guard the ball and the lack of a true rim protector in the paint, the Jayhawks still rank second in the conference in FG defense (.418), first in defensive rebounds per game (27) and second in rebounding margin (+4.8) and they're going to have to be sharp in all of those areas to come out on the right side of what promises to be another tough battle with West Virginia.
Mega Matchup
West Virginia's Esa Ahmad vs. KU's Josh Jackson
The West Virginia sophomore absolutely torched Kansas in the first meeting, when the Jayhawks paid far more attention to the WVU guards and less attention to the then-slumping forward who broke out in a big way against Kansas.
Ahmad, who found openings just about everywhere in the KU defense, hit jumpers, scored at the rim and finished dunks en route to a career-high 27 points on 10-of-17 shooting.
Jackson nearly matched Ahmad's offensive output — 22 points in 34 minutes — but was the one largely responsible for clearing the way for Ahmad's big night. The KU freshman looked a step slow, played flat-footed and did not consistently bring his typical competitive and aggressive approach to the defensive end of the floor, which led both to Ahmad's big night and Jackson fouling out.
He'll have to be better in this match-up, particularly when the Mountaineers trot 6-foot-8, 250-pound freshman Sagaba Konate onto the floor.
Jayhawk Pulse
With just six regular season games remaining, the Jayhawks have reached the stretch run of their quest to win a record-tying 13th consecutive conference championship.
And there's no better way to kick off the final third of the Big 12 race than with back-to-back games against the two teams closest to Kansas in the standings.
Although it's Baylor that sits just one game back and still gets the Jayhawks at home, there's no way Self's squad will enter the week looking past their Big Monday showdown with West Virginia, which enters tonight's game just two games back of Kansas and on the heels of a blowout victory over Kansas State over the weekend.
As per usual, the Jayhawks have done a fabulous job of staying in the moment and not looking down the road at what might be or what lies ahead.
If they're able to maintain that type of focus this week, they could put a big dent in the league race and position themselves very well for the final four games of conference play, two at home (TCU and Oklahoma) and two on the road (at Texas and at Oklahoma State).
Probable Starters
Kansas
G – Frank Mason III, 5-11, 190, Sr.
G – Devonte' Graham, 6-2, 185, Jr.
G – Josh Jackson, 6-8, 207, Fr.
G – Sviatoslav Mykhailiuk, 6-8, 205, Jr.
F – Landen Lucas, 6-10, 250, Sr.
West Virginia
G – Jevon Carter, 6-2, 200, Jr.
G – Daxter Miles Jr., 6-3, 200, Jr.
F – Brandon Watkins, 6-9, 225, Sr.
F – Esa Ahmad, 6-8, 225, Soph.
F – Nathan Adrian, 6-9, 235, Sr.