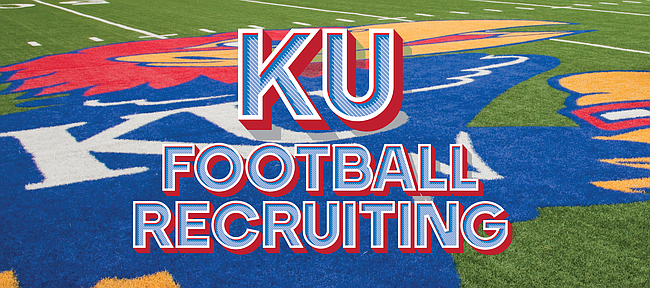 In the sphere of college football recruiting, assigning programs and their coaches credit for landing verbal commitments from prospects can prove dicey, due to the potentially temporary nature of a player's non-binding words.
At its peak this past February, the Class of 2018 for Kansas reached an unprecedented level, ascending into the top 10 nationally according to Rivals. The perception of the Jayhawks' haul dropped in the months that followed, of course, as KU lost some commitments and other programs added to their hauls.
The projected success for each FBS team's list of recruits became more concrete in December, thanks to the NCAA's new early signing period, when pledges became final for players who penned their signatures to official paperwork.
As of Friday, Rivals ranks KU's class, which includes 14 signees and two verbal commits, 61st in the nation.
The ability to move up or down somewhat within the rankings remains until signing classes become complete in February. Still, KU almost certainly will finish nowhere near where it began in the rankings.
Dreams of competing with college football's juggernauts on the recruiting front perished as decommitments trickled in, following a memorable junior day for the Jayhawks more than 10 months ago, when six high school players — now all considered three- or four-star talents — stated their intentions to eventually join Kansas.
As it turned out, just two commitments made that day withstood the tests of time and scrutiny. Three-star running back Anthony "Pooka" Williams and four-star cornerback Corione Harris both followed through and signed.
More pledges and some reconsiderations would follow as head coach David Beaty and his staff attempted to assemble the best class of recruits they could. Here's a look at what has become of the 11 players who decommitted from Kansas over the past several months — a list that also makes one consider what might have been had they all been convinced to follow through on their preliminary plans.
• Ja'Marr Chase: Attached to KU for all of eight days this past February, the four-star receiver from Metairie, La., remains undecided. Ranked the No. 62 prospect in the nation according to Rivals, Chase reportedly has offers from numerous high-profile programs, including LSU, Michigan and TCU.
• Aaron Brule: Upgraded to four-star status in the time since his June de-commitment from Kansas, the safety and Rummel High teammate of Chase would move on by committing to Georgia. However, Brule didn't sign earlier this month, and then decommitted. He has offers from several Power Five programs and recently visited TCU.
• Nelson Jenkins: The sixth so-called "Louisianimal" to commit to KU this past February, the three-star defensive tackle from Plaquemine, La., changed his mind less than two weeks later, announcing he had flipped to LSU. Jenkins signed with the Tigers this month.
• Devonta Jason: The biggest name ever associated with KU's recruiting class, the four-star wideout and Landry-Walker High teammate of Harris didn't officially withdraw from the group until Dec. 10, when he decommitted. Ten days later, Jason, the 31st-best prospect in the nation per Rivals, signed with Mississippi State.
• Cartez Crook-Jones: The three-star defensive end from Grandview, Mo., stuck with Kansas for 10 months. However, following a December visit to rival Kansas State, Crook-Jones found a different college home, and soon after signed with the Wildcats.
• Clayton Tune: The quarterback from Texas picked KU on the same day as the vaunted "Louisianimals" and didn't waver until he visited Baylor on the same Saturday in October that KU's offense looked feeble at TCU. Tune decommitted that night. Incredibly, he recommitted to Kansas in late November only to back off once again. Now rated a three-star QB, the undecided Tune has picked up offers from Ole Miss, Florida Atlantic and Houston.
• Trevailance Hunt: A former high school teammate of Kansas receiver Quan Hampton, in Texarkana, Texas, Hunt hopped on board with the Jayhawks after attending the spring game. The three-star receiver abandoned ship in late July after picking up more offers, and signed with TCU earlier this month.
• Zach Burks: After making an official visit to Ohio the first weekend of December, the former Olathe North defensive tackle announced he wouldn't stick with KU. The three-star Coffeyville Community College lineman signed with Ohio.
• Josh Smith: A June addition to KU's list of potential signees, the Landry-Walker teammate of Harris and Jason lasted until December. After re-opening his recruitment the three-star defensive end didn't make an early signing. Smith has since indicated he plans to sign with Tulane in February, though.
• Jonathan Lolohea: A three-star defensive tackle at Copiah-Lincoln Community College (Miss.), Lolohea committed in the summer but was out of the mix two weeks into the Jayhawks' 2017 season. The interior defensive lineman signed with Washington State.
• Charles Cameron: A CLCC teammate of Lolohea, who actually committed to KU on the same June day as both Lolohea and Smith, Cameron and his fellow juco defensive tackle backed out on the same day in September. Cameron went on to sign with Lane Kiffin and Florida Atlantic.