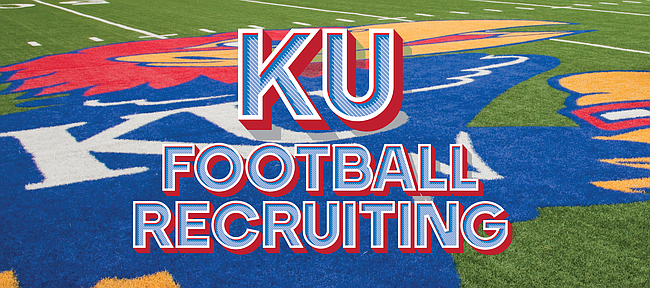 With a smile on his face Wednesday morning at Landry-Walker High, in New Orleans, cornerback Corione Harris uttered eight words that had to have inspired the same reaction out of Kansas football fans, coaches and players alike.
"I'll be taking my talents to Kansas University," the high school senior announced from a podium at a signing ceremony in his high school's gymnasium.
For Harris, a four-star talent according to Rivals, it was a decision more than 10 months in the making. The 6-foot-1, 170-pound prep initially committed to the Jayhawks in February. Unlike others who made non-binding pledges at the time, including his high school teammate Devonta Jason, who signed with Mississippi State, Harris remained loyal to Kansas.
The touted senior, ranked the No. 13 cornerback in the nation by Rivals, told The Times-Picayune KU's associate head coach and fellow New Orleans native Tony Hull (former high school coach at Warren Easton) played a key role in Harris' decision.
"Coach Hull actually did a great job recruiting me, because he's been recruiting me since middle school, back when he was at Easton," Harris began. "So me and him have a very tight relationship. He did a good job contacting me every day. My position coach (KU assistant Kenny Perry) contacted me, Coach (David) Beaty contacted me. They're doing an excellent job of recruiting up there and they're rebuilding to become very successful."
Harris also explained why KU's struggles in Beaty's third season, when the Jayhawks lost their final 11 games, didn't inspire him to back off his pledge and sign with Mississippi State, his other finalist.
"Kansas is a school that even though their record might not seem like it, it is rebuilding, and I think I'll be a big part of that rebuilding stage," Harris said.
Mike Lee, another Hull recruit who played at Landry-Walker, attended the signing ceremony of his former prep teammates with time off in between semesters at KU. Harris looked forward to reuniting with the hard-hitting safety in the Jayhawks' secondary.
"Me and Mike been together since my freshman year," Harris said. "He always pushed me to work hard, from the weight room to the field. So up there we are going to keep it going and try to bring some of that Landry-Walker (attitude) to college."
No word on Pooka
While the December early signing period extends through Friday, little is known about when KU recruiting target Anthony "Pooka" Williams will decide to sign.
The three-star running back from Hahnville High (La.), who verbally committed to the Jayhawks on the same visit as Harris this past February, could wait until Feb. 7 to sign.
Williams is said to remain a major target of LSU.
"We are going to sign another running back, maybe two more," LSU coach Ed Orgeron said Wednesday, in a story posted at SEC Country. "We're looking for playmakers. We have our eyes on some guys that are dynamic. I feel good about our recruiting process at that position."
An explosive 5-foot-10 back, Williams also has offers from Nebraska and Miami, while other major programs have shown increased interest in him of late, as well.