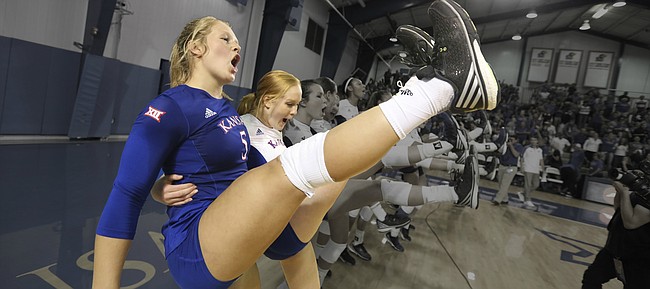 Allie Nelson's first encounter with Cassie Wait left quite the impression.
When Nelson visited the University of Kansas campus and saw Wait, the incumbent at her position, in person for the first time, she noticed one key difference from the photos she had seen on social media.
"When I really saw her, I was like, 'Wow, she is jacked,'" the sophomore libero said. "I was like, 'Dang, I hope I look like that someday.'"
It wasn't until the two were teammates that Nelson realized the extent of that strength.
Nelson remembered arriving for her first summer workout with the Jayhawks, not knowing quite how to get started. She started to warm up, surveying the rack of weights and waffling between adding a 10- or 20-pound plate to the bar before looking over at Wait, then a senior.
Wait, who said she maxed out on her squat at over 300 pounds in high school, was adding 45-pound weights to the bar.
Nelson shared what she thought when she saw Wait doing that: "'Oh my God. She's really doing that right now.' And then she throws on another plate. … I was like, 'Damn.'"
Wait's personality made just as strong an impression.
During their first encounter, Wait went out of her way to greet Nelson and her mother. She walked up to the two, introducing herself and welcoming her as a fellow "little," a term that refers to the back-line players of the volleyball team that Nelson notes can be interchangeably used with the word "meatball."
"Right there I was like, 'This is my role model,'" Nelson said.
They have more than energetic personalities in common.
Her eligibility exhausted, Wait, a second-year law student at KU, watched her school's exhibition opener, a four-set sweep over UMKC, from the stands, about six rows back of center court. She wore a smile that seldom took a break.
"There are a lot of solid returners who I played with for a long time," Wait said. "I was just really excited to see all of them."
Wait revealed that excitement on social media, where the volleyball players tend to be quite active. Nelson recalled receiving a Snapchat of herself from her predecessor with a caption along the lines of, "Who's that stud?"
A text she received from Wait ahead of the team's two-a-days meant even more to Nelson, a sophomore from Oak Park, Ill.
"She was like, 'Hey, I'm so proud of you, watching you grow and everything. Kick (expletive) this year,'" Nelson said. "And I was like, 'Hell yeah. Of course. Thank you.'"
Wait could empathize with Nelson when the younger libero had to wait her turn for playing time. In 2013, Wait entered the program with plenty of promise, but had to learn behind entrenched libero Brianne Riley, who tallied a KU record 613 digs as a junior in 2012 and finished her career having totaled 2,053, the most in program history.
When Nelson joined the program, Wait was coming off her first Big 12 Libero of the Year honor. Still, as a freshman, she left a mark.
Wait described Nelson as having "more energy and enthusiasm for life within the game of volleyball than just about anyone." Similar words have been spoken by many, including Nelson, about Wait. KU coach Ray Bechard noted they have similar attitudes on the court.
Wait paid Nelson a compliment in saying, "She's already showing who she is."
She's not the only one with that view of Nelson.
Coming off the 2016 season, KU's libero spot wasn't quite set in stone.
Nelson had to beat out seniors Addison Barry and Tori Miller to win the job.
"We thought between (Tori) and Allie and Addie that it could go either way. And we just thought Allie to this point and time has owned it," Bechard said.
Nelson said she found it to be a little "weird" to compete against such close friends, but there doesn't appear to be any leftover resentment.
Among the countless number of choreographed handshakes and dances during Saturday's exhibition match was a well-timed chest bump between Barry and Nelson some 15 minutes before the first serve. The two — often confused for one another, per Nelson — are every bit as close today as ever.
"Addie's like my best friend. We do everything together," Nelson said. "We're two very competitive people, and at the end of the day we want to win. So whatever does the job, we're there to support each other no matter what."
In the same breath as noting Nelson had "owned" it thus far, Bechard said he'd feel comfortable turning to other options if there were to be any "slippage."
For now, though, it's Nelson's spot to lose.
When the team takes the floor on Friday at 4:30 p.m. for its season-opening match at North Carolina State, Nelson will don the lone off-color jersey, following the trail blazed by her mentor, who became a full-time starter in her sophomore season.