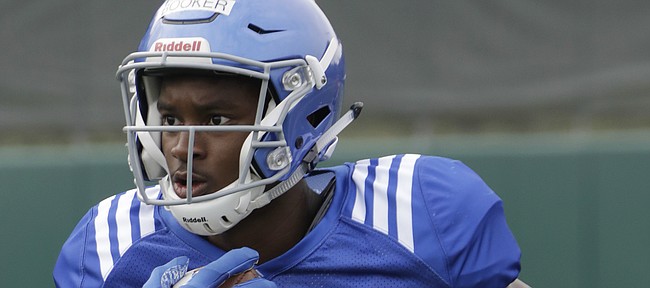 When offensive coordinator Doug Meacham has his Kansas receivers all in a room together and he wants them to understand how much effort their position requires, the coach can cite some handy footage of the men who run routes and catch passes for the defending Super Bowl champions, the New England Patriots.
"Those guys strain. They come off the ball, they fight. Even if they're not the primary guy they're fighting and trying to win," Meacham explains.
At KU's preseason practices this month, the program's new Air Raid expert sees junior Jeremiah Booker meeting his standards as well as anyone.
"So he strains," Meacham said of Booker, using one of his favorite receiving-related verbs.
Since Booker, a 6-foot-2 wideout from College Station, Texas, arrived in Lawrence, coaches and teammates alike have raved about his work ethic and potential. But after Booker, as a true freshman in 2015, started six of the eight games in which he appeared and totaled 23 receptions for 228 yards, he couldn't build upon it as a sophomore due to turf toe and other setbacks.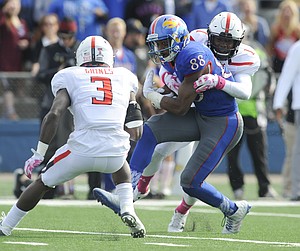 In 2016, Booker played in 10 games, but wasn't able to start any. His production dipped to nine catches and 63 yards for the season.
Kansas head coach David Beaty knows exactly why Booker didn't take off as a second-year player.
"Injuries. It was very simple. Book works his tail off. He hasn't changed anything in that regard," Beaty said. "Everything for Jeremiah is staying healthy. He had all kind of issues with high-ankle sprains, ankle sprains, knee problems. Just when he'd get well, we'd fall on him."
A broken shoulder stunted Booker's path ahead of his freshman campaign, too, but the eager junior said this preseason has gone great, health-wise, after back-to-back years of disappointments.
"It was frustrating, but that's the sport," Booker said of past injuries keeping him from reaching his capacity. "So I know injuries are going to come with it, and everything happens for a reason. So after that I just feel like I've hit it hard in the training room, got back to recovery and just got back to the game I love."
Much of Booker's offseason preparation involved working with new KU strength and conditioning coach Zac Woodfin to take care of his body. As a result, he finds himself practicing with greater freedom, physically and mentally.
"So now I can just focus on my assignment, what I need to do on the plays — just details on my route and everything. That's one thing I've remained focused on," Booker said.
It's that attention to detail that makes him a favorite target of Kansas quarterbacks.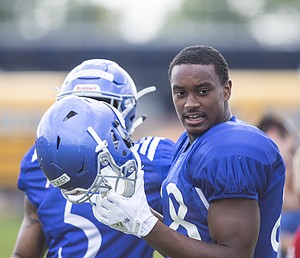 "So far throughout fall camp, he's had a huge impact on the offense," junior Peyton Bender shared. "Book's a guy who's just extremely reliable. He does what the coaches tell him, and he's where he's supposed to be. I think as long as he continues to do that he'll play a big role in what we do this year."
Booker expects KU's passing attack to perform far better than a year ago, in part because he, Steven Sims Jr., Daylon Charlot, Chase Harrell, Ryan Schadler and other receivers regularly put in extra work over the past several months, helping them develop trust and a rhythm with quarterbacks Bender and Carter Stanley.
"It starts with the offseason programs. We all just compete, stay on each other's toes," Booker said of the receiving corps. "If we mess up, if we need to get our depth on a route, we'll call each other out — 'Make sure you get this depth.' Because it matters, not only at practice but in games, as well."
The scrutiny Booker applies to football goes a long way in impressing his position coach, who also happens to be the man calling the offense's plays.
"Really smart. In the right spots. Works hard. He's a great leader by example," Meacham responded when asked to to characterize Booker. "He does the extra after practice. He fights."
The offensive coordinator possesses data that backs up what he sees, too. KU's staff has access to monitoring equipment that tracks the ground covered by a player, as well as impactful movements made.
"His strain and his overall mileage is always the top one or right at the top every time," the assistant coach revealed.
As KU's Sept. 2 opener versus Southeast Missouri State gets closer, Booker feels satisfied with the progress he has made and the prospects for the months in front of him.
"QBs, O-line, we've all been making plays as a group," Booker reported, "so that's a good thing for us."
Meacham predicts the tireless junior receiver will play a key role in what comes next: "He's going to make a lot of plays for us."