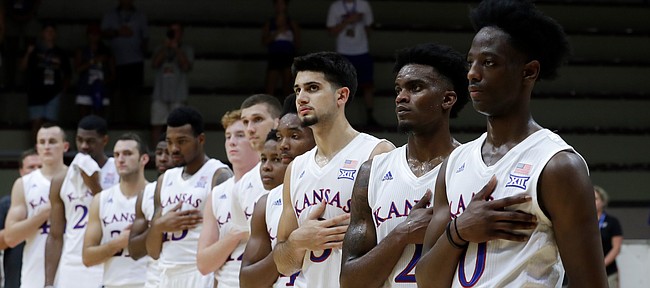 Kansas coach Bill Self confirmed to the Journal-World on Sunday night that all but one player on the 2017-18 roster had arrived back in town.
Self said sophomore center Udoka Azubuike was expected to return to Lawrence sometime today or Tuesday morning.

And, like many of his players, Self, too, is more than ready for this team to take the next step.
"We had 10 workouts going into (Italy)," Self said recently during a podcast with ESPN's Seth Greenberg. "But our 10 workouts, on a scale of 1 to 10 what a regular season workout would be, they'd be a 1. Let's do some shooting drills, let's get loose, not intense at all."
That wasn't the way a couple of KU newcomers saw it. Without naming names, Self shared a story about those 10 pre-Italy practices.
Talking recently with a few players about the summer workouts, Self asked, in general terms, how many practices they thought they had been through so far. One of the younger players answered, "Countless," and Self and the KU upperclassmen laughed.
"He was saying, 'hardest thing I've ever done,'" Self recalled to Greenberg. "And the veterans said, 'What are you talking about? We haven't even had a practice yet. This is like pick-up ball.'"
Freshman initiation
Sunday night marked yet another first in the Kansas careers of freshmen Marcus Garrett and Billy Preston, who have been through a few key milestones since arriving on campus in June.
There was their first day in town, check-in for summer school, their first summer class, their first summer conditioning session and, eventually, their first summer practice, of which KU received 10 dates because of the early-August trip to Italy.
And then, of course, there was the first time the two young Jayhawks suited up in a Kansas uniform for an actual game, which came in Italy, where KU went 4-0 and received notable contributions from both Garrett and Preston.
With the first day of the fall semester set for today, the two highly touted newcomers are moving into the portion of their freshman seasons when things start to seem a little more real. Self said all along that he thought the trip to Italy would do them, along with the entire team, some good toward getting a little bit ahead of where the team normally would be by now. And he reiterated that while talking with Greenberg.
"I think little things like (getting) the young guys' attention on what we expect and the culture, I think it was a positive trip," he said.
As for what he's seen from Garrett and Preston specifically, Self said the two young players were in slightly different spots at the outset of the fall semester.
"I think Marcus has handled it great," Self said of the transition from high school to college. "He played for Paul Graham down there in Texas (at Dallas' Skyline High) and Paul and I were assistants together and he's been through some stuff. Four years with Paul, that would prepare you as far as work ethic and thinking right thoughts and that kind of thing.
"Billy played at Oak Hill for Steve Smith last year, just one year, but Billy's a guy that's relied on size and talent to outplay his opponents during the majority of his high school time. So it's still a learning process for him. But they're both really talented. Marcus is probably a little more talented than we thought and Billy is everything we thought he would be from a talent standpoint and now we just need to get those guys clicking with the others."
Svi staying put
After spending most of the summer playing with his home country, Ukraine, in the European Championship U20 tournament overseas, Kansas senior Svi Mykhailiuk rejoined the Jayhawks during their trip to Italy and returned to Kansas after the four exhibition games in Italy.
It was initially thought that Mykhailiuk would head back overseas to play with Team Ukraine in FIBA Eurobasket 2017, Aug. 31-Sept. 16 in Israel and Turkey, but Self told the Journal-World on Sunday that Mykahiliuk was staying put.
"He's not playing in it," Self said. "He's just playing here."