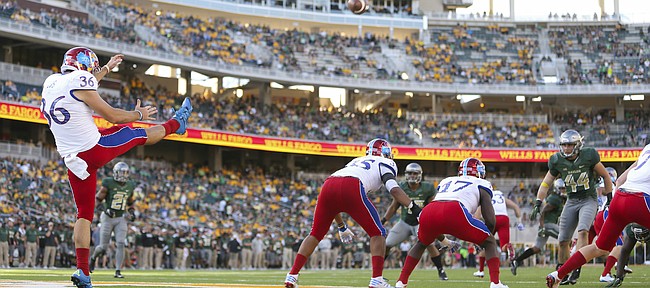 Cole Moos has several goals for his final season at Kansas, but they aren't the only thing the senior punter is hoping to tackle.
"I've been hitting the gym hard, hitting the weights," Moos said in an interview this past week, before learning he had become a scholarship player. "So I'm hoping if there is a chance this year that I'm going to be ready to put a hit on somebody."
Moos, listed at 5-foot-11, 190 pounds, has approached his training in a similar fashion to former NFL punter Steve Weatherford, famous for his impressive physique and patented "ARMageddon" workouts.
Some of those effects have shown on the field. Moos bombed an 82-yard punt, the fifth longest in program history, in a game against Baylor last season. With his 3,024 punting yards as a junior, he came within seven yards of cracking KU's all-time single-season top-10 list.
They've also shown behind the scenes. Back in June, Moos raced — while wearing a hot dog costume — with running back Khalil Herbert and safety Emmanuel Moore. The contest occurred as part of a baseball game in honor of Cole Hayden, who died last December after a seven-month battle with undifferentiated sarcoma.
Moos took the field before the game and caught the first pitch from Shanda Hayden, Cole's mother, and the football program's assistant athletics director for academic and career counseling. Later on in the day, the players that were in attendance were asked if they wanted to participate in the race. Moos' hand shot up quickly, just as it did as he recounted his triumph.
"They kind of hit each other in the beginning, and I just took off straight," Moos said. "They're probably a little bit faster than me, but I'm not slow."
Add it to the list of impressive athletic feats by a player who hasn't ignored the technical aspects and daily grind of his own position either.
In fact, on the recommendation from a friend this summer, Moos picked up the book "Burn Your Goals: The Counter Cultural Approach to Achieving Your Greatest Potential." He said the reading was a "game-changer" in terms of establishing a new mindset, which actually might be something his coaches appreciate even more.
Mention Moos' name to anyone on staff and you'll hear exactly what he's all about. Head coach David Beaty describes him as a leader and one of the most active members of the team within the community, while special teams coach Joe DeForest takes it a step further.
"I don't think I can say I've been around a kid like him," DeForest said. "He's the total package. He's a credit to this football team. It's a credit to his parents on how they've raised him."
On the field, they'll say the same.
Moos has spent the time to master the art of holding, an area DeForest refers to as the "hidden gem" of a football team. He's also put himself in a position athletically to be able to provide the coaches with flexibility and versatility in terms of their fourth-down decision making.
"It's possible, you never know. He could definitely (run a fake)," DeForest said, cracking a rare smile. "He can throw, he can run, he's got it all."
But even if he has angled — at least a little — for those opportunities, he's still a punter through and through.
Most of Moos' Madden-playing days are behind him, dropping off significantly after middle school. But even then, that punter mentality had been instilled. Recalling his own time behind the sticks, and the several times he's been quizzed about his strategy since then, Moos couldn't help but laugh while owning up to his conservative tendencies.
"I love to punt on fourth down, which is kind of weird," Moos said, noting he's had more success in the real world when it comes to that ability. "But I'm a field position guy."
Who could blame him?