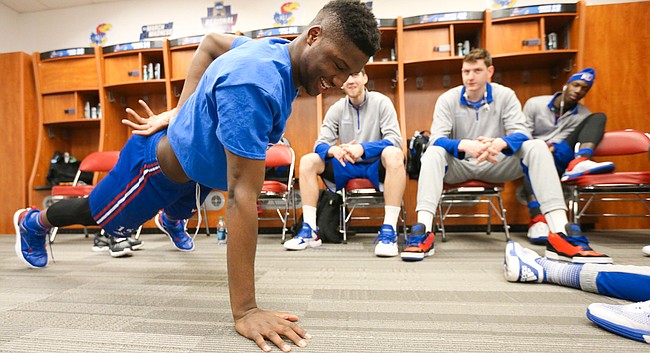 Arms folded and spreading farther than ever before, face fuller but with the same boyish smile, Kansas sophomore Carlton Bragg sat at the table in the Allen Fieldhouse media room Monday and confirmed one thing — he is, without question, bigger than he was a season ago.
Such news surfaced this summer, with reports popping up that Bragg had put on more than 20 pounds this offseason. He wasn't the only Jayhawk to do that, of course. Freshman Josh Jackson told the Journal-World in late August that he was up 14 pounds, but Bragg's ability to add bulk to his frame might be the most critical development for the 2016-17 team.
Listed in last season's media guide at 6-foot-9, 220 pounds, Bragg said Monday that he actually played closer to 215 a season ago and now stands 6-10, 245.
"See, I done grew a lot," he said with a grin. "I can tell you that I grew. Yes."
The process of transforming his body from a rail thin freshman into a stacked sophomore started where all KU transformations seem to begin — in the weight room with sports performance director Andrea Hudy.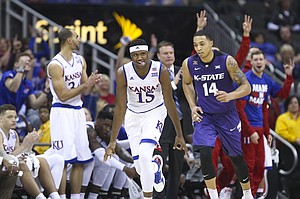 Bragg credits Hudy for "challenging me every day" and also tipped his cap to veteran guards Frank Mason and Devonte' Graham.
"(Those) guys set the tone each and every day," Bragg said.
That was when it was time to work. However, the biggest area of improvement for Bragg came away from the gym, in the kitchen, and proved to be the most difficult aspect of this recent journey for the Cleveland native.
"Oh, it's been tough," he said. "I'm not big on eating, so that's the big part, just eating right. I had to eat way healthier than I was, and eat more. I have to eat breakfast, lunch and dinner, and it's kind of hard because I usually skip those."
Well fueled and fired up after a strong summer, Bragg said he feels a bit different than he did last year. The area his new physique has affected him most is his lower body, which occasionally can "get heavy at times."
But Bragg insists that the added weight has done nothing to negatively impact his conditioning.
"It's not bad weight," he said. "I think I carry it really good. It just takes time. That's all."
One KU teammate who may have the best read on just how much Bragg's efforts this offseason have paid off is senior forward Landen Lucas. Known a season ago as the one player on the Kansas roster who was big enough and strong enough to handle brick houses on opposing teams, Lucas said he had both seen and felt a different Bragg during pick-up games this summer.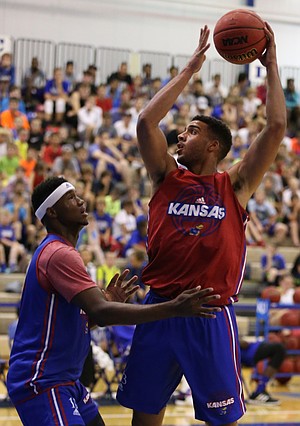 "He's put on some weight," Lucas said. "And that's good, but there's another level to it, which is using it."
As for Bragg's definitive claim that he pushes back these days a lot more than he used to when he faces Lucas, the KU senior had no problem confirming that.
"He definitely does," Lucas said. "It's good, and it's good for me, too, to be able to have as many bodies as possible to be able to do that."
Added Bragg: "I hold my ground a lot better."
Although nothing has been handed to him just yet, there's no denying that Bragg has a terrific task in front of him this season. Gone is Perry Ellis and the player who stands to benefit the most from the opportunity to fill Ellis' shoes is the versatile Bragg. Lucas said Bragg's new dimensions should make him even more dangerous.
"He's just adjusting his game, knowing that he's very talented outside, but that we need him every now and then, depending on match-ups and personnel in the game, to step inside," Lucas said. "(KU) Coach (Bill Self) knows what he wants from him, and I'm sure during these next couple of weeks of practice he'll make sure that Carlton's on the same page."
---
---
More like this story on KUsports.com