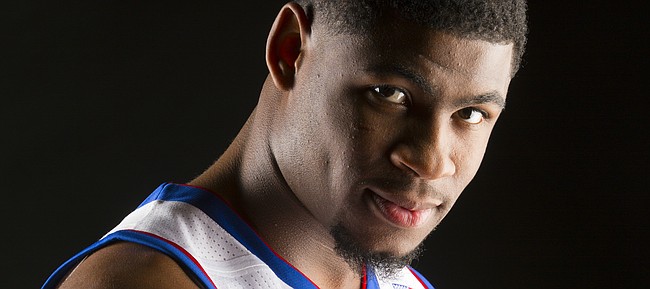 He's still more than 12 months away from actually being able to experience the rivalries for himself, but Kansas transfer Malik Newman recently indicated that he had a pretty good idea of just how competitive Big 12 basketball can be.
The reason? The intensity Newman has tasted so far during summer pick-up games and early-season practices after transferring to KU from Mississippi State following his freshman season has made it abundantly clear.
"It's just like the Kansas-OU game every time we hit the court," said Newman, referencing last season's triple-overtime thriller won by Kansas at Allen Fieldhouse. "From the summer, when I first started playing, it's a battle every time we hit the court. But once we leave the court, it's a brotherhood."
Fellow-newcomer, freshman Josh Jackson, had similar feedback about just how impressed he had been thus far.
"We spend all day in practice playing against each other and sometimes we all forget that we're on the same team," Jackson marveled. "When we remember that, it gets kind of scary. I'm like, 'Man, these guys are really, really good and we're all gonna be playing together.'"
For now, the intense practice showdowns are the best Newman can hope for out of his Kansas career, which will not officially start until the 2017-18 season after he sits out his transfer year as required by the NCAA.
Newman will be allowed to practice this season and he plans to make the most out of every minute so he can be ready for his true debut next fall.
Asked which Jayhawks he had enjoyed battling with the most so far in practice, Newman could not pinpoint any one individual.
"I mean, just everybody," he said. "There's no one person or two people in particular. Just competing each and every day on both ends of the floor to try to help those guys get better and for those guys to try to help me get better."
Newman, who listed Late Night as his favorite part of the Kansas experience to date, said point guards Devonte' Graham — his host on his recruiting visit — and Frank Mason had done the most for him in terms of helping with the current adjustment and preparing for the future.
"They do a good job of showing me the way," Newman said. "Showing me how the guards play in the system, the things that they have to do, the terms and things like that. They make my job a lot easier as far as learning the system and things like that."
It's that closeness and all-for-one mentality that inspired Newman to pick Kansas in the first place. And he's happy to report that it has been even better than he hoped and expected.
"On my visit, all of them showed me love," Newman said. "But (Graham) kept in touch with me and just expressed the feeling of what it was like to play at Kansas and told me some good things I needed to hear that persuaded me to come."