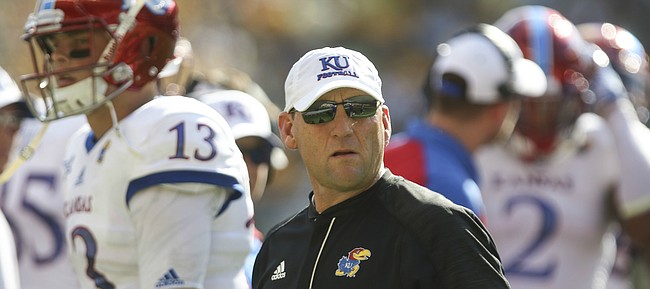 Between the Kansas football program losing 17 of its 18 games since he took over and the Jayhawks' often defective offense under his watch as coordinator and quarterbacks coach during his second season in Lawrence, David Beaty can't help but discern the swelling groans from within KU's fan base.
Shortly after his team only scored one touchdown to Baylor's seven Saturday in Waco, Texas, Beaty addressed numerous questions regarding the ineptitude of the Kansas passing game in particular.
In his second start of the season, sophomore quarterback Ryan Willis never achieved any rhythm or confidence against the Bears' first-rate pass defense. Willis completed 10 of his 19 throws for just 89 yards — with three interceptions — prior to watching the final quarter-plus of the 49-7 blowout from the bench.
Before clarifying he, as the coach, deserved blame for the lousy numbers, Beaty said Willis often failed to survey the field thoroughly at BU.
"The majority of the mistakes we've made from a quarterback standpoint to this point have been the inability to read, and locking on and just thinking, 'Hey, I've got this.' When you do that, you usually pay a price," Beaty said. "So there's really no steps you can skip at that quarterback position."
With that topic as a jumping off point, the second-year KU head coach then alluded to the heat he feels when the offense flatlines.
"But, hey, at the end of the day, I'm coaching those guys and that's my fault. I've got to get better at that. There's nobody else to blame but me," Beaty said. "And, hey, listen, I would be upset at me, too. I'm upset at me, because I haven't gotten it fixed and we've got to get better at it."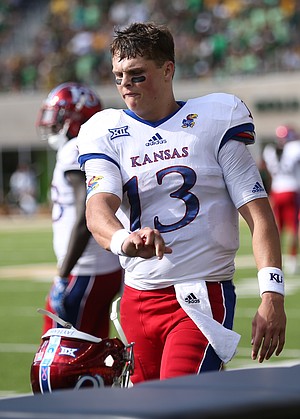 Willis, who started eight games as a true freshman, rotated in as a backup to junior Montell Cozart during the first four games of the season before Beaty named him KU's starter leading up to a home game against TCU. Though Willis completed 68.9 percent of his throws for 348 yards versus the Horned Frogs, he also gave away three interceptions in a 24-23 loss.
His laboring afternoon at Baylor gave Willis six interceptions in a two-game stretch. At the midway point of the season, the QB has three touchdown passes and seven picks. He has completed 61.5 percent of his throws for 811 yards on 117 attempts.
In four games as KU's starter, which included frequent possessions on the bench as Willis subbed in, Cozart completed 62.6 percent of his passes for six touchdowns (five in the first two games of the season, versus Rhode Island and Ohio) and four interceptions. Cozart, who hasn't played in the past two games, has thrown for 581 yards on 91 passes.
Beaty showed no indications of bailing on Willis at QB following the Baylor loss. The coach just hoped the experience would be another for his second-year signal-caller to learn from some difficult lessons.
"One of the things young quarterbacks go through, and really all quarterbacks, in college football you have to read, OK. And reading doesn't mean picking (a receiver), OK. If it was picking, a lot of us could play quarterback," Beaty said. "You don't get to pick a route. You don't get to do that. You have to read, because any defense that's worth their salt in this country in Division I football are not gonna show you what they're doing on the pre-snap. They're going to either move and disguise and do all the things they can to try to confuse you as quarterback. So it's imperative you don't lock in on guys."
KU (1-5 overall, 0-3 Big 12) plays host to Oklahoma State (4-2, 2-1) at 11 a.m. Saturday, at Memorial Stadium for homecoming.